Marbled peppermint bark
This marbled peppermint bark will quickly become your favourite holiday treat. All you need is 3 ingredients to make this recipe everyone will love!
K, but this marbled peppermint bark though. That's where we're headed today.
Rich dark chocolate with white chocolatey marble swirls topped with crushed candy canes because peppermint continues to take over my life this month.
Is it just me or is everything around Christmas time better with crushed candy canes sprinkled everywhere. *sprinkles candy canes over entire life.* I'm starting to feel like Will Ferrel in Elf! (Who else is watching it this Christmas? BEST MOVIE.)
So this marbled peppermint bark. This is one of those mega simple crowd pleaser recipes. You know, one of those recipes where you're almost embarrassed to tell people how easy it is to make. Ya, one of those.
Which is why I just love it so much. 3 ingredients, 15 minutes and you're on your way to choco-peppermint heaven. Last year we did a superfood chocolate bark, but this winter we're going a little more festive with this one!
A few notes on this recipe:
So first things first. a good chocolate bark always starts off with a good quality chocolate. So get your hands on some GOOD chocolate friends! I like to use a 70% dark chocolate and a good quality white chocolate.
If you want to make sure you're chocolate doesn't bloom (you know, get those white specks on it) you can temper the chocolate. Tempering chocolate is the process of heating and cooling the chocolate to put it into temper. This gives the chocolate that nice shiny glossy look, and that 'snap' when you bite into it.
Tempering chocolate is great if you plan on keeping and storing the chocolate for a few days. If you plan to eat the chocolate bark the same day you make it, your chocolate should stay glossy looking on its own.
Make sure to line your baking pan with some parchment paper, wax paper or a silicon baking mat. DON'T FORGET this step! This is super important to make sure you can easily peel your bark off the baking pan!
I like to chill the chocolate bark in the fridge to set, but if you just can't wait you can also pop it in the freezer to set.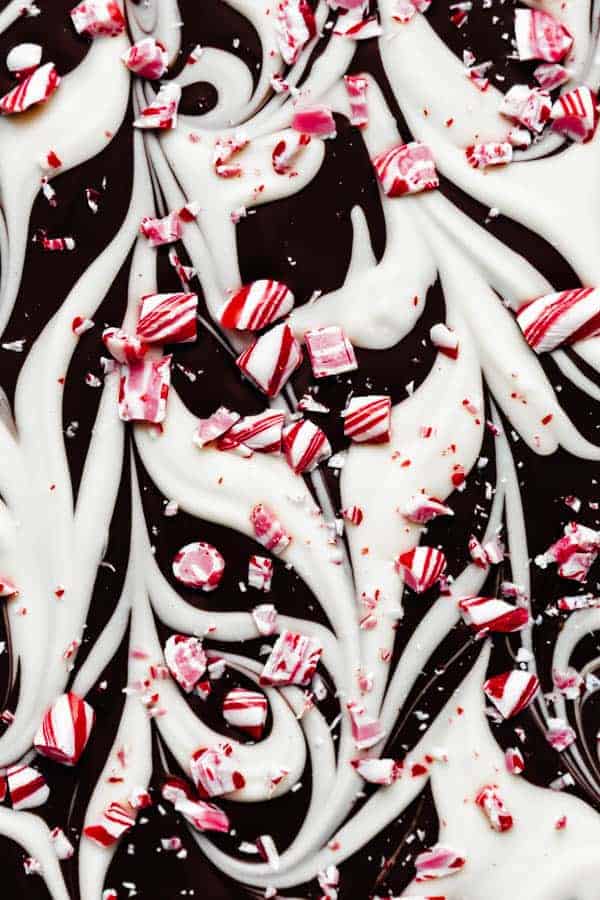 Happy Saturday friends, long live peppermint!
Print
Marbled peppermint bark
Author: Jess
Prep Time: 10 minutes
Cook Time: 0 minutes
Total Time: 10 minutes
Yield: 20 servings 1x
Category: Dessert
Method: Melt
Cuisine: American
---
Description
Only 3 ingredients and SO easy to make. This peppermint bark is the best Christmas treat!
---
Scale
Ingredients
12 oz high-quality dark chocolate
6 oz high-quality white chocolate
2 candy canes
---
Instructions
Melt the dark chocolate and white chocolate separately in two bowls using a double boiler, or in the microwave in 30-second intervals. (If using a microwave, only melt the chocolate until it's about 85% melted. Then remove and stir with a spatula until fully melted.)
Cover a large baking pan with parchment paper or a silicon mat.
Pour the dark chocolate onto the pan, then use a spatula to spread the chocolate into a large rectangle, until it is about 1/4 inch thick.
Next, use a spoon and add dollops of the white chocolate evenly on top the dark chocolate.
Use a toothpick to make swirl motions in the chocolate to get a marble effect.
Sprinkle with crushed candy canes then transfer to the fridge until fully cooled.
Use a knife to cut into pieces.
---
Notes
You can top this peppermint bark with whatever you like!
---
Nutrition
Serving Size: 1 piece
Calories: 143
Sugar: 15g
Fat: 8g
Saturated Fat: 5g
Carbohydrates: 17g
Fiber: 1g
Protein: 2g
Keywords: How to make peppermint bark, chocolate bark recipes
This post contains affiliate links which means I will make a small commission if you purchase through those links. I only recommend products that I know, trust and love!