Raspberry Coconut Creamsicles
These Raspberry Coconut Creamsicles are sweet and refreshing treats that are vegan, gluten-free and refined-sugar-free! They're easy to make and beautiful to present for a light and impressive treat!
They're not creamsicles, they're dreamsicles
Seriously, can we can talk about how dreamy these popsicles are?
I was swooning over these when I popped them out of their moulds! And not only do they look beautiful, but they also taste friggin amazing! They're filled with raspberry and coconut flavour and made of coconut cream and coconut yogurt, so they're 100% all natural, dairy-free and vegan!
I'm also a sucker for anything raspberry flavoured, so I might be a bit biased. If you have extra raspberries after this recipe, these Raspberry Crumble Bars or this Chocolate Raspberry Chia Pudding are a solid backup option.
How to make these raspberry coconut creamsicles
I like to use a mix of coconut milk and coconut yogurt in this recipe because I just LOVE that extra tangy zing from the yogurt! If you can't find coconut yogurt, you can use any type of plant-based yogurt, or just substitute for some more coconut milk.
I love the flavour combination of raspberries and coconut, but if you prefer to use a different type of berry, go for it! Of course, the color of the creamsicles will change, but they will still taste delicious. Blackberries or blueberries would probably make for some beautiful purple popsicles!
The mixture for these raspberry coconut creamsicles is made with just a handful of simple ingredients directly in the blender or food processor. Once you pour everything into the molds, place a popsicle stick in the center, and place the container in the freezer. Let them set overnight to truly harden.
How to get the coloured ombre effect
To get the gradient effect, all you have to do is start by adding just a few raspberries to the blender to get a very soft pink. Pour out two popsicles in that colour and repeat the process, each time adding more and more berries to the mixture.
The different shades also give a bit of variety from more coconutty-tasting, to more raspberry tasking, so you can choose as you please! Of course, you can also skip out on making these raspberry coconut creamsicles with the ombre effect if you prefer. Just blend all the raspberries in at once and they'll still be beautiful and delicious!
For the darkest colour popsicles, I also added a little bit of freeze-dried dragonfruit powder to get that deep rich colour. This is totally optional and doesn't add any additional flavour, but it's a great fun product I love to use in my recipes to make them a little more special.
Tips to make these creamsicles perfectly
I use a plastic popsicle mold to make these creamsicles, nothing too fancy!
If you can't find any coconut yogurt, you can actually make your own coconut yogurt. It takes a little time, but it's super easy to do! This Minimalist Baker recipe shows you how.
If you're struggling to get the popsicles out of the moulds, run them under hot water to loosen them up. Do it in 30 second increments, making sure not to melt the popsicles!
Once you remove the pops from their moulds, store them in a large ziplock bag in the freezer.
More popsicle recipes to try
If you tried these Raspberry Coconut Creamsicles or any other recipe on the blog let me know how you liked it by leaving a comment/rating below! Be sure to follow along on Pinterest, Instagram and Facebook for even more deliciousness!
Print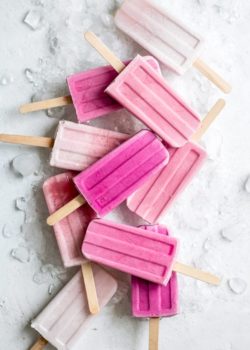 Raspberry Coconut Creamsicles
Author: Jess
Prep Time: 10 minutes
Cook Time: 0 minutes
Total Time: 10 minutes
Yield: 10 creamsicles 1x
Category: Dessert
Method: Freeze
Cuisine: American
---
Description
Creamy dreamy popsicles loaded with coconut and raspberry!
---
---
Instructions
Blend the coconut milk, coconut, vanilla and maple syrup together in a blender or food processor.
Add in 1-2 tbsp of raspberries and blend until combined. Then pour out 2 popsicles in the light pink colour.
Add a handful of raspberries and blend until combined to make a slightly darker pink. Pour out 2 popsicles.
Repeat this process adding more raspberries each time to make the popsicles darker, adding the dragonfruit powder to the darkest popsicle if desired.
Once your mould is full, place in the freezer for one hour to freeze slightly.
Remove from freezer, insert the popsicles sticks, and then place back in the freezer overnight.
To remove the popsicles from the mould, run them under hot water for 30 seconds and then gently pull on the popsicle sticks.
---
Notes
You can skip out on the ombre effect and simply add all the raspberries at once.
---
Nutrition
Serving Size: 1 popsicle
Calories: 32
Sugar: 3g
Fat: 2g
Saturated Fat: 1.5g
Carbohydrates: 4g
Fiber: 0.8g
Protein: 0.2g
Keywords: homemade popsicles, vegan popsicles, vegan creamsicle, raspberry coconut popsicle
This post contains affiliate links which means I will make a small commission if you purchase through those links. I only recommend products that I know, trust and love!
This post contains affiliate links which means I will make a small commission if you purchase through those links. I only recommend products that I know, trust and love!