Chickpea crust pizza with walnut pesto
This chickpea crust pizza with walnut pesto is a great healthy grain-free option to satisfy your pizza craving. It's also gluten-free and vegan! 
I don't know very many people in the world who don't love pizza. In fact, I'm pretty sure everyone I know really loves pizza.
Whether it be delivery pizza, gourmet Italian pizza, or healthy vegan pizza, everyone seems to have a type of pizza that's right for them.
This chickpea crust pizza with walnut pesto is so easy to make. I was honestly shocked at how easy the crust was to make. (Trust me, its 10x easier than making pizza dough) It's also great because the crust itself is filled with fiber and protein.
This recipe is made completely dairy-free & vegan using Daiya cheese. While I do post some recipes using dairy on my blog, I try and eat mostly dairy-free in my day to day life.
I recently made some discoveries of being somewhat lactose-intolerant after venting to a friend how some days I feel really bloated and have some stomach pains. She pointed out to me that dairy could be the culprit.
I used to be a bit skeptical about vegan cheese, (having had it once when a friend of mine made vegan pizza and not liking it) but the new Daiya products, which are launching this weekend at Natural Products Expo West, are a total game changer!
The Daiya Slices are perfect for sandwiches and grilled cheese. I personally love the Provolone Style Slices melted in a panini. Daiya is ideal for anyone looking to eat better, whether they're dairy-intolerant, allergic, vegan, or simply living a healthy lifestyle.
I used Daiya Slices for this pizza, but you can also use Daiya's new Cutting Board Collection Shreds – they have the same taste, texture, and aroma of dairy-based cheese (including that irresistible melt and stretch!) I'd go for the mozzarella ones for this pizza!
Print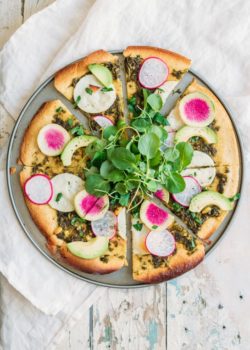 Chickpea crust pizza with walnut pesto
Author: Jess
Prep Time: 15 mins
Cook Time: 15 mins
Total Time: 30 mins
Yield: 2 servings 1x
Category: Main
Method: Bake
Cuisine: American
---
Description
Chickpea crust pizza with walnut pesto
---
pizza crust
1 1/4 cup chickpea flour
1 cup water
1 tbsp olive oil
1/2 tsp salt
1/4 black pepper
1/2 tsp garlic powder
1/2 tsp oregano
quick pesto
1 cups basil leaves
2 tbsp olive oil
1 garlic clove
2 tbsp walnuts
1 tbsp lemon juice
salt & pepper to taste
toppings
daiya vegan cheese slices
2 radishes, thinly sliced
1/2 avocado, sliced
1/2 cup watercress (or arugula)
---
Instructions
Preheat the oven to 450 degrees F.
In a bowl, mix together the chickpea flour, water, olive oil, salt, pepper, garlic powder, and oregano.
Let sit on the counter for 10 minutes.
While the batter sits, let's make the pesto.
Place the basil, olive oil, walnuts, lemon juice, salt and pepper in a food processor, or in a mortar and pestle. Pulse until combined (or mash until combined)
Spray a 16-inch round baking pan with cooking spray (or rub with a bit of olive oil) and pour the batter into the pan, spreading evenly.
Place in the oven and bake for 8 minutes.
Remove from oven and spread the pesto mixture on the crust, followed by the Daiya cheese. Place back in the oven for 3-6 minutes, until cheese is melted and crust is golden brown.
Remove from oven and top with radishes, avocado, and watercress.
Serve immediately.
---
---
Nutrition
Serving Size: 1 pizza
Calories: 790
Sugar: 14g
Fat: 41g
Saturated Fat: 7g
Carbohydrates: 82g
Fiber: 26g
Protein: 30g
Keywords: Chickpea crust pizza with walnut pesto, vegan pizza crust
I love seeing you make recipes from the blog! Use #choosingchia on Instagram so I can see your creations!
This post contains affiliate links which means I will make a small commission if you purchase through those links. I only recommend products that I know, trust and love!