Coconut jasmine rice with sesame tofu
This coconut jasmine rice with sesame tofu is the perfect Asian-inspired buddha bowl! It's loaded with edamame, pickled cabbage, and fresh vegetables, all on top of delicious coconut-infused rice!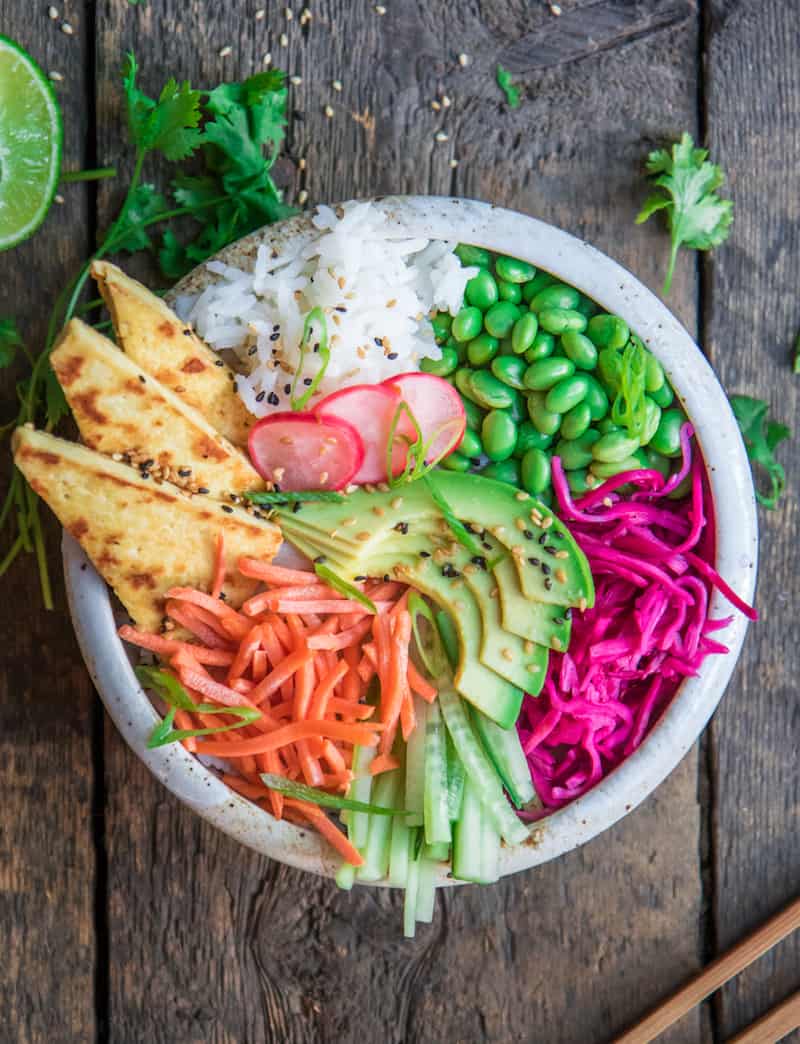 I recently saw an episode of a show called 'mind of a chef' on Netflix that was all about rice. While I already knew we have many kinds of rice, (white rice, brown rice, sushi rice…etc.) I did not know the extent of complex and unique each type of rice is. It was honestly just fascinating!
After watching it I suddenly became more aware of my textures and flavours in different types of rice. Basmati rice, sushi rice, and jasmine rice are all white rice, but totally different! I think one of my favourites is jasmine rice.
This type of rice is native to Thailand and has a sweet and almost popcorn-like smell when you cook it. I find it goes particularity well with coconut milk! The coconut jasmine rice in this dish is slightly sweet & salty, and oh so creamy!
This recipe for coconut Jasmin rice with sesame tofu is one my favourite go-to Asian dishes. It's such a comforting and wholesome dish while using fresh and natural ingredients.
The beauty of this bowl is you can top it off with any veggies of your choice! I personally love this with pickled vegetables, avocado, and edamame beans.
Print
Coconut jasmine rice with sesame tofu
Author: Jess
Prep Time: 1 hour
Cook Time: 15 mins
Total Time: 1 hour 15 mins
Yield: 4 bowls 1x
Category: Main
Method: Cook
Cuisine: Asian
---
Description
Enjoy this colorful, simple coconut jasmine rice with sesame tofu for lunch or dinner!
---
coconut jasmine rice
1 1/2 cups jasmine rice
1 can light coconut milk
1 1/4 cup water
1/2 tsp salt
sesame tofu
pickled cabbage & radishes
1 cup thinly sliced cabbage
1/4 cup thinly sliced radishes
1 cup white vinegar
1 cup water
1/2 tsp salt
1 tbsp sugar
other toppings
sliced avocado,
sliced cucumber
shredded carrots
edamame beans
---
Instructions
Add your coconut milk, water, and salt to a medium pot and bring to a boil.
Add in your Jasmine rice, cover, and let simmer on low for 18 minutes. (Don't peek!) Once your rice is done, remove from the element, remove top, and let cool.
While your rice is cooking, prepare your tofu.
Slice the tofu as you please, and place in a bowl with sesame oil, soy sauce, rice vinegar, and maple syrup. Let sit and marinade for 15-30 minutes.
While your tofu is marinading, prepare your picked veggies.
Add your cabbage and radishes in bowl or Tupperware with vinegar, water, salt and sugar. (I prepare mine in 2 separate containers.)
Let sit for 15 minutes.
Now let's cook the tofu.
In a medium saucepan, heat vegetable oil on medium-high heat.
Remove tofu from marinade, and add to pan. Bring heat down to medium and cook on each side until golden brown, about 3-4 minutes a side.
Once tofu is cooked toss with sesame seeds.
Serve your bowls with rice, tofu, pickled veggies, and other optional toppings. Top with favourite soy sauce. (I recommend Maggie's to go with the coconut rice!)
---
---
Nutrition
Serving Size: 1 bowl
Calories: 545
Sugar: 9g
Fat: 21g
Saturated Fat: 5g
Carbohydrates: 73g
Fiber: 8g
Protein: 12g
Keywords: Coconut jasmine rice with sesame tofu, vegan asian recipe
This post contains affiliate links which means I will make a small commission if you purchase through those links. I only recommend products that I know, trust and love!