Chewy Ginger Molasses Cookies
These Chewy Ginger Molasses Cookies are nice & crispy on the outside and soft & chewy on the inside! These cookies are easy to make and perfect for the holidays!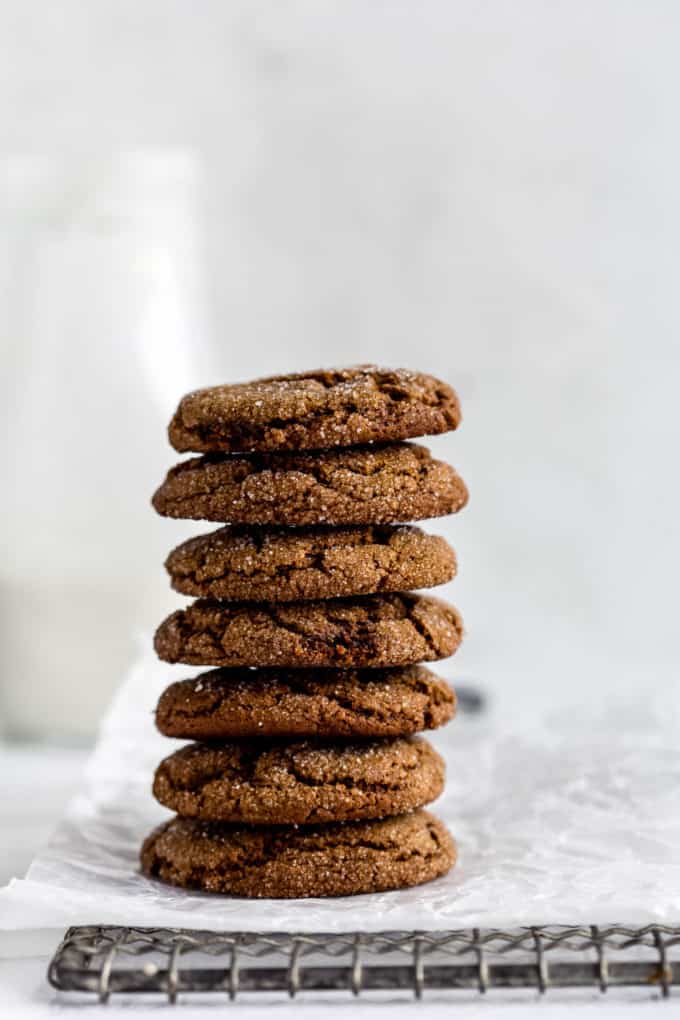 Chewy Ginger Cookies
I'm so excited to share this recipe with you after testing out 4 different batches to get that perfect crispy & crackly top, while still having a soft chewy center. And let me tell you, this recipe is THE ONE <3
These Chewy Ginger Molasses Cookies are packed with ginger flavour and are perfect to enjoy for the holidays. You can even make a batch of the dough ahead of time to keep in your fridge or freezer and bake these cookies as you need!
What'sthe difference between gingerbread cookies and molasses cookies?
Traditional gingerbread cookies, also called gingersnap cookies are often thinner and have a crispier texture. (If you're looking for this type of ginger cookie make sure to check out my Healthier Easy Gingerbread Cookies.) Molasses cookies have a chewier texture.
Why you'll love these cookies
Crispy on the outside, chewy on the inside. In my option, the exact way a cookie should be.
Less fuss than making iced gingerbread cookies. While they are pretty and fun to make, if you need a quick and easy gingerbread cookie then these will be your go-to!
Festive cheer in every bite! These cookies are seriously what the holidays are all about!
Ginger Molasses Cookies ingredients
Butter
Brown Sugar
White Sugar
Egg
Molasses
Flour
Baking soda
Salt
Ground ginger
Ground cinnamon
Ground cloves
How to make a perfect Ginger Molasses Cookie
There are a few things that make a perfect ginger molasses cookie:
Crackled top
Chewy center
Crispy sugary coating
These Chewy Ginger Molasses Cookies hit all 3 points!
The secret to getting that nice crackle on top is actually to use enough sugar in the recipe. I tested out these cookies with less sugar, but wasn't able to achieve the same spread and crackled look on top. So if you're looking for a low-sugar version of a Ginger Molasses Cookie, this isn't it. (But hey, indulge a little!)
How to store
Store: store cookies in an air-tight container on the counter for up to 10 days. You can store unbaked cookie dough in the fridge for up to 5 days before baking.
Freezing ginger molasses cookie dough
One thing I love about these Chewy Ginger Molasses Cookies is that you can freeze the cookie dough in the freezer for up to 2 months and bake fresh cookies whenever you like!
To freeze the cookie dough, use your hands to form the dough into a circle or square shape, cover tightly with plastic wrap then place in a freezer-safe bag in the freezer.
When you're ready to bake cookies remove the dough from the freezer and let thaw on the counter until defrosted, but still a little firm. (You don't want the dough to be completely defrosted where it's hard to roll the dough into balls.)
Why didn't my molasses cookies crack on top?
There are a few reasons why you may end up with cookies that didn't crack on top. Let's review a few reasons why you're cooked may not have crackled on top:
You put the cookies in the oven before preheating. A hot preheated oven is important for getting a crackle top on your cookies.
You didn't whip the butter and sugar long enough. Whipping these ingredients together will incoporate more air into the butter, which will help the cookies crack when bakin in the oven.
Your baking soda is stale. Baking soda is important in this recipe to help the cookies rise and spread. If your baking soda is old, it may be the culprit.
You didn't coat with sugar. The additional sugar coating on the outside of the cookies will help them crackle.
Tips for making this recipe perfectly
These Chewy Ginger Molasses Cookies can be made gluten-free by using a 1-1 gluten-free flour blend like this one. This type of flour blend can be used in equal ratio as a replacement to regular flour.
Chill the dough. It's important to chill the cookie dough for this recipe so they don't spread too much while baking.
This cookie dough stores really well in the freezer. You can double up the recipe and store extra cookie dough in your freezer to bake up a batch of cookies on the fly!
Make these cookies next
If you tried these Chewy Ginger Molasses Cookies or any other recipe on the blog let me know how you liked it by leaving a comment/rating below! Be sure to follow along on Pinterest, Instagram and Facebook for even more deliciousness!
Enjoy friends and happy weekend! xo
Print
Chewy Ginger Molasses Cookeis
Author: Jessica Hoffman
Prep Time: 15 minutes
Cook Time: 10 minutes
Total Time: 25 minute
Yield: 16 cookies 1x
Category: Dessert
Method: Bake
Cuisine: American
Diet: Vegetarian
---
Description
Get the best of both worlds with these ginger molasses cookies that are crispy on the outside, and soft and chewy on the inside!
---
1/2 cup butter, softened
1/2 cup brown sugar
1/2 cup white sugar
1 egg
1/2 cup molasses
2 cups flour (can sub 1-1 gluten-free flour)
2 tsp baking soda
1/2 tsp salt
2 tsp ground ginger
1 tsp ground cinnamon
1/2 tsp ground cloves
extra sugar for coating
---
Instructions
Preheat the oven to 350 degrees and line a baking pan with parchment paper
Cream the butter, brown sugar and white sugar together in a stand mixer until creamy.
Then add the egg and molasses and mix until well combined.
Mix all the dry ingredients together in a bowl then slowly pour the dry ingredients into the stand mixer while mixing on low speed.
Mix until everything is well combined.
Place the cookie dough mixture in the fridge for 30-60 minutes until the dough is easy to handle.
Roll the dough into small 1-inch balls, then roll each ball to coat in sugar.
Place on the cookie sheet and bake for 10-13 minutes, until the cookies begin to crack on top.
Remove and let cool before eating.
---
Notes
Store leftovers in an air-tight container on the counter for up to 10 days.
If you like your cookies on the chewier side, cook them only about 10 minutes
---
Nutrition
Serving Size: 1 cookie
Calories: 115
Sugar: 11g
Fat: 3g
Saturated Fat: 2g
Carbohydrates: 18g
Fiber: 1g
Protein: 1g
Keywords: ginger molasses cookies, chewy ginger cookies, chewy molasses cookies
This post contains affiliate links which means I will make a small commission if you purchase through those links. I only recommend products that I know, trust and love!