Healthier Easy Gingerbread Cookies
These Healthy Gingerbread Cookies are made with whole-grain flour for some added nutrition. The cookie dough is easy to make and the cookies can be cut into whatever shapes you like and decorated however you like!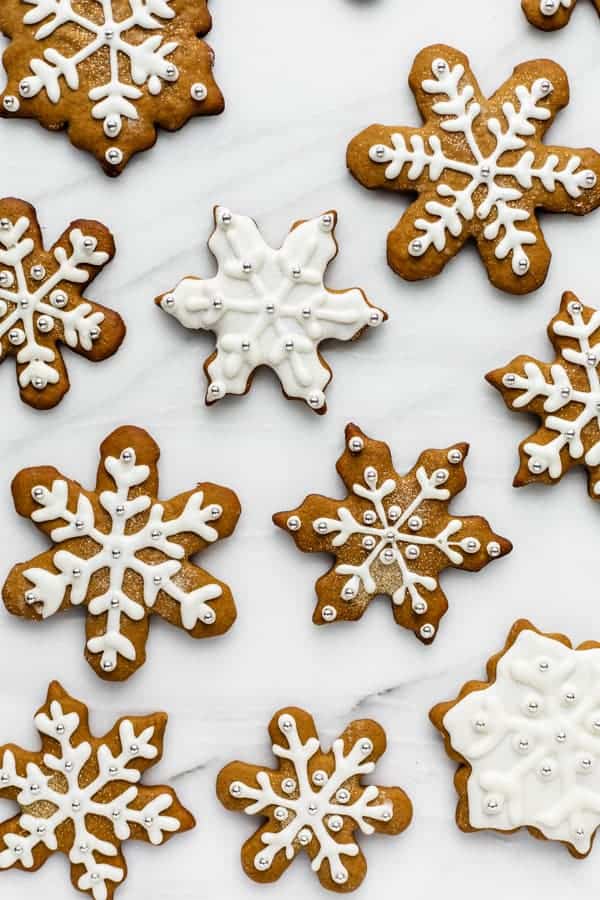 Easy Healthy Gingerbread Cookies
And the saga continues…
From ginger molasses cookies to vegan gingerbread donuts, we're now moving onto a holiday classic: Healthy Gingerbread Cookies
Now, before you go ahead and look at these sparkly snowflakes in doubt thinking "that does not look easy," let me assure you, the actual COOKIE making part of this recipe is easy as can be! Really, just dump all the ingredients into a stand mixer and then pop the dough into the fridge to chill.
The decorating part can be a *little bit* trickier, but with a little bit of practice, you'll be a professional gingerbread cookie decorator in no time!
Key ingredients and substitutions:
Butter: we're making cookies after all! Butter is a key ingredient to making tasty gingerbread cookies.
Cane sugar: you can substitute regular sugar if needed.
Egg: this will help the dough come together, no substitute here.
Molasses: I recommend using blackstrap molasses if you have some on hand. It will give the cookies a deeper and richer flavour.
Vanilla: real vanilla extract is best!
Whole grain Spelt flour: you can also use regular all-purpose flour if you prefer or a 1-1 gluten-free flour blend.
Spices: these cookies need a mix of cinnamon, nutmeg, ginger and cloves. It's important to use all these spices to get that classic "gingerbread" taste.
Baking soda: to help the cookies rise.
Salt: to balance out all the flavours.
How to make Gingerbread Cookies:
Many people think gingerbread cookies are hard to make, which is not the case. So let's break it down a little further.
Mix all the dough ingredients together in a stand mixer
Pop the dough into the fridge for 1-4 hours to chill
Use a rolling pin to roll out the dough
Use your favourite cookie cutter to cut out shapes
Place on a baking sheet and bake
(Optionally) Use a piping bag to pipe royal icing onto the cookies
BOOM. YOU JUST MADE GINGERBREAD COOKIES. *applause*
Pretty simple once it's broken down into steps, right?
How to store these cookies
Store the gingerbread cookies in an airtight container on the countertop for up to 2 weeks. These cookies can be frozen, however, they are best enjoyed fresh.
Freezing gingerbread cookie dough
If you have leftover gingerbread cookie dough or want to make a double the recipe to make extras, you can freeze the dough for up to 4 months in the freezer.
How to freeze cookie dough: form the cookie dough into a ball and flatten it so it resembles a large patty. Tightly wrap the cookie dough in plastic wrap and place the dough into a freezer-safe ziplock bag. Freeze for up to 4 months. When you're ready to make cookies, remove the dough from the freezer and place it in the fridge to thaw. You want the dough to still be slightly cold when rolling it out so it doesn't stick to the rolling pin.
More holiday treats to make
If you tried these Healthier Easy Gingerbread Cookies or any other recipe on the blog let me know how you liked it by leaving a comment/rating below! Be sure to follow along on Pinterest, Instagram and Facebook for even more deliciousness!
Print
This post contains affiliate links which means I will make a small commission if you purchase through those links. I only recommend products that I know, trust and love!