Healthier Easy Gingerbread Cookies
These healthier Easy Gingerbread Cookies are made with whole-grain flour for some added nutrition. These cookies are easy to make and you can be decorated however you like!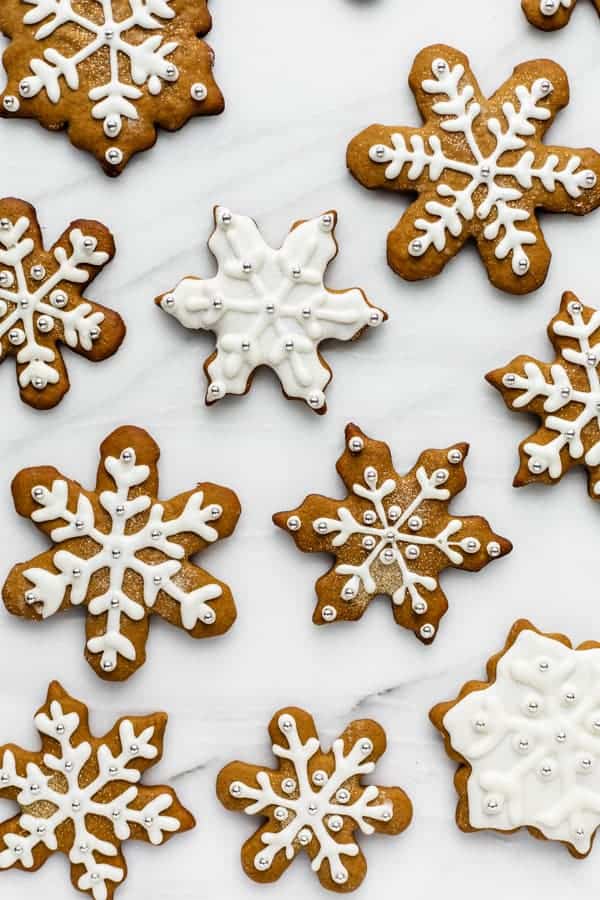 Easy Gingerbread Cookies
And the saga continues…
From ginger molasses cookies to vegan gingerbread donuts, we're now moving onto a holiday classic: Healthier Easy Gingerbread Cookies!
Now, before you go ahead and look at these sparkly snowflakes in doubt thinking "that does not look easy," let me assure you, the actual COOKIE making part of this recipe is easy as can be! Really, just dump all the ingredients into a stand mixer and then pop the dough into the fridge to chill.
Really, many people think gingerbread cookies are hard to make, which is not the case. So let's break it down a little further.
How to make Gingerbread Cookies:
Mix all the dough ingredients together in a stand mixer
Pop the dough into the fridge for 1-4 hours to chill
Use a rolling pin to roll out the dough
Use your favourite cookie cutter to cut out shapes
Place on a baking sheet and bake
(Optionally) Use a piping bag to pipe royal icing onto the cookies
BOOM. YOU JUST MADE GINGERBREAD COOKIES. *applause*
Pretty simple once it's broken down into steps, right?
Why you'll love this recipe
These cookies are perfect to bring to a holiday party or to make with friends and family as an activity.
These cookies are made with whole-grain flour which makes them a bit healthier than your average cookie. They can also be made with a 1-1 gluten-free flour if you want to make them gluten-free.
They are perfectly crisp around the edge and slightly soft in the center and filled with festive gingerbread flavour!
Tips for making this recipe perfectly
I like to use organic blackstrap molasses for these cookies. This gives them a super deep and robust flavour, but regular (also known as fancy) molasses tastes great too! If you're wondering what the difference is between regular molasses and blackstrap molasses let's clear that up quickly:
For icing the cookies: make sure you having a piping bag on hand and the right piping tips. I like to use the Wilton #1 and #2 round decorating tip. These are the perfect decorating tips if you're looking to make some fun designs on your cookies, or even just gingerbread men!
For icing consistency: This is the *only* part of the recipe that is a little bit trickier. If your icing is too thick, it will be hard to pipe on well. If it is too thin, it will leak. So how do you know the right consistency? (You're looking for a "5-second consistency." This means, if you run a knife through your icing, it should seep back together within 5 seconds. I found this video quite helpful for making royal icing & piping tips!)
More holiday treats to make
Print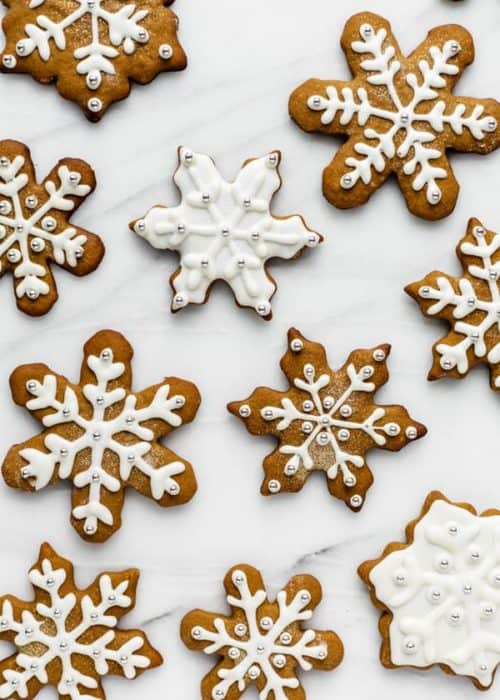 Healthier Easy Gingerbread Cookies
Author: Jessica Hoffman
Prep Time: 15 minutes
Cook Time: 10 minutes
Total Time: 25 minutes
Yield: 12–20 cookies 1x
Category: Dessert
Method: Bake
Cuisine: American
---
Description
These gingerbread cookies are made with healthier ingredients than a traditional gingerbread cookie and are easy to make!
---
---
Instructions
In a stand mixer, cream together the sugar and butter until light and fluffy, then add the egg, molasses and vanilla and mix until combined.
Mix all the dry ingredients together and slowly add to the mixer. Mix until everything is well combined.
Cover your dough and place it in the fridge for at least an hour until it's firm enough to work with.
Preheat the oven to 350 degrees F and line a baking pan with parchment paper.
Roll out the dough on a lightly floured surface until it is about 1/4 inch thick.
Use cookie cutters to cut out shapes and place the cookies onto the baking sheet.
Bake for 8-10 minutes
Royal icing: 
Mix the powdered sugar, egg whites and vanilla extract together in a stand mixer until smooth and shiny.
Slowly add the water, one tsp at a time until your icing drizzles off a spoon and holds for a few seconds before melting back into the icing. (If it's too thick, add some more water. If it's too thin, add some more icing sugar.)
Use a piping bag to pipe the icing onto your cookies.
---
Notes
Use blackstrap molasses in these cookies if you have some on hand. It has a deeper more rich flavour and will make these cookies taste amazing! 
I use the Wilton no.1 and the Wilton no.2 tips for icing these cookies. I use these snowflake cookie cutters for these cookies!
You want the icing to have a 5-second consistency. If you a run knife through it, the icing should seep back together in 5 seconds. 
---
Nutrition
Serving Size: 1 cookie
Calories: 207
Sugar: 25g
Fat: 5g
Saturated Fat: 3g
Carbohydrates: 37g
Fiber: 2g
Protein: 2g
Keywords: Easy gingerbread cookies, healthy gingerbread cookies
If you tried these Healthier Easy Gingerbread Cookies or any other recipe on the blog let me know how you liked it by leaving a comment/rating below! Be sure to follow along on Pinterest, Instagram and Facebook for even more deliciousness!
This post contains affiliate links which means I will make a small commission if you purchase through those links. I only recommend products that I know, trust and love!