Grain-free orange cardamom cookies
These grain-free orange cardamom cookies are made with almond flour for a healthy protein-packed treat. They're also vegan and gluten-free!
I am SO excited to finally be back with a new recipe!
I've been sick in bed with the flu for two weeks since I've been back from my trip to Sri Lanka. Go figure, one day back in the winter weather and I end up sick.
Being sick in bed it was nearly impossible to cook anything, let alone have much appetite to eat anything. So after my two-week diet of orange juice and soup, I was needless to say pretty excited to get back in the kitchen and start creating some new recipes!
This recipe for grain-free orange cardamom cookies is the first of many to come!
Since it's still the holiday season, I'm in the mindset of baking cookies…these aren't your average cookies though. They're also sweetened with maple syrup. (Though the glaze uses icing sugar, which you can just ommit if you want to keep the sugar to a minimum!)
These cookies are completely vegan, gluten-free, grain-free, and refined-sugar free. They're a shortbread type of cookie made with an almond flour base, so they're high in protein and healthy fats.
They also feature one of my all-time favorite flavor combinations: orange and cardamom! (A match made in heaven if you ask me.)
With the year coming to an end and January just around the corner, I have many more healthy recipes in the works for the new year.
I'm excited to be sharing some really healthy "detox" type recipes for January, (we all could use a little detox after the holidays, right?) along with some heartwarming recipes to help get you through the coldest days of winter.
The new year is a great time to jump into some new goals and resolutions, and healthy eating is always a great place to start.
I'm currently working on some of my goals for the new year (both for the blog and personal goals) which I'll be sharing in some upcoming blog posts soon!
What are some goals you've set for 2018?
Print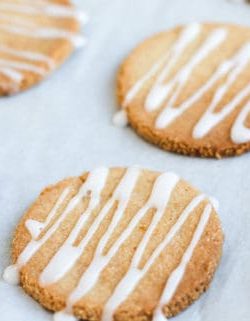 Grain-free orange cardamom cookies
Author: Jess
Prep Time: 15 mins
Cook Time: 10 mins
Total Time: 25 mins
Yield: 12 cookies 1x
Category: Dessert/Snack
Method: Bake
Cuisine: American
---
Description
Grain-free orange cardamom cookies will be your next favorite afternoon treat!
---
2 cups blanched almond flour
2 tbsp orange zest
1 tsp lemon zest
1 tsp cardamom
1/2 tsp baking soda
1/4 cup avocado oil (melted coconut oil, melted butter, or vegetable oil work too)
1/4 cup maple syrup
glaze (optional)
1/4 cup icing sugar
2 tsp almond milk
---
Instructions
Preheat the oven to 350 degrees F and line a baking pan with parchment paper.
Mix the almond flour, orange zest, lemon zest, cardamom, and baking soda together in a bowl.
Next add the avocado oil and maple syrup and mix together until a dough forms. (you can also use a mixer for this if you prefer)
Using your hands, form a ball with the dough.
Wrap in some parchment paper and place in the fridge for 10 minutes to firm up.
Using a rolling pin, roll out the dough between 2 sheets of parchment paper until it is about 1cm thick.
Use a round cookie cutter to cut the cookies.
Place on a baking sheet and bake for 8-10 minutes until golden brown.
To make the glaze, mix the icing sugar and almond milk together.
drizzle on top of the cookies.
Store in an airtight container.
---
---
Nutrition
Serving Size: 1 cookie
Calories: 65
Sugar: 6g
Fat: 3g
Saturated Fat: 0g
Carbohydrates: 9g
Fiber: 1g
Protein: 1g
Keywords: Grain-free orange cardamom cookies, vegan cookies, how to make vegan cookies
Tips & suggestions:
You can use a mixmaster to mix these cookies together in a dough
If you don't wall to use cookie cutters, simply roll the dough into small balls, press down and place on your baking sheet
If you love these grain-free orange cardamom cookies you'll also love these no-bake chocolate chip almond cookies!
This post contains affiliate links which means I will make a small commission if you purchase through those links. I only recommend products that I know, trust and love!