Vegan chocolate hazelnut tart
This Vegan Chocolate Hazelnut Tart is a rich and creamy dessert that is made with simple ingredients and is free from refined sugars.
This recipe is sponsored by One Degree Organics.
Are you ready for this? You might want to sit down for this one if you're not already. Because we're about to get into some serious chocolate decadence.
Vegan chocolate hazelnut tart. aka a crispy oat & hazelnut crust filled with luscious chocolate and hazelnut ganache and topped off with roasted hazelnuts. aka the way to my heart.
That's right friends, we just went there.
This vegan chocolate hazelnut tart is essentially like eating a pie filled with creamy homemade Nutella. And I'm no stranger to loving some homemade nutella!
How to make a tart crust:
The key to making a perfect chocolate tart all starts off with a great crust.
Today we're using One Degree Organic sprouted rolled oats as the base for our tart crust. These oats are sprouted, so they unleash more nutrients and are easier to digest, making this tart THAT much healthier. One Degree Organic oats are also gluten-free (not all oats are!) so this tart can be enjoyed by most.
If you're not familiar with One Degree Organics, they offer all organic products, (as you may have guessed from the name), they source their products from farmers who only used plant-based farming methods, and they believe in total transparency too. I love how you can scan the QR codes on the back of all of their products and actually get to meet the farmers and learn about where they source their ingredients, how amazing is that?

I love using their products in my recipes for that reason and I can rest easy knowing that the ingredients I'm using are both good for me and the environment.
The next important step in making a tart crust is having some oil and a sticky sweetener to help bind the crust together. The mixture should be crumbly but stick together when you press it between your fingers.
The crust then gets baked off until it's nice and golden brown and then it's ready to be filled!
How to make chocolate ganache:
Chocolate ganache is made by combining equal amounts of cream and chocolate. Today we're using coconut cream in the recipe to keep this tart vegan, and we're also adding some hazelnut butter to make this into a hazelnut ganache.
The trick to getting a nice and creamy ganache is to melt the chocolate slowly in the coconut milk so it melts evenly and doesn't burn.
You can also make the ganache in a microwave, just make sure to set your microwave to half power to prevent the chocolate from burning.
A few notes on the recipe:
This vegan chocolate ganache tart is made with hazelnut flour, hazelnut butter and roasted hazelnuts. If you don't have hazelnut flour on hand, you can substitute it with some homemade hazelnut meal. (Make this by grinding hazelnuts until they resemble a flour) You can also skip out on the hazelnut butter in the filling if you prefer a plain chocolate ganache.
I use a 9-inch tart pan with a removable bottom to make this recipe. I'd definitely recommend a pan with a removable bottom to make it easy to remove the tart.
Leftovers of this recipe can be stored in the fridge for up to a week, or even be stored in the freezer. (This tart tastes REAL GOOD frozen too!)
More vegan dessert recipes to try
Print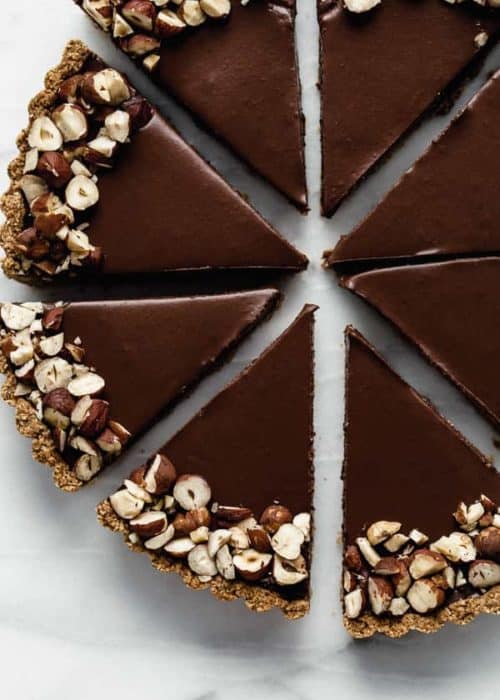 Vegan Chocolate Hazelnut Tart
Author: Jess
Prep Time: 20 minutes
Cook Time: 15 minutes
Total Time: 30 minutes
Yield: 12 servings 1x
Category: Dessert
Method: Bake
Cuisine: American
---
Description
A rich and luscious chocolate tart that is vegan, gluten-free, and refined sugar-free!
---
---
Instructions
Preheat the oven to 350 degrees and spray a 9-inch tart pan with cooking spray.
Combine the crust ingredients together in a food processor until well combined. The mixture should be sticky when you press it between your fingers.
Transfer the dough to a tart pan. Using your fingers, press the dough down evenly to cover the pan.
Bake for 15-17 minutes until golden brown, then remove and let cool completely.
Add the filling ingredients together in a pot on medium heat and mix until the chocolate begins to melt. (Make sure to mix often so the chocolate doesn't burn!) Mix until combined, then pour the mixture into the tart pan.
Place the tart in the fridge for 2-3 hours until the filling is set, then top with chopped hazelnuts and serve.
---
Notes
When pressing the filling into the tart pan, I like to start by pressing the filling around the edges of the pan, and then work my way to the middle of the pan.
I use this tart pan with a removable bottom for this recipe.
---
Nutrition
Serving Size: 1 slice
Calories: 394
Sugar: 14g
Fat: 31g
Saturated Fat: 9g
Carbohydrates: 30g
Fiber: 6g
Protein: 6g
Keywords: How to make vegan ganache, healthy vegan desserts
If you tried this Vegan Chocolate Hazelnut Tart or any other recipe on the blog let me know how you liked it by leaving a comment/rating below! Be sure to follow along on Pinterest, Instagram and Facebook for even more deliciousness!
This post contains affiliate links which means I will make a small commission if you purchase through those links. I only recommend products that I know, trust and love!