20 Easy & Impressive Date Night Recipes
Every single one of these 20 easy date night recipes is a delicious dish suitable for date night with your girlfriends, family, or your S.O.! From fun new recipes like vegetarian sushi to mouth-watering classics like chocolate chip cookie skillets, you're sure to find some delicious ideas in here!
Easy Recipes sure to Impress on Date Night
For me, part of the fun of cooking is cooking for other people. I love finding those recipes where you can actually see the other person's eyes light up as they clear the plate of whatever you made.
All 20 of these recipes are inarguably delicious, with clear, easy-to-follow instructions and bursting with flavor. And while some of these recipes are easier than others, they're all entirely worth it.
Whether you're on the hunt for a romantic meal, or a "let's make dinner" project for your next night in, at least one of these recipes is begging to be made. Happy cooking!
Looking for a date night dinner challenge? Learn how to make pasta at home! These Heart Beet Ravioli are perfect to make with someone special, and the stuffing is so delicious.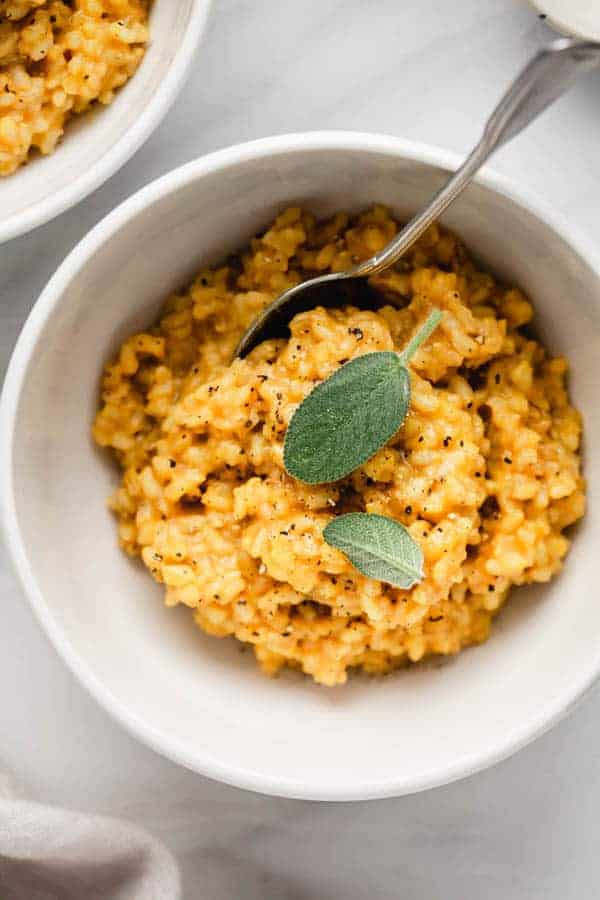 Risotto might be one of my favorite date night dishes, and this Roasted Butternut Squash Risotto is no exception. It's incredibly simple to make, but looks and tastes extra fancy!
Still doing Whole 30, or just generally trying to stay healthy? These Sweet Chili Vegan Lettuce Wraps are packed with flavor and crunch to make a light and fresh meal!
4. Roasted Vegetable Lasagna
While nothing can beat mama's lasagna, this Roasted Vegetable Lasagna is such a fun twist on the classic. It's full of colorful vegetables and fresh tomato sauce!
Prepping a five-course meal, you overachiever you? Start off with this Tuscan White Bean Soup! It comes together quickly, and offers a creamy and flavorful texture loaded with healthy ingredients!
I'm not sure I can make this Mushroom Pasta with Goat Cheese for two, because I'll probably end up eating it all. The white wine, garlic and cream sauce is sure to put some smiles on!
These Sheet Pan Veggie Tacos are such an easy way to load up on vegetables, filled with roasted mushrooms, onions, and potatoes! The best part is that while the oven does the work, the only thing you have to worry about is picking out your taco fixings.
Create that fancy restaurant feel with this easy fresh Bruschetta. Made with fresh basil, balsamic vinegar, and spread on a warm slice of perfectly crisp toasted bread, you definitely won't hear any complaints from this one!
One of my favorite things about these Veggie Pot Pies with Puff Pastry Crust is how deceptively easy they are! Maximum flavor and presentation points for this one!
You will never catch me saying no to a flatbread! These Pear, Brie, and Rosemary Flatbreads are topped with such a heavenly combination of ingredients, and look deliciously impressive, despite how easy they are to make!
This comforting Lentil Bolognese is the ultimate healthy comfort food for a date night in. It's loaded with veggies and lentils, and easy to make to impress your date!
Might I suggest pairing dinner and a movie? You already know which one I'm going to suggest. Watch and make Ratatouille for a comforting and delicious dinner by layering thin-sliced vegetables on a bed of flavorful sauce. Make Remy proud!
Another cooking challenge, coming right up! These Easy Vegetarian Sushi are stuffed with sweet potato tempura and the delicious sushi vegetables we know and love, but made in the comfort of your own home! Which person can make the prettiest rolls?
Impress with the classics – spaghetti! This Spaghetti with Homemade Tomato Sauce is made with fresh market tomatoes and a delicious blend of spices, perfect to pair with a glass of wine or the Bruschetta from above!
Looking for a warm, gooey dessert that's ideal for sharing? This Brown Butter Chocolate Chip Cookie Skillet with have you two fighting with spoons for the last bite of melted milk chocolate.
These Vegan Red Velvet Cupcakes are super soft and fluffy, and topped with a delicious healthy-ish coconut cream cheese frosting. And how appropriate is this color for the month of February?!
Want to wake them up with breakfast in bed? This Healthy Apple Crisp is both delicious and nutritious, and the smell of your house while it bakes is better than any candle you'll light!
The way to everyone's heart this season: chocolate. This Vegan Chocolate Hazelnut Tart has a crispy crust filled with luscious chocolate and hazelnut ganache and topped off with roasted hazelnuts. It also freezes well to make it last all week long.
Does this one even need an introduction? This Vegan Lava Cake is fluffy yet flourless and filled with a mouth-watering liquid chocolate center. Might want to make two, because I don't think this one will be shared willingly!
Last, but very much not least, this Vegan Double Chocolate Chia Mousse. Loaded with rich chocolatey flavor but made with wholesome ingredients, it's the perfect treat to end the day with on the couch.
This post contains affiliate links which means I will make a small commission if you purchase through those links. I only recommend products that I know, trust and love!