Heart beet ravioli
These Heart Beet Ravioli are perfect to make for Valentine's day activity and so delicious! Learn how to make pasta at home rather than going to an Italian restaurant!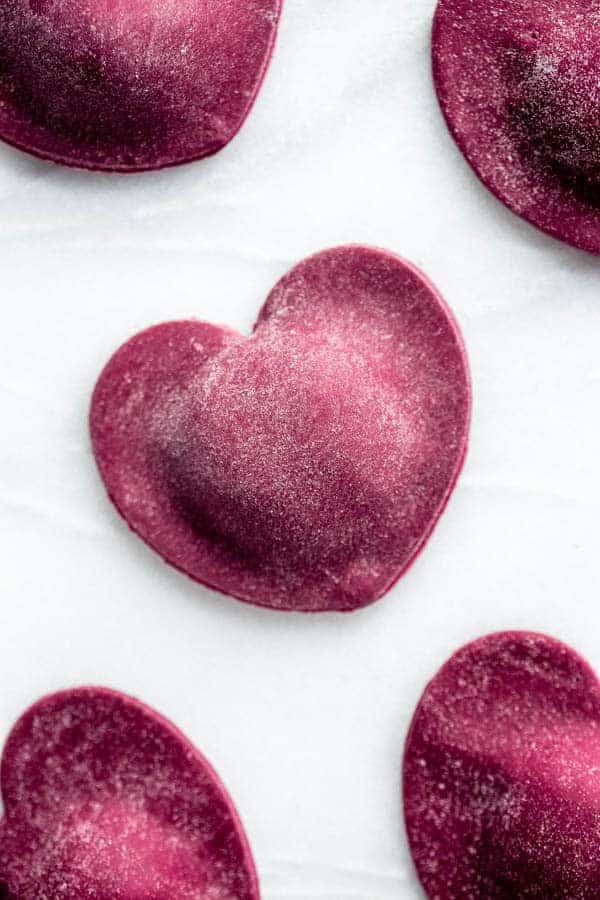 Today we're making heart beet ravioli. As in heart shaped raviolis, made with beets in the dough. As in heart beet…like heart beat…but beet…get it?
Ahhh I love a good play on words!
With Valentine's day coming up I wanted to share a recipe that was not a dessert recipe, but something that could be fun to make for an evening in, rather than spending a bunch of money at some fancy crowded restaurant. (Besides, hermitting is wayyyyy better in the winter anyways!)
Whether you're celebrating Valentine's day as a couple (or maybe you're celebrating Galentine's day?) or just want a fun activity to do for an evening in, this heart beet ravioli recipe is where the fun's at!
If you've never tried making your own homemade pasta before, OMAGAWD let me tell you, it is 100% pure FUN. It's like being a kid again and playing with play dough…except you get to stuff the dough with delicious ricotta and mint stuffing and then eat it. (and for those of you who don't want to make you're own pasta, I'd highly recommend this creamy roasted red pepper pasta dish!)
How to make homemade pasta
ok, so the question on everyone's mind right now is how to make homemade pasta.
So the process is actually pretty simple! For a basic pasta recipe for every cup of flour you use, you'll add 1 egg, a pinch of salt…and that's basically it! You may need a couple drops of water if your dough feels a little too dry, which you can add in as you kneed the dough. (This will depend on how large your egg is and how much liquid it adds to the dough.)
To make the pasta dough, you start by pouring the flour onto a clean surface and making a well in the centre for the egg. Then once the egg is added, you start mixing the flour into it until it forms a dough.
After the dough is formed you run the dough through the pasta machine on the largest setting several times (I do this about 5-6 times) to help incorporate the dough, and then start running it through the pasta machine on a smaller setting each time.
Once it's nice and thin your dough is finished and you can cut it into noodles, or use it to make raviolis!
If this process feels at all intimating to you this youtube video is helpful to show you these steps in action!
A few notes on the recipe:
This ravioli dough has some beet puree added to it to make that beautiful red colour. Adding the beet puree is totally optional, and you can leave it out entirely and just make regular ravioli dough if you prefer. If you are worried about your pasta tasting too much like beets, the beet doesn't really add any flavour. (Just colour!)
I use a ricotta and mint filling for these raviolis, but you can use any type of filling you like.
You can also use any of your favourite pasta sauce for the raviolis. My preference is to just toss these in a little bit of garlic butter and top them off with some freshly grated parmesan cheese. But you can also go for a tomato sauce or a pesto if you prefer!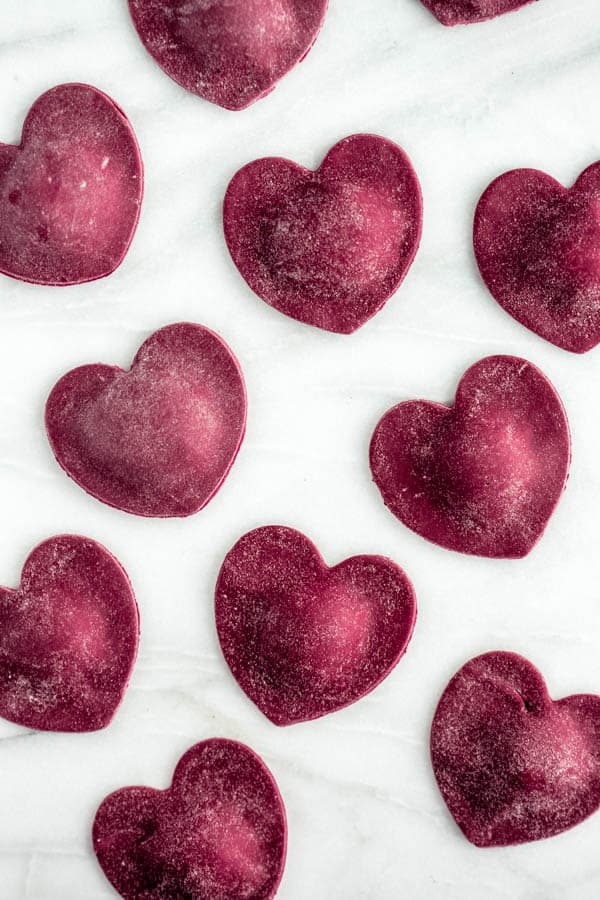 More pasta recipes to try
Print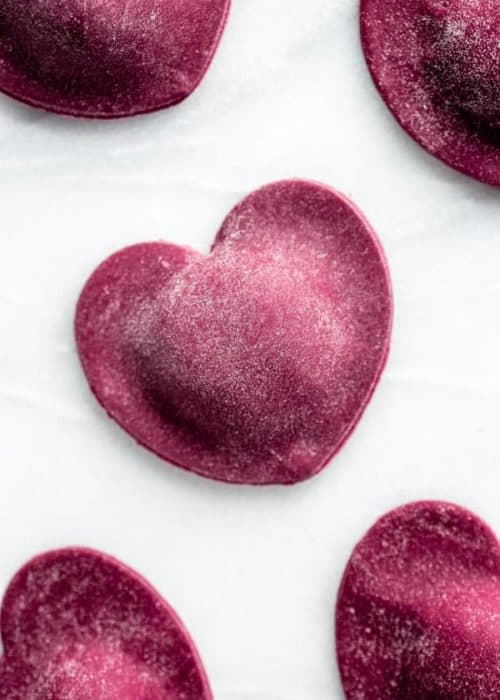 Heart Beet Ravioli
Author: Jess
Prep Time: 1 hour
Cook Time: 0 minutes
Total Time: 1 hour
Yield: 4 servings 1x
Category: Main
Method: Kneed
Cuisine: Italian
---
Description
Homemade ravioli with beet dough and a ricotta mint filling, YUM!
---
Ricotta & mint filling 
1 cup ricotta cheese
1/4 cup grated parmesan cheese
6–8 mint leaves, finely chopped
1 tsp lemon zest
salt & pepper tsp taste
Ravioli
2 cups flour
2 large eggs
4 tbsp beet puree (*see note)
1/2 tsp salt
---
Instructions
Start by making the filling. Mix all filling ingredients together in a bowl and place in the fridge.
To make the ravioli, place the flour on a clean surface. Make a well in the centre and add the eggs. Mix together with a fork to incorporate, add the beet puree, then use your hands to knead until smooth and elastic, about 5-10 minutes, add a pinch of extra flour if necessary to keep the dough from sticking, and a pinch of water if your dough feels too dry.  Cover and let rest for 30 minutes.
Cut the dough into quarters, take one piece and run it through a pasta machine on the largest setting 4-5 times.
Keep running the dough through the pasta machine, lowering the setting each time you run it through. (Mine goes from thickness 7 down to 1)
 place 1 heaping teaspoon of filling 2 inches apart over a pasta sheet. Brush around filling with water to moisten place a second sheet over, pressing down to seal. Use a heart-shaped cutter to cut into hearts, then give each ravioli a press around the edges to make sure they are sealed.
Repeat with the rest of the dough.
Boil the ravioli for 2-3 minutes until they float at the top of the pot and serve with your favourite sauce.
---
Notes
To make the beet puree blend 1 cooked beat until smooth and creamy. Serve this pasta with your favourite sauce. They're delicious tossed in some browned butter or with a pesto! I use this pasta machine to make this recipe. If you don't have a pasta machine, you can also use a rolling pin and keep rolling the dough until it's thin.
---
Nutrition
Serving Size: 1/4 recipe
Calories: 370
Sugar: 2g
Fat: 8g
Saturated Fat: 5g
Carbohydrates: 54g
Fiber: 3g
Protein: 19g
Keywords: How to make homemade pasta, how to make pasta from scratch, recipes for Valentine's day
If you tried these Heart Beet Ravioli or any other recipe on the blog let me know how you liked it by leaving a comment/rating below! Be sure to follow along on Pinterest, Instagram and Facebook for even more deliciousness!
This post contains affiliate links which means I will make a small commission if you purchase through those links. I only recommend products that I know, trust and love!