Healthy Apple Crisp
This Healthy Apple Crisp is so easy to make and is naturally vegan, gluten-free and refined sugar-free. It's loaded with apples and topped off with a crispy topping made from oats and almond flour. Serve it up on its own or top it off with your favourite ice cream!
Looking for a go-to dessert that is both healthy and easy to make? Look no further, this is it!
I love making crisps. They're one of the easiest desserts to make and you can really use any fruit you have on hand. Whether it's strawberry rhubarb crisp, pear crisp or apple crisp, it's a simple dessert that is light, fruity and a crowd pleaser!
Apple crisp is not only delicious but is one of the simplest desserts out there you can make. It's a perfect go-to recipe if you're hosting guests for dinner, a date night or if you're just looking for a tasty dessert to use up your apples!
This recipe for healthy apple crisp is made with less sugar and less oil/or butter than a regular crisp and uses a combination of oats and almond flour for a gluten-free crisp topping.
Why you'll love this recipe
This is the perfect easy apple dessert recipe that doesn't require any fuss with making pie dough.
It's the perfect recipe to use up any of those Fall apples from apple picking.
This apple crisp is relatively low in calories with 230 calories per serving.
The crisp topping is like a crunchy oatmeal cookie that is high in fibre and protein.
This crisp stores well in the fridge for 3-4 days so it can be enjoyed again and again! (If it lasts that long.)
Ingredients & substitutions
Oats-to make this Healthy Apple Crisp gluten-free, make sure to use gluten-free oats. Otherwise any quick oats or rolled oats will work just fine!
Almond flour-This gives the crisp some more protein and adds helps the topping come together. You can substitute any type of flour you like.
Coconut sugar-this type of sugar (also known as palm sugar) has a lower glycemix index than regular sugar, so it won't leave you with that *sugar high.* You can substitute brown sugar here if needed.
Spices-cinnamon and nutmeg. Definitely recommend using both of these spices in this recipe!
Salt-to help balance out the flavour.
Coconut oil-You can also use dairy-free butter or regular butter.
Lemon-Fresh lemon is prefered!
Apples-McIntosh, Cortland, Granny Smish and Honeycrips are all great options!
What is the difference between apple crisp and crumble?
The main difference between an apple crisp and an apple crumble is all in the topping.
A crisp topping is generally made with a base of oats. Whereas crumble topping is more of a streusel-like topping made from a mix of flour, butter and sugar. Though some people use the name interchangeably now for these two desserts.
How do you slice apples for apple crisp?
There are two main ways you can slice your apples for a crisp. Either in slices or in cubes.
For both of these options, you'll want to start by removing the skin from your apples using a peeler. Simply peel away all the skin and discard. Then cut the apples in quarters. cut along the center to remove the seeds and stem. Then slice into thinner slices, or chop up into cubes.
Slices will give a crisp more texture as pieces hold together more, whereas cubes will give you a bit more of a softer texture. Both ways are delicious!
How to make a healthy Apple Crisp
Step 1
Peel the apples and cut them into slices. You can also cut the apples into small cubes. It all depends on your personal preference! Then toss them in a bowl with some spice and lemon juice.
Step 2
Next, Prepare the healthy crumble topping by adding the topping ingredients to a food processor and pulsing until everything is incorporated. You can also do this by hand in a large bowl.
Step 3
Layer the apples on the bottom of a baking dish. Make sure to spread the apples out in an even layer. Then use your hands to sprinkle the crisp topping over the apples evenly.
Step 4
Place in the oven and bake at 350 degrees F for 45-50 minutes until golden brown on top.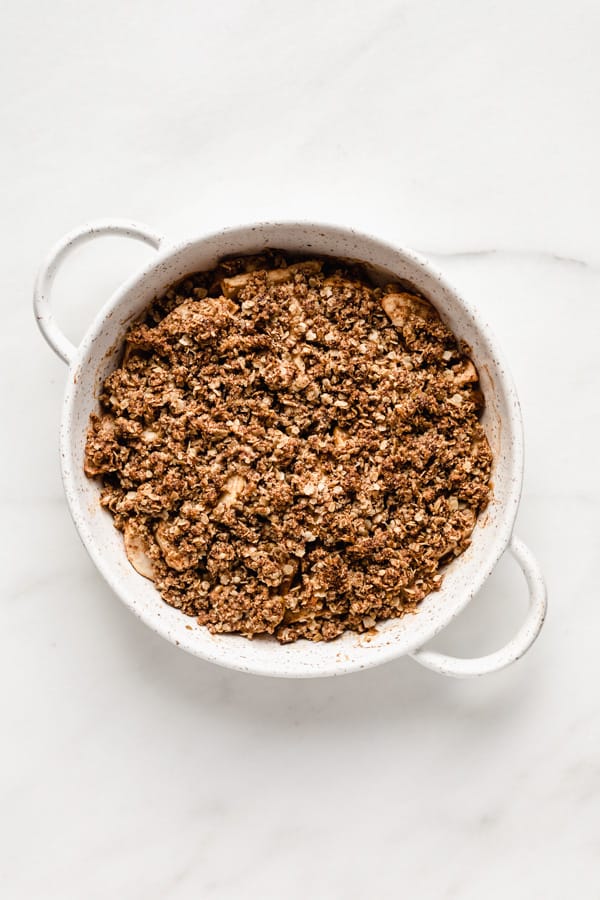 Tips for making this recipe perfectly
Use honeycrisp, granny smith, Macintosh or Cortland apples for best results.
Don't forget to peel the apples! Apple peel will be tough in the crisp and will make it less enjoyable.
Use quick oats if you prefer a smaller crumble in your topping, or rolled oats if you prefer a chewier/nuttier texture in your topping.
Use room temperature coconut oil or butter. This will give you a more crumbly dough and will result is a delicious crisp topping.
You do not need to cover this crisp while baking. Make sure to bake it in the middle rack of your oven.
Storage tips
Fridge: store any leftover apple crisp covered in the fridge for up to 5 days. Eat directly out of the fridge or warm in the oven or microwave
Freezer: Let the crisp cool completely, then cover well with plastic wrap and freeze for up to 2 months. Let thaw on the countertop then warm in the oven at 350 degrees F until warmed through.
More apple recipes to try
If you tried this Healthy Apple Crisp or any other recipe on the blog let me know how you liked it by leaving a comment/rating below! Be sure to follow along on Pinterest, Instagram and Facebook for even more deliciousness!
Print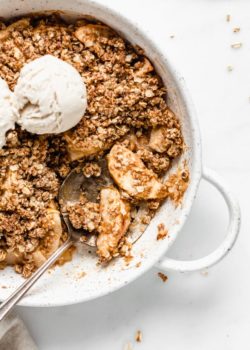 Healthy Apple Crisp
Author: Jessica Hoffman
Prep Time: 15 minutes
Cook Time: 45 minutes
Total Time: 60 minutes
Yield: 6 servings 1x
Category: Dessert
Method: Bake
Cuisine: American
Diet: Gluten Free
---
Description
This Healthy Apple Crisp is easy to make and healthy enough that you can even eat it for breakfast!
---
4 apples, peeled and cut into slices
1 tbsp lemon juice
1 tsp cinnamon
1/4 tsp ground nutmeg
1 cup oats (gluten-free if needed)
1/4 cup almond flour
1/4 cup coconut sugar
pinch of
1/4 cup coconut oil, room temperature (or butter or vegan butter)
---
Instructions
Preheat the oven to 350 degrees F 
In a bowl mix the apples, lemon juice and 1/2 tsp of cinnamon together
In a food processor or bowl, mix together the oats, almond flour, coconut sugar and remaining cinnamon, nutmeg and salt until everything is incorporated. (If using a bowl, use a fork or your hands, mash the coconut oil or butter into the dry mixture until it's well incorporated and forms small clumps.)
Layer the apples in an 8×8 inch baking dish then sprinke the crisp topping on top of the apples.
Bake for 45-50 minutes until golden brown on top. Let cool for 10 minutes before serving. 
---
Notes
Use Honeycrisp, granny smith, Macintosh or Cortland apples for best results.
You can use quick oats or rolled oats for the crisp topping. Do not use steel cut oats! 
Use room temeprature oil or butter rather than melted. This will result in the best texture for the crisp topping. 
You do not need to cover the crisp while baking. 
Store leftovers in the fridge covered for up to 5 days. 
---
Nutrition
Serving Size: 1/6 of the recipe
Calories: 230
Sugar: 20g
Sodium: 100mg
Fat: 10g
Saturated Fat: 6g
Carbohydrates: 39g
Fiber: 5g
Protein: 3g
Keywords: healthy apple crisp, vegan apple crisp, gluten-free apple crisp
This post contains affiliate links which means I will make a small commission if you purchase through those links. I only recommend products that I know, trust and love!
This post contains affiliate links which means I will make a small commission if you purchase through those links. I only recommend products that I know, trust and love!