Classic Chia Parfait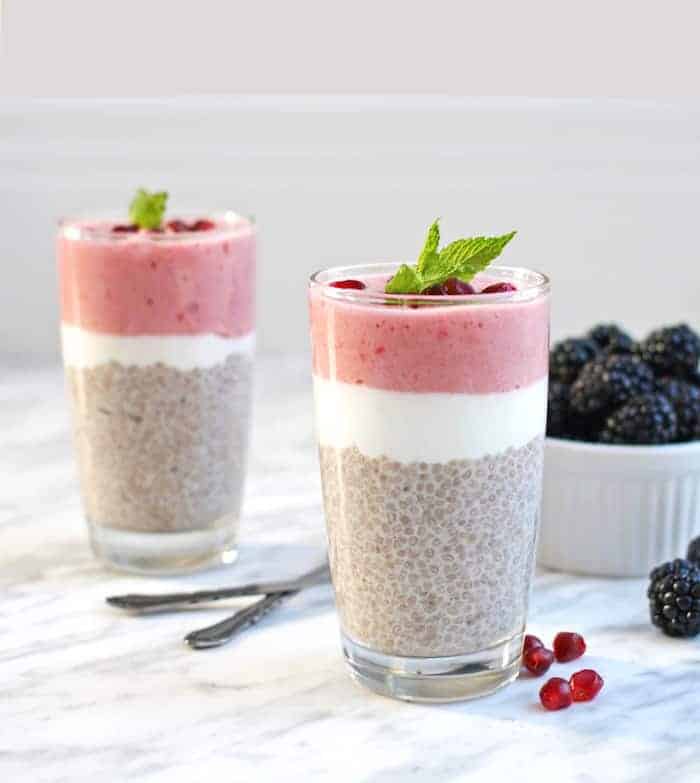 Chia seeds are powerful little seeds. I use them and in many of my recipes, and love the nutrition they deliver. When I'm looking for some quick and easy, I always opt for chia pudding. It's creamy and soft and loaded with nutrients. You can enjoy it for breakfast, as a snack, or even for dessert. I also love chia pudding because its so easy to take to go! Just pop it into a mason jar or tupper wear, and run out the door.
This classic chia parfait is my go to breakfast. You get the omegas, and fibre from the chia, some nice protein in the yogurt, and a serving of fruit from the smoothie. It's everything you could possibly want in one cup!
Print
Classic Chia Parfait
Author: Jess
Prep Time: 2 hours
Cook Time: 0 mins
Total Time: 2 hours
Yield: 2 1x
Category: Breakfast/Snack
Method: Combine
Cuisine: American
---
---
chia pudding
layer 2
1/4 cup of your favourite yogurt
layer 3
1 banana (fresh or frozen)
1/2 cup strawberries
1/4 cup almond milk
---
Instructions
Lets start by making our chia pudding. I recommend you make your chia pudding the night before, and have it ready to go in the morning.
In a medium bowl, mix together your chia seeds, almond milk, vanilla extract, and maple syrup.
Give it a good whisk with a fork, and place it in the fridge to firm up for 2 hours-overnight. (I like to take it out after 10 minutes, to give it another whisk so it doesn't get clumpy.)
Place your banana, strawberries, and almond milk in a blender and blend until smooth.
To assemble your parfait, layer chia pudding on the bottom, followed by a large dollop of yogurt, and finally top with your smoothie layer.
Garnish with fresh fruit and mint if desired.
---
---
Nutrition
Serving Size: 1 parfait
Calories: 280
Sugar: 18g
Fat: 11g
Saturated Fat: 1g
Carbohydrates: 39g
Fiber: 12g
Protein: 8g
Keywords: Classic Chia Parfait, how to make chia pudding
*This recipe can easily be assembled in a mason jar and taken to go!
This post contains affiliate links which means I will make a small commission if you purchase through those links. I only recommend products that I know, trust and love!