7 ways to create a zen living space & living room reveal!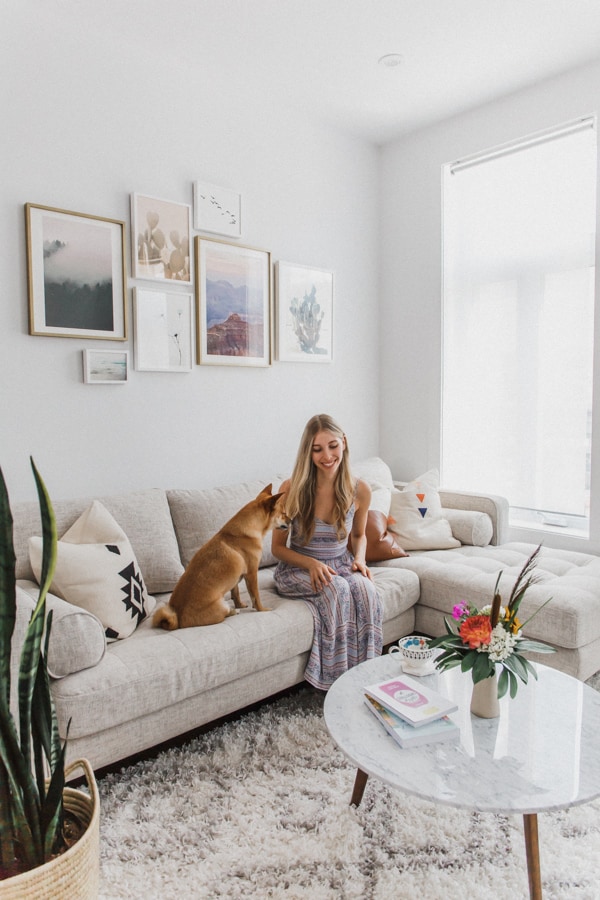 This post is in partnership with Article. Thank you for helping to make my living space vision come true!
Well, the time is finally here! No new recipe today, because instead, I'll be sharing my new living room reveal! It's been about a month now since I moved and I'm happy to say that new apartment is finally put together and is starting to feel like a real home!
It took several weeks of building, shopping, endless to-do lists and endless cardboard boxes cluttering the floors. So needless to say, the past month did not feel particularly like I was living in a zen living space. But that's all finally changed! The boxes are out, the furniture is built, and my space has been transformed from disorganized & chaotic to zen & high-vibe!
Along this journey, I've also spent countless hours researching and studying how to create a minimalist boho space that is zen and will leave my mind feeling peaceful and ready to take on the day. Working from home, I wanted to curate a space that could foster creativity and a sense of wellbeing all day long.
Related post: 5 healthy morning rituals to start your day
That is why I am so excited to have partnered with Article on this post. Article creates beautifully designed modern furniture at reasonable prices. They're all about simplicity: both in their minimalistic furniture and in the shopping process. Pictured here is the Sven sofa in birch ivory and the mara walnut coffee table.
These are two of my favourite pieces of furniture in my new home! The Sven sofa has a simple mid-century modern look and comes with two round bolsters on each side. This is my dog mangos favourite cushion to use to sit on and people watch out the window! The mara coffee table has solid wood legs and a sleek marble top, which is simple and clean and really ties in that relaxed feeling into the living room.
Article provides shipping starting at 49$, and also provides shipping options including delivery to the room & assembly for $169. (Which let me just say is SO nice to have done for you!) I wanted to turn my living room space into kind of a Zen retreat: an area where I can sit and enjoy my morning coffee while journaling, or where I can go unwind after a long day of work.
I've compiled 7 ways to create a zen living space that can help you transform your home into a minimal, cozy & high-vibe space!
7 ways to create a zen living space
Go for neutral colours and tones
If you follow me on Instagram, then you know I'm a sucker for bright, bold and poppy colours. But when it comes to my living space, going for neutral tones helps promote feelings of relaxation and tranquillity. Greys, nudes, blush and soft blues/greens are all great choices. I made sure to choose artwork in nudes, blushes and soft greens, to emulate this feeling. All the artwork on my wall is from Minted, a marketplace online where independent artists can sell their fine art. (My absolute favourite piece of artwork is this cactus print!)
Keep the furniture simple and clean
Simplicity has a calming effect on the mind, which is essential if you're going for a zen living space! Think minimal here. Sometimes less really is more. Go for furniture with modern and has clean lines. I personally love having a touch of wood for a natural zen feel, which is one of the reasons I love my article furniture so much!

Bring in some cozy elements
Can you really feel relaxed and unwind if you don't feel cozy in your space? Creating a space that makes you feel at peace means creating a space that also feels cozy. When you think about this space, it should make you feel relaxed and bring you joy. A rug, throw pillows, and a throw blanket (for colder months) are essential for creating a cozy vibe.

Banish clutter
GET MINIMAL. Think about what you really need to keep in your space. This is something that I am continuously practicing after reading Marie Kondo's the life-changing magic of tidying up (great read for a minimalist lifestyle!). If you hold an item that doesn't bring you joy, it may be time to let it go. Think about what you really need in your space, and what you items you can let go of. You'll be surprised how much this can put your mind at ease.

Go Green
…with plants! Plants have so many incredible health benefits. Houseplants naturally purify the air and are shown to help boost your mood, concentration, and memory. Just like being outside in nature leaves you feeling more relaxed and zen, bringing nature into your home can have the same effect.

Diffuse essential oils
If you don't have an essential oil diffuser, I highly recommend getting one. Essential oils can instantly change the mood & vibe of your home. Diffusing essential oils has been shown to help with sleep, relaxation and boosting mood altogether. I have several different scents that I like to diffuse. In the mornings I'll diffuse something a little more invigorating, (like a citrus blend) and in the evening something a little more relaxing. (like a lavender blend) Diffusers can also add humidity to your air, which is especially good for the winter months.

Don't forget your personal touch
The only thing that makes your living space truly yours is, well, YOU! We all have our own personal touch we can to our space to really make it feel like a home. Whether it be personal mementoes or your favourite books, don't forget to make to turn your home into a space that reflects your personality.
This post contains affiliate links which means I will make a small commission if you purchase through those links. I only recommend products that I know, trust and love!