Healthy Quinoa Brownies
These healthy quinoa brownies are going to be your new favourite treat! They're rich, fudgy, and loaded with quinoa!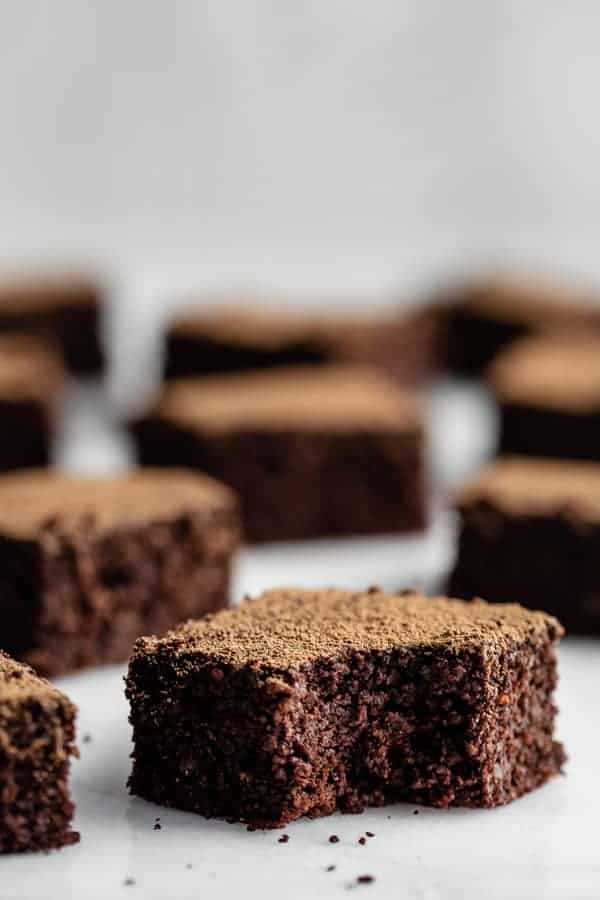 Healthy quinoa brownies.
As in, brownies…that are made from quinoa. Are you understanding me right now?! MADE. OF. QUINOA.
Yeah, I'm pretty excited about it, because not only are these brownies totally flourless, but they also take one of my favourite grains (quinoa) and turn them into chocolately deliciousness.
Why I love these quinoa brownies
Chocolate is a staple in my kitchen. I like to make sure I'm getting my chocolate fix on the reg. So having healthy chocolate recipes that can give me my daily chocolate fix is so important in my home!
I'm also a huge quinoa fan. Quinoa is packed with all kinds of amazing nutrients. It's high in protein, contains almost twice as much fibre as other grains, and is packed magnesium, iron, and B vitamins. Oh, and it's also gluten-free! Can it get any better? Why yes, yes, it can…by mixing it with chocolate of course!
This is one of my favourite new recipes. I made these quinoa brownies to bring to my friend's cottage up north and everyone loved them! They made the perfect comforting dessert on a snowy winter day. These Quinoa brownies have no flour, no refined sugar, and no dairy. They are fudgy and rich but are healthy enough to eat for breakfast. (#winning.)
I love this recipe because not only does it satisfy your chocolate craving, but they are nutritious too! I also have a Vegan option if you do not eat eggs, so you can make these brownies no matter your dietary restrictions!
A few notes on the recipe:
So these brownies start with a base of quinoa. For this recipe, you'll need half a cup of uncooked quinoa or about 1 cup of cooked quinoa.
You can prepare this recipe either in your food processor or in a blender. both will work fine! You'll want to make sure you are using a good quality cocoa powder to make these brownies, so they have a nice rich chocolatey taste!
Enjoy! xo
Print
Healthy Quinoa Brownies
Author: Jess - Choosing Chia
Prep Time: 15 mins
Cook Time: 30 mins
Total Time: 45 mins
Yield: 12 1x
Category: Dessert
Method: Bake
Cuisine: American
---
Description
These quinoa brownies are sure to satisfy your sweet tooth while still being healthy!
---
---
Instructions
Cook your quinoa according to package directions, and let cool completely.
Preheat your oven to 350 degrees, and line an 8 x 8 pan with parchment paper.
Start by adding your quinoa to the food processor, and blend until it forms a paste.
Next add the rest of your ingredients to the food processor, and continue to blend until everything is incorporated.
Pour your brownie mixture into the pan, and bake for 30-35 minutes, until a toothpick comes out clean.
Let cool, cut into squares and enjoy!
---
Notes
These brownies are great topped with a little cocoa powder or powdered sugar!
---
Nutrition
Serving Size: 1 brownie
Calories: 139
Sugar: 11g
Fat: 7f
Saturated Fat: 5g
Carbohydrates: 18g
Fiber: 2g
Protein: 2g
Keywords: Healthy Quinoa Brownies, vegan brownies, healthy dessert recipe
This post contains affiliate links which means I will make a small commission if you purchase through those links. I only recommend products that I know, trust and love!