Superfood chocolate bark
This superfood chocolate bark is loaded with healthy nuts, seeds, and dried fruit. It's the ultimate healthy treat!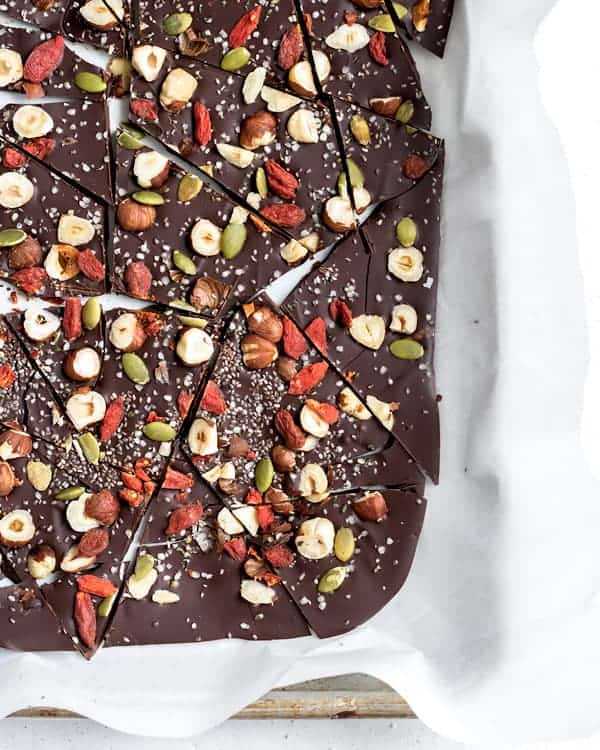 It seems like from the start of January everyone is looking to eat healthier and detox from the holidays.
I'll admit…I'm one of those people.
While I of course still enjoyed some healthy soups and salads over the holidays, I definitely also indulged in some not so healthy treats. I also took some time off from the gym. (after having come down with a bad cold, and then coming down with laziness.)
So this 2018 so far has been all about yoga, green smoothies, and quinoa salads for me.
That being said, I still have a really big sweet tooth. I always find I need at least a bite of something sweet after a savory meal. Anyone else the same?
Rather than reaching for really sugary treats, I decided to work on some recipes that are both healthy, but still satisfy that sweet tooth.
This superfood chocolate bark has officially become my new favorite healthy treat. It's made with 70% dark chocolate, (and we all know how good dark chocolate is for you!) chia seeds and goji berries. (among some other healthy nuts & seeds)
If you're more into the taste of white chocolate, I'd recommend trying this white chocolate bark! (it's vegan and equally as healthy as this superfood chocolate bark!)
I mean, I don't even know if it's fair to call this a "treat." It's really more like a snack of superfoods all mixed together!
The thing I love most about the superfood chocolate bark is how easy it is to make. I'm talking 10 minutes, 6 ingredients, 1 bowl, and 1 pan.
Print
Superfood chocolate bark
Author: Jess
Prep Time: 5 mins
Cook Time: 5 mins
Total Time: 10 mins
Yield: 15-20 servings 1x
Category: Dessert
Method: Mix
Cuisine: American
---
---
---
Instructions
Pour the chocolate chips into a bowl
Fill a small pot halfway with water and bring to a boil.
Lower the heat to medium and place the bowl on top of the pot of water (*the bowl should be slightly larger than the pot, so the bottom of the bowl sits just on top of the pot)
Use a spatula and stir the chocolate every minute or so until completely melted.
Remove from heat.
Line a pan with parchment paper and pour the melted chocolate into the pan.
Use the spatula to spread the chocolate into a large rectangle.
Sprinkle the hazelnuts, goji berries, pumpkin seeds, hemp seeds, and chia seeds on top.
Place in the fridge to cool for 30 minutes.
Using a sharp knife, cut the bark into pieces.
Store in an airtight container.
---
---
Nutrition
Serving Size: 1 large chunk
Calories: 229
Sugar: 10g
Fat: 16g
Saturated Fat: 9g
Carbohydrates: 18g
Fiber: 4g
Protein: 4g
Keywords: Superfood chocolate bark, superfood dessert, how to make chocolate bark
Tips & suggestions:
You can use a silicone mat instead of parchment paper to prevent the chocolate from sticking
You can also use a microwave on a low setting to melt the chocolate
If you love this superfood chocolate bark you'll also love my healthy quinoa brownies recipe!
This post contains affiliate links. I only recommend products I know, trust and love! 
This post contains affiliate links which means I will make a small commission if you purchase through those links. I only recommend products that I know, trust and love!