Healthy Homemade Muesli Bars
Healthy Homemade Muesli Bars are easy to make at home with gluten-free good for you ingredients. These yummy bars are healthy and hearty, making them the perfect snack to eat on the go.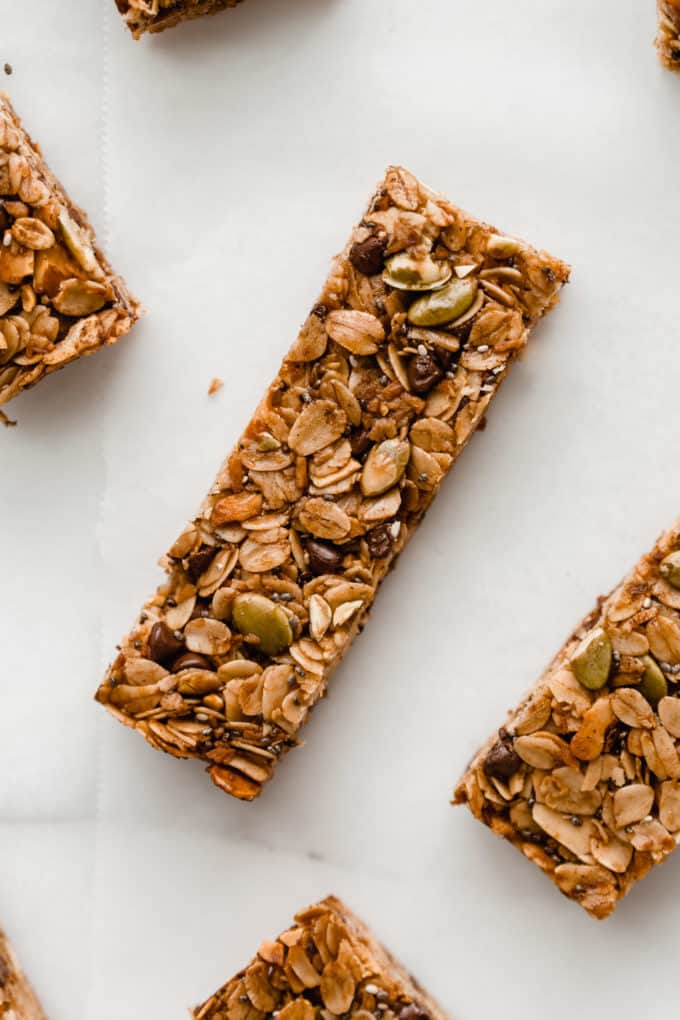 Homemade muesli bars
If you are a die-hard snacker then this is going to be your new favourite recipe.
I know it's a big claim, but these healthy muesli bars are not only easy to make and totally delicious but they're packed with whole grains, nuts and seeds that will keep you feeling full and energized!
Basically, these are bars are THE perfect snack. (Or even breakfast on the go for that matter.)
What exactly is muesli?
Muesli is a dry cereal made with a base of oats that is mixed with other grains, nuts, seeds, dried fruit and other mix-ins. It's generally eaten raw with some milk or almond milk in it or used as a topping on yogurt parfaits.
In this recipe, muesli gets mixed with some honey and oil and baked into bars in the oven so you can enjoy all the benefits of muesli in bar form!
Why you'll love this recipe
Takes 30 minutes to make. And only 10 minutes to prep for that matter. Muesli bars are seriously easy to make right at home so you don't have to go out and buy unhealthy and overpriced bars at the grocery store.
Packed with goodness. We're talking whole-grains, healthy fats, protein, superfoods and more! You'll feel great about your snack choice when you reach for one of these bars.
Seriously customizable. Use this recipe as a base and change up whatever ingredients you want! I'll give some suggestions below in the recipe variations section.
Healthy muesli bars ingredients
Oats: this makes up the base of the muesli used in the bars. It's best to use classic rolled oats in this recipe for a rich and chewy texture. If needed, you can also use quick oats.
Coconut: unsweetened shredded coconut is best! If you use sweetened coconut it will make the bars too sweet.
Nuts: you can use any type of nuts you love in this recipe! I use a mix of walnuts and almonds.
Seeds: you can also use any type of seeds you love. I use pumpkin seeds and chia seeds.
Chocolate chips: this is optional, but if you are a chocolate lover you're gonna wanna add these in!
Cinnamon: just a dash for flavour.
Honey: this is used not only to sweeten the bars but also acts as a "glue" to hold the bars together.
Avocado oil: this will add some moisture to the bars and help them stick together more.
Vanilla extract: for flavour.
How to make muesli bars
Step 1
Start by making the muesli. Add the oats, shredded coconut, nuts, seeds, chocolate chips, cinnamon and salt to a large mixing bowl and stir together.
Tip: it's best to use unsalted, unroasted nuts and seeds in the muesli. The nuts and seeds will roast as the bars bake in the oven.
Step 2
Mix the honey, avocado oil and vanilla extract together in a bowl, then pour into the bowl of muesli and mix until everything is evenly coated.
Step 3
Line an 8×8 inch baking pan with parchment paper and add the muesli mixture to the pan. Press the muesli down VERY firmly into the pan to really pack it down. Then bake in the oven at 350 degrees F for 20-25 minutes until golden brown.
Step 4
Let the bars cool completely on the countertop, then remove them from the pan and slice them into even bars.
Recipe variations and substitutions
One of the best parts about this muesli bars recipe is how easy it is to customize. There are so many different possibilities when it comes to these bars! Here are some of my recommendations for substitutions and variations. Feel free to swap out the ingredients suggested in the recipe for any of the ingredients here.
Nuts: walnuts, almonds, hazelnuts, macadamia nuts, pistachios, brazil nuts, cashews, pine nuts.
Seeds: Pumpkin seeds, sunflower seeds, sesame seeds, hemp seeds, chia seeds, flax seeds.
Dried fruit: cranberries, cherries, chopped dates, chopped figs, chopped apricots, blueberries, currants, chopped pineapple, chopped mango.
Sticky sweeteners: honey, maple syrup, agave nectar, rice syrup
Oil: avocado oil, melted coconut oil, melted butter or ghee.
How to store muesli bars
Store muesli bars in an airtight container on the countertop for up to 2 weeks. These bars can also be stored in the fridge if you prefer, but it's not necessary.
Muesli bar tips
Use unsalted, unroasted nuts and seeds. The nuts and seeds will roast as the bars cook in the oven so it's not necessary to use roasted nuts. It's also better to use unsalted nuts otherwise the bars can end up too salty.
Don't reduce the amount of honey or oil in the recipe. These are important ingredients that are needed to help the bars stick together.
Press the bars as firmly as you can into the pan. This step is VERY important, otherwise, the bars will fall apart. You really want to pack the muesli into the pan and continue to press press press until they are really packed down.
Wait until completely cooled before removing from the pan or cutting. If you try to remove the bars from the pan while they are still warm or try to cut them while they are still warm they will fall apart. The bars need to cool so they can firm up.
Frequently asked questions
Are muesli bars healthy?
Yes! Muesli bars make a healthy filling snack or breakfast. One bar has 270 calories, 5 grams of fibre and 6 grams of protein.
Is a granola bar the same as a muesli bar?
While granola and muesli are different, (muesli is eaten raw and granola is baked with sweeteners and oil) muesli bars and granola bars are quite similar. The main difference is that muesli bars are made with muesli.
Can I make nut-free muesli bars?
Yes, you can always leave out the nuts from this recipe and use more oats or dried fruit instead.
Can I freeze muesli bars?
Yes! Muesli bars can be frozen in a freezer bag or airtight container in the freezer for up to 2 months. To defrost let the bars thaw on the counter.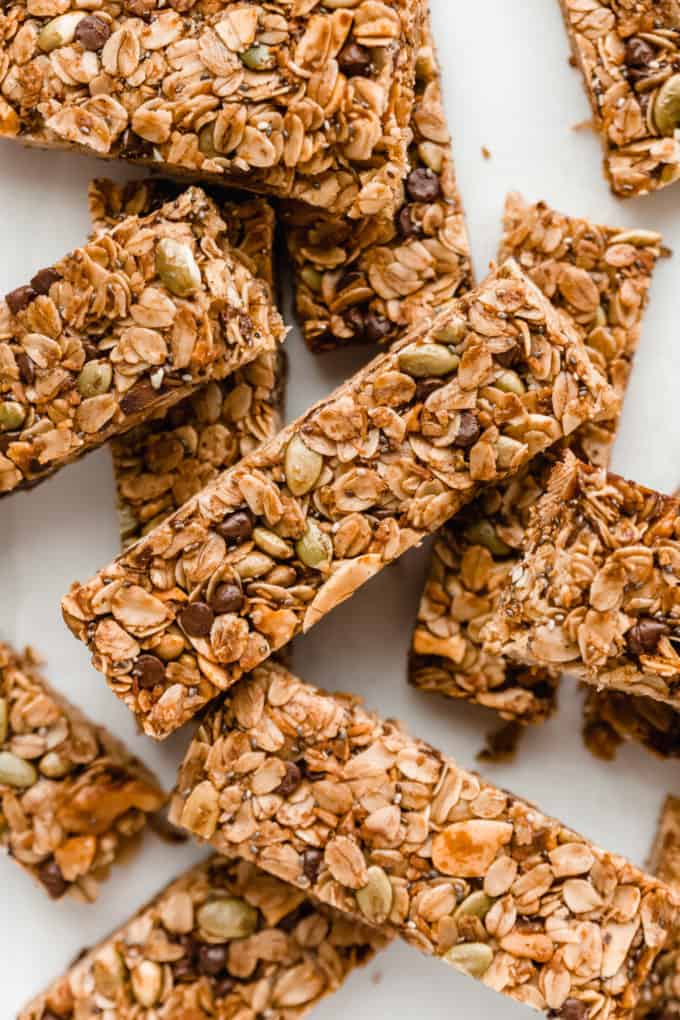 If you tried these Muesli Bars or any other recipe on the blog let me know how you liked it by leaving a comment/rating below! Be sure to follow along on Pinterest, Instagram and Facebook for even more deliciousness!
Print
Muesli Bars
Author: Jessica Hoffman
Prep Time: 10 minutes
Cook Time: 20 minutes
Total Time: 30 minutes
Yield: 10 large or 20 small bars 1x
Category: Snack
Method: Bake
Cuisine: American
Diet: Vegan
---
Description
These Muesli bars are packed with oats, nuts and seeds and make the perfect healthy snack!
---
2 1/4 cups rolled oats (gluten-free certified if needed)
1/4 cup unsweetened shredded coconut
1/3 cup chopped walnuts
1/3 cup sliced almonds
1/3 cup pumpkin seeds
2 tbsp chia seeds
1/4 cup mini chocolate chips (optional)
1/2 tsp cinnamon
1/4 tsp salt
1/2 cup honey
1/3 cup avocado oil (can sub melted coconut oil)
1 tsp vanilla extract
---
Instructions
Preheat the oven to 350 degrees F and line an 8×8 inch pan with parchment paper.
Mix the oats, shredded coconut, walnuts, almonds, pumpkin seeds, chia seeds, cinnamon and salt together in a bowl. 
In a separate bowl, mix together the honey, avocado oil and vanilla extract.
Add the wet ingredients to the dry ingredients and mix until combined. 
Add the muesli bars to the 8×8 inch pan and press the bars VERY firmly into the pan! Keep pressing until the bars are very packed down. (I like to take an extra sheet of parchment paper and place it over the bars while I press down so my hands don't get sticky.) 
Bake in the oven at 350 for 20-25 minutes or until golden brown. 
Let the bars cool completely before slicing. (This is important or else the bars will crumble.) 
Slice into bars.
---
Notes
It's very important to press the bars down as hard as you can into the pan before baking. If the bars aren't packed together they can end up crumby and fall apart. 
You want about 3/4 cup-1 1/4 cup of nuts, seeds or dried fruit. Feel free to swap out the nuts & seeds used in the recipe for any other nuts, seeds or dried fruits you love!
Store in an airtight container on the countertop for up to 2 weeks. 
---
Nutrition
Serving Size: 1/10th of recipe
Calories: 270
Sugar: 16g
Fat: 15g
Carbohydrates: 30g
Fiber: 5g
Protein: 6g
Keywords: muesli bars, granola bars, vegan granola bars, healthy granola bars
This post contains affiliate links which means I will make a small commission if you purchase through those links. I only recommend products that I know, trust and love!