Spicy Coconut Curry Ramen
This Spicy Coconut Curry Ramen is so easy to make and has all the flavours you love in a traditional Thai soup with a little twist! This Ramen recipe is naturally vegan and comes together in under 30 minutes.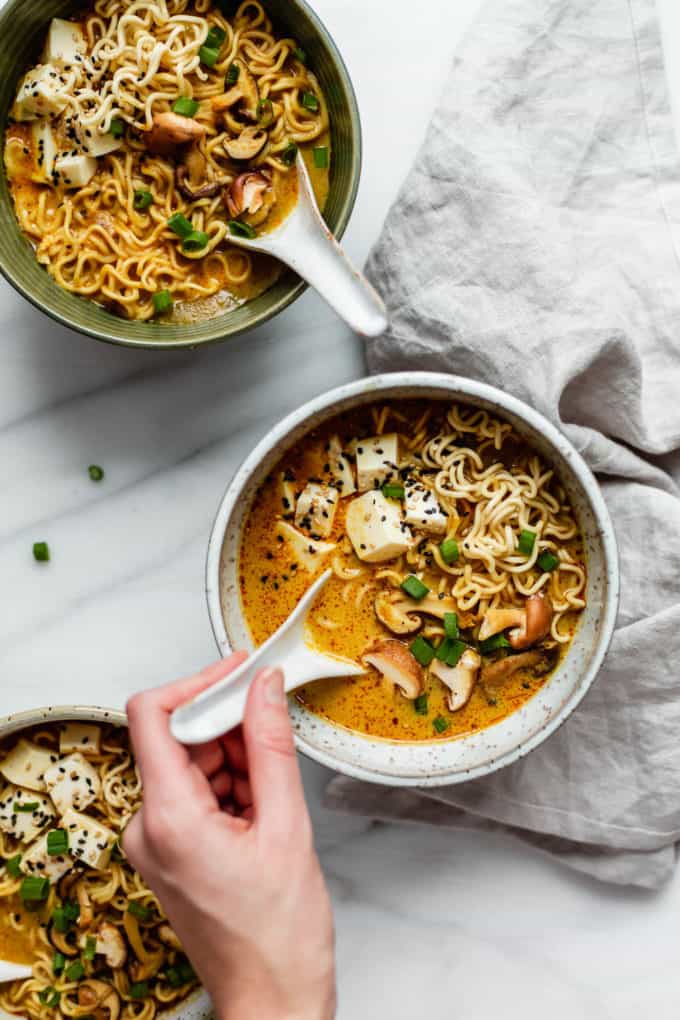 What is Coconut Curry Ramen:
Ramen Ramen Ramennnnn!!
Yes, friends! I'm super excited about today's recipe. Because I. Love. Ramen.
Today's ramen is straying away from a traditional recipe. (Though if you're looking for that, then you can make this quick & easy vegan ramen) This recipe is for Spicy Coconut Curry Ramen. Because besides loving ramen, I also love Thai food.
This curry ramen recipe is a twist on the classic Thai Tom Yum soup which features fragrant ingredients like lemongrass and Thai curry. The soup then gets coconut and ramen noodles added to it for a soup that is spicy, creamy, sweet, salty, savoury and tangy all in one.
Why you'll love this recipe:
So much flavour. Welcome to flavour-town! This Thai Coconut Curry Soup packs a serious punch in terms of flavour. While many flavourful soups take hours to make so the flavours intesify, this soup only takes 25 minutes to come together.
Seriously easy to make (fool-proof recipe!): Prep the broth for this soup in advance for meal prep and add the ramen noodles when you're ready to serve. The soup broth will store well in the fridge for a whole week and can also be frozen.
Vegetarian & vegan friendly. Many ramen soup broth is made with a pork or chicken-based broth. This curry ramen features a veggie broth keeping it vegetarian.
Curry Ramen ingredients:
Ramen noodles: any ramen noodle packet will do. You can use dried or fresh ramen noodles in this recipe.
Vegetable broth: use your favourite vegetable broth or stock. I like to use a low sodium broth so I can control how salty the soup is. It's always easier to add more salt if needed!
Coconut milk: full-fat canned coconut milk is what you'll want to use in this recipe. This will add a rich creaminess to the soup
Curry paste: this recipe uses red curry paste, but it will work with any type of curry paste you love.
Lemongrass: this adds a delicious refreshing taste to the broth. If you can't find lemongrass you can leave this soup, but it does add great flavour to the broth.
Soy sauce: use gluten-free soy sauce or tamari if needed.
Coconut sugar: can substitute brown sugar if needed.
Lime: this is a classic ingredient in Thai cuisine to add some acitiy to balance out the sweet and spicy flavours in the soup.
Optional ingredients:
Soft tofu: make sure to use soft tofu if you'd like to add tofu to this soup. The tofu can be added directly in.
Shitake mushrooms: shitake mushrooms are delicious in ramen! You can add some in to the soup for more umami flavour.
Scallions (green onions): top off the ramen with some freshly cut scallions.
How to make Coconut Curry Ramen
Step 1
Heat some oil in a large pot then sauté the onion and lemongrass together for 1-2 minutes. Then add the red curry paste and mix together so the curry paste toasts slightly. This will help release the flavour in the curry paste.
Step 2
Add the vegetable broth, soy sauce, coconut sugar and lime juice and bring everything to a simmer. Then add the coconut milk and stir together. Taste the soup and adjust any of the seasonings to your liking. Depending on the type of vegetable broth and curry paste you use, you may find that you need to add some more soy sauce, curry paste, coconut sugar etc.
Step 3
Bring the broth to a boil and add in the ramen noodles. Cook for 2-3 minutes until the ramen noodles are cooked through.
Step 4
If adding soft tofu, cut up the tofu into cubes and add it in right before serving. Top the ramen off with some sliced scallions or whatever toppings you love.
How to store and reheat leftovers
Store leftover broth in the fridge in an air-tight container for up to a week. It's best to store the ramen noodles and the broth separately, otherwise the noodles will absorb the broth while sitting in the fridge and become soggy.
The ramen broth can also be frozen WITHOUT the ramen noodles added to it. Let the broth cool completely then transfer to an air-tight container and place in the freezer for up to 3 months. To defrost let thaw on the countertop.
Reheat on the stove or in the microwave.
Tips for making this recipe perfectly
For the Thai curry paste, double-check the ingredients of the brand you buy if you want to ensure that the recipe is 100% vegetarian/vegan friendly. Some Thai curry pastes will contain shrimp paste in them, so just make sure the one you get doesn't contain shrimp paste if you want to make this soup Vegan.
You can use either fresh or dried shitake mushrooms in this soup. I like using fresh ones best, but either will work just fine!
You can use any type of ramen noodles you like for the soup. Gluten-free ramen noodles, traditional ramen noodles, or just typical ramen noodle packets. All will work well!
FAQ
What does Curry Ramen taste like?
Curry ramen tastes similar to a Thai Tom Yum broth that is savoury, salty, sweet and sour all at once. It's also slightly creamy from the coconut milk and super tasty!
What veggies can I add to this ramen?
You can add any vegetables you love to this Coconut Curry Ramen! Try adding in some bok choy, Chinese eggplant, broccoli, sliced kale or mushrooms.
How can I step up my ramen?
If you want to take your ramen soup to the next level, try adding some fun toppings. Some traditional ideas you can try adding are seaweed, an egg (vegetarian but not vegan), corn, sesame seeds, cilantro or kimchi.
Can I make this ramen gluten-free?
Yes! To make this ramen gluten-free just make sure to use gluten-free soy sauce and gluten-free ramen noodles. You can also use rice noodles instead of ramen noodles for a gluten-free option.
More Noodle recipes to try
If you tried this Spicy Coconut Curry Ramen or any other recipe on the blog let me know how you liked it by leaving a comment/rating below! Be sure to follow along on Pinterest, Instagram and Facebook for even more deliciousness!
Print
Spicy Coconut Curry Ramen
Author: Jessica Hoffman
Prep Time: 10 minutes
Cook Time: 15 minutes
Total Time: 25 minutes
Yield: 4 servings 1x
Category: Main
Method: Cook
Cuisine: Thai
Diet: Vegan
---
Description
This Spicy Coconut Curry Ramen is like a cross between a Thai Tom Yum soup and a classic Japanese Ramen! This soup is Vegetarian/Vegan-friendly and easy to make. 
---
---
Instructions
Heat the avocado oil in a pot on medium-high heat.
Add the onion and lemongrass and let cook on medium heat for 2-3 minutes.
Next, add the Thai red curry paste and mix together, let cook for 1 minute. If using shitake mushrooms, add those in now and sauté for 1 minute. 
Add the vegetable broth, soy sauce, coconut sugar, lime juice and mix all together. Then add the coconut milk and gently mix in.
Reduce heat to low, cover and let the ramen soup simmer for 10 minutes.
When you are ready to serve, bring the soup to a light boil and add the ramen noodles letting them cook for 2-3 minutes until soft. 
Add the tofu at the last minute before serving. 
---
Notes
*Some red curry pastes will have shrimp paste in them. Make sure to check the ingredients label to ensure it's vegan if needed.
Optionally garnish this soup with some sliced green onions and sesame seeds!
Depending on the salt in the broth you use and brand of curry paste you use you may need to add a little more curry paste and soy sauce. Taste as you go and adjust accordingly
---
Nutrition
Serving Size: 1/4 recipe
Calories: 240
Sugar: 7g
Fat: 7g
Saturated Fat: 3g
Carbohydrates: 35g
Fiber: 3g
Protein: 8g
Keywords: curry ramen, coconut ramen, Thai ramen, vegan ramen
This post contains affiliate links which means I will make a small commission if you purchase through those links. I only recommend products that I know, trust and love!