23 Tempeh Recipes + The How to Cook Tempeh Guide
From the taste and texture of tempeh to how to cook it properly, this detailed guide tells you all you need to know about tempeh! We've also included 23 of our favourite tempeh recipes to help you eat it deliciously!
What is tempeh?
Tempeh is a dense, plant-based product made of whole soybeans. Instead of raw and processed soybeans, however, tempeh is made from whole fermented soybeans, whose proteins are more bioavailable for easy digestion. Tempeh is also a great source of fibre, protein, and a great amount of probiotics from the fermentation of the soybeans.
Tempeh tastes almost nutty and has a texture more similar to meat than tofu. It crumbles easily, which allows it to cook evenly and resemble ground meat in a lot of tempeh recipes.
What's the difference between tempeh and tofu?
Tempeh is actually a lot less processed than tofu, and offers more health benefits. Both tempeh and tofu are made of soybeans, but those soybeans are processed very differently for each plant-based protein source. To make tofu, fresh soy milk is curdled with a product that makes it stick together. To make tempeh, whole soybeans are fermented in an incubator.
In terms of appearance, tofu looks white and smooth, while tempeh is brown and dry. You can find them both packaged in the refrigerated section of your grocery store!
Tofu absorbs the flavour of the ingredients you're cooking it with, while tempeh has an earthy, nutty taste that blends well with a lot of great tempeh recipes. Tempeh also has more protein, fiber, and calories than tofu does, which makes sense because tempeh is more dense!
How to Cook Tempeh
Cold tempeh is bitter, so often the most popular step when cooking tempeh is to boil or steam it. You can either boil the block of tempeh whole, or place the tempeh in a pot or frying pan covered in boiling water or vegetable broth, and let the tempeh simmer for 10 minutes. This step cuts the bitterness out of the tempeh, as well as softening it so that it's easier to eat, digest, and can absorb more flavour.
If you want to marinate your tempeh, do it the day before cooking. Leave your tempeh in the fridge for at least an hour to soak in the marinade. There are a lot of good marinades in tempeh recipes, so a quick search (or one of the 23 tempeh recipes below) can help you find one!
After marinating tempeh, you can grill it, bake it, or pan fry it. If you want a crumbled tempeh, that's easy to do as well! I would still recommend boiling or steaming it first, then let it cool before crumbling it with your hands into small pieces. Then, cook the tempeh with your favourite sauce or add it to your favourite dishes.
Tempeh Recipe FAQ
What does tempeh taste like?
Tempeh has a strong earthy/nutty flavour, but it also absorbs the flavours of whatever you're cooking with.
Is tempeh good for you?
Tempeh is very healthy for your heart and your digestive system. Tempeh is high in prebiotics and probiotics, fibre, protein, and can even help reduce cholesterol. It's also high in vitamins and minerals like iron, calcium, and magnesium!
Can I eat tempeh raw?
Raw tempeh actually has no nutritional benefit compared to cooked tempeh, and can be extremely difficult to digest.
How do you know if tempeh is bad?
If your tempeh smells particularly bad, is slimy, or has black spots, it's probably gone bad. Like anything else, tempeh can spoil if you leave an open package in your refrigerator, so handle with care!
Does cooking tempeh kill probiotics?
Cooking tempeh kills the bacteria on the outside, but the probiotics on the inside should remain intact. If you want to maintain maximum probiotic benefit, keep your tempeh's internal temperature below 115˚!
Can I eat tempeh with a soy allergy?
No! Tempeh and tofu are both 100% soy, so if you are allergic or sensitive to soy, we would not recommend finding another plant-based protein source.
23 Easy + Delicious Tempeh Recipes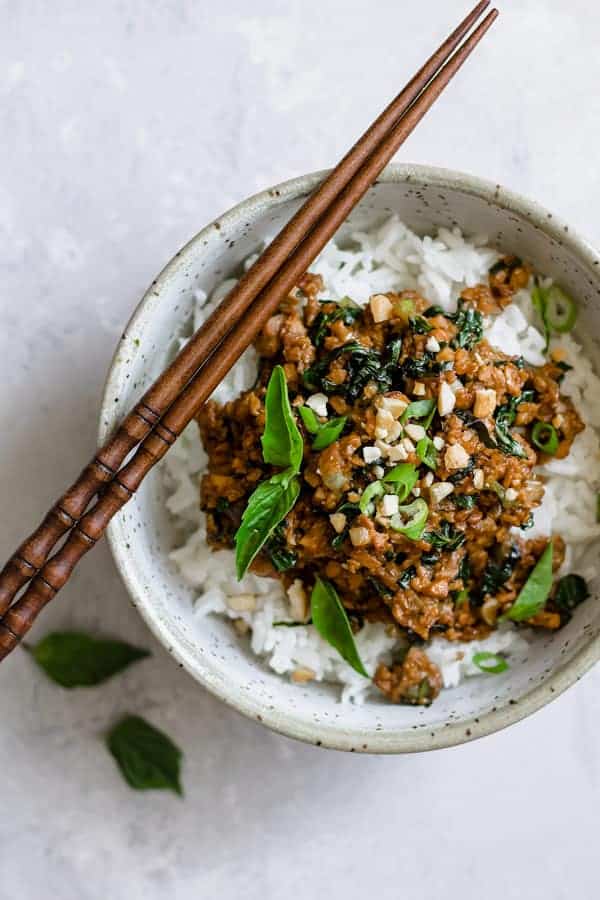 This Thai Basil Tempeh Stir Fry is a healthy vegan version of the traditional dish "pad krapow gai," or Thai basil chicken! It's a quick and easy go-to stir fry recipe made with delicious crumbled tempeh.
This Ginger Tempeh Poke Bowl is a healthy vegan twist on the traditional poke bowl, made with Asian ginger tempeh, fresh veggies, and fluffy white rice!
The ultimate in tempeh recipes! This Nourishing Vegan Breakfast Bowl features maple tempeh bacon, creamy 'cheesy' polenta, sweet potato hash, and your choice of veggies!
These Creamy Sweet Potato Noodles with Garlic Tempeh and Crispy Kale are the perfect healthy comfort food! The garlic tempeh is marinated and pan fried until crispy, then garnished with fresh herbs and lime juice!
These vegan Spicy Tempeh Breakfast Sausages are made with a mixture of smoky, sweet, and spicy seasonings! They're moist, easy to make, and you only need one bowl to mix them all together.
These Hoisin Glazed Tempeh Bowls feature sticky tempeh, sesame massaged kale, fresh and crunchy veggies, and brown jasmine rice!
These Buffalo Tempeh Tacos are made with a panko-crusted tempeh recipe fried to a perfect crisp and tossed in spicy buffalo sauce! Serve them on a bed of fresh cabbage and lettuce wraps for a low-carb dinner.
These tacos are packed with spicy chorizo flavour, but without the meat! Sautee spicy tempeh with potatoes, peppers and onions, load it up in a tortilla, and top with fresh cilantro!
These Jerk Tempeh Bowls with Mango Tahini Sauce are an easy weeknight/meal prep meal, made with jerk-spiced tempeh, rice, black beans, corn, and the main event, a heavenly mango-tahini sauce!
Sticky Ginger Tempeh with Coconut Rice is a super flavourful and easy vegan dinner, made with meaty/spicy crumbled tempeh a sweet mellow coconut rice!
These Tempeh Chilaquiles are the perfect savoury breakfast dish, topped with a Mexican crumbled tempeh recipe and as many toppings as you desire! (Though we recommend avocado, cilantro, and lime juice!)
This Vegan Thai Salad is packed with protein from orange-marinated tempeh, crunchy peanuts, and fresh edamame! Bright vegetables and a simple peanut sauce finish off this delicious salad.
Smoky Maple Tempeh Hash features crumbled tempeh in a smoky maple dijon sauce, fresh shredded brussels sprouts and crispy fried potatoes for a delicious vegan and gluten-free breakfast!
This beautiful Gochujang Tempeh is inspired by fresh and bold Korean flavours. This baked or fried tempeh recipe is coated in a spicy sweet Gojuchang marinade and paired with rice and a sour winter slaw for a delicious dish!
This flavour-packed vegan Tempeh Taco Meat is made with smoky spices and the perfect texture. It's ready in under 15 minutes, and is perfectly moist just like meat thanks to the addition of tomato paste!
These Tempeh Maple Breakfast Sausage Patties are made with maple syrup, sage, soy sauce, and onion powder for a sweet and savoury breakfast! On top of it all, they're incredibly easy to make!
These Vegan Korean BBQ Burgers are loaded with a protein-packed ginger and gochujang marinated tempeh recipe, a Korean barbecue sauce, and a kimchi slaw for a bold veggie burger!
For this Tempeh Chow Mein, veggies and tempeh are stir-fried with a flavorful sauce and cooked noodles for a hearty and delicious vegan version of a classic Asian chow mein!
This easy Skillet BBQ Tempeh uses your favourite barbecue sauce, steamed tempeh to cut the bitterness, and pairs perfectly with your favourite sides and cooked veggies!
This Tempeh Tuna Salad is filled with crunchy onion and celery, pickles, capers, vegan mayo, and delicious spices for the perfect lunch or snack!
Sweet and savoury tempeh, crispy lettuce, tomato and creamy avocado make this the perfect vegan BLT! It's the perfect tempeh recipe for a packed lunch, easy dinner, or a meal on the go.
This Vegan Tempeh Buddha Bowl has soy sauce and peanut butter marinated tempeh, brown rice, edamame, veggies and a delicious, creamy tamari tahini dressing. This recipe is oil-free, gluten-free and refined sugar-free!
Last but very much not least, 5 Easy Tempeh Marinades! The options are Tandoori, Smoky Maple, Satay, Korean BBQ, and Spiced Yogurt Marinades, perfect for baking or frying your favourite tempeh recipes!
This post contains affiliate links which means I will make a small commission if you purchase through those links. I only recommend products that I know, trust and love!