31 Best Vegan Pasta Recipes
Whether you're vegetarian, vegan or just trying to eat less meat, there are plenty of ways to still enjoy spaghetti, mac and cheese, pasta bakes and more – without using any animal products. Here are 30 of the best vegan pasta recipes from around the web that you'll love!
Easy vegan pasta recipes you'll love
There's nothing I love more than cooking up pasta for a meal. Pasta is definitely the perfect comfort food and comes in so many different varieties.
Vegan pasta dishes are equally as delicious as non-vegan pasta dishes and won't sacrifice on taste or creaminess. (Yes, there are even some recipes below for cheesy vegan pasta that really taste like they have cheese in them!)
Whether you're looking for a vegan alfredo, vegan spaghetti, vegan carbonara or a vegan pasta bake, I've got you covered. All these pasta recipes are simple, easy to make and seriously delicious.
What kind of pasta can a vegan eat?
Most packaged dried pasta you'll find at the supermarket is 100% vegan-friendly. Typically dried pasta is made with just flour and water that is mixed into a paste and pushed through pasta molds to create different shapes.
Often fresh pasta is made with eggs, which is not vegan. So when you're cooking up these vegan pasta recipes, just make sure to check the label to make sure the pasta doesn't contain any eggs.
Expert tips for cooking pasta
Use a large pot. This will make sure the pasta cooks properly and that the water doesn't overflow. It's also much easier to cook spaghetti in a large pot.
Make sure to salt the pasta water. Pasta water should be salted with 1 tablespoon of salt per pound of pasta. This will infuse the pasta with flavour so you end up with a flavourful finished dish.
Cook the pasta till al dente. This is Italian and translates to "to the tooth," meaning the pasta still has a slight bite to it. The pasta shouldn't be hard when you bite into it, but it shouldn't be too soft or mushy.
One-Pot Vegan Pasta comes together in less than 30 minutes and (as the name describes) can be made entirely in one pot for an easy cleanup! This recipe is made with cherry tomatoes, fresh basil and capers for a fresh and light spaghetti.
Vodka sauce is typically made with heavy cream. This vegan version is made with a secret ingredient that makes it just as creamy as the original. Top it off with some fresh basil for a deliciously creamy and tomatoey pasta!
Love tacos? This pasta is for you! Vegan taco pasta is made with vegan "meat" crumbles and taco seasoning that get mixed with your favourite shaped noodles for a Mexican-Italian fusion dish you won't be able to stop eating.
This one's a tribute to roasted red peppers. Roast your own peppers right at home and turn them into a delicious peppery pasta sauce that is jam-packed with flavour.
It's creamy, it's lemony and it's packed with fresh asparagus. This is a summer-inspired pasta dish that uses fresh market ingredients. (But it can definitely be made and enjoyed all year round.)
A reader's favourite. This Buffalo cauliflower mac and cheese is packed with roasted buffalo cauliflower, creamy "cheese" sauce and pasta for a baked pasta dish that is salty, tangy and will give you that "I can't stop eating this!" feeling.
When you're in the mood for a hearty, protein-rich and cozy pasta dish, make this lentil bolognese. Even meat-lovers will adore this vegan bolognese sauce that is perfect on a big bowl of spaghetti.
Mushroom lovers, this one's for you. This Vegan Mushroom Stroganoff is rich, savoury and comes togethr in just 30 minutes! Oh, and did I mention this is a one-pot pasta dish? That means easy peasy clean up!
A fall favourite! Pumpkin Alfredo is tastes like *Fall in a bowl* with pumpkin pureé, sage and nutmeg. It's the perfect recipe to make for a cozy night in or for a date-night.
You don't need any meat or dairy to make a seriously delicious carbonara! This vegan version is made with vegan bacon and nutritional yeast to give it a salty and savoury flavour.
Japapeno Popper Mac And Cheese is a little spicy, but not *too* spicy and packed with delicious japaleno flavour! It's topped off with breadcrumbs and baked in the oven until lightly toasted on top.
This is THE mac and cheese dish you need during the Fall. It's made with creamy butternut squash and nutmeg for a deliicous twist on a classic mac and cheese. This pasta dish is definitely healthy comfort food at it's finest! This is personally one of my favourite vegan pasta recipes!
There's nothing quite like a delicious homemade pesto! This vegan version is made without parmesan cheese but doesn't sacrifice on taste! Pair it with any pasta you love and top it off with toasted pine nuts.
This pasta is paced with protein, fiber and veggies for a hearty nutrious pasta dish. If you've never tried adding tofu to pasta, now's your chance!
A delicious fusion of a traditional mac and cheese but with kimchi in it. Trust me on this one, you haven't tried anything like it before and once you do you'l be a kimchi pasta fanatic!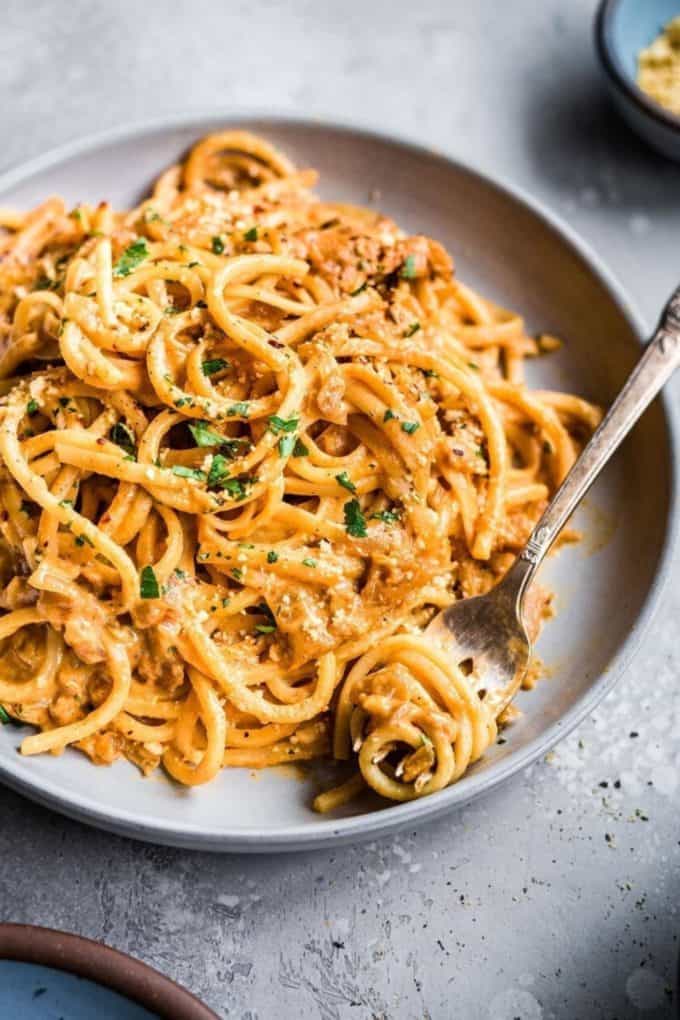 Made with 10 simple ingredients you likely already have in your pantry and can be customized however you like. This pasta dish is cheesy, creamy and smokey.
An easy, flavourful and deliicous pasta that is packed with all the veggies you'll find in a classic rattatouille. This is the perfect dish if you're looking to get some extra veggies into your meal!
Harissa is a paste made from chili peppers, spices and herbs and has a very bold flavour. This pasta dish is made with harissa and comes together in just 15 minutes.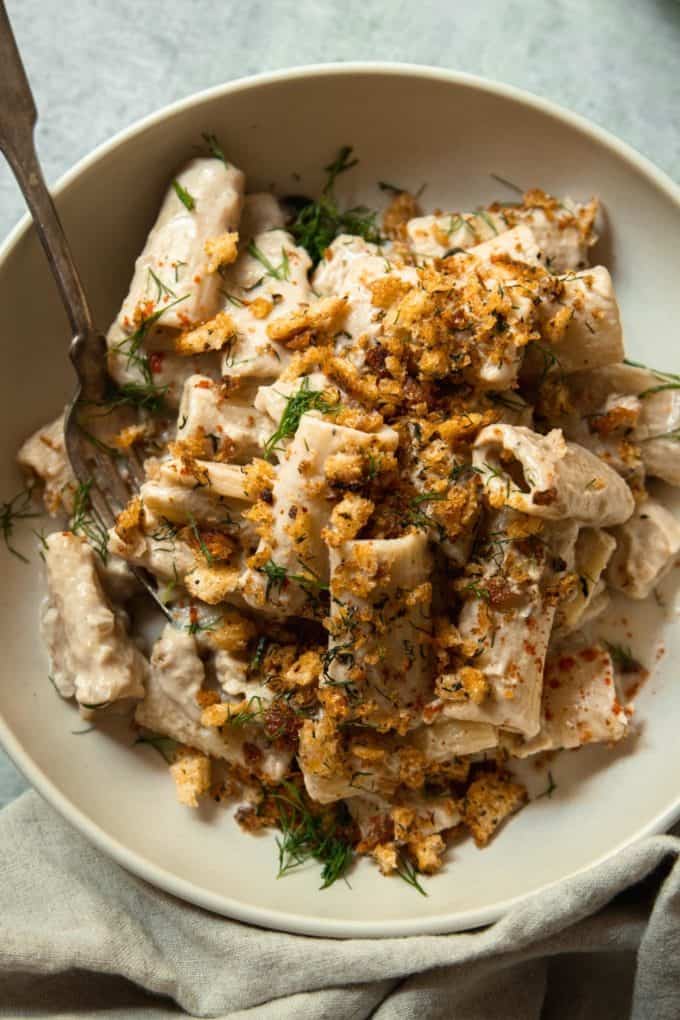 Creamy, smokey and topped with crispy breadcrumbs, this pasta has it all. It's made with charred eggplant and is the perfect pasta if you want to try something new and different.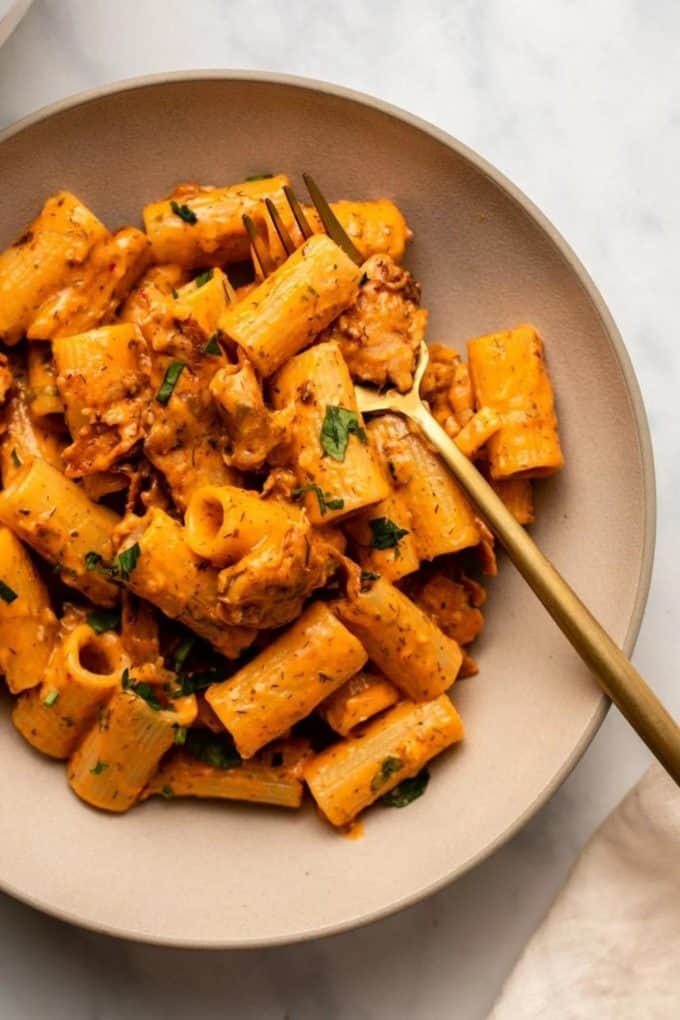 Is buffalo rannch you're guitly pleasure? If it is, then it's probably time to try some buffalo ranch pasta. Made in just 25-minutes in one pot.
Another cozy Fall pasta dish that makes the perfect comfort food. Roasted butternut squash, chickpeas and breadcrumbs come together to make up this hearty pasta recipe.
Have you ever tried adding avocado to pasta? It's an incredible way to make a creamy rich pasta without any cream. This avoacdo pesto pasta is rich, while still being light and is ready in just 15 minutes.
Can we take a moment to appreciate truffles? Onion, garlic and truffle oil come together to create this incredible flavourful and savoury pasta dish that is perfect to enjoy on a cold winter day.
We all know that broccoli and cheese is just a match made in heaven. This cheesey broccoli pasta is a fun elevated mac and cheese that is not only delicious, but packed with veggies.
Vegan sausage really does taste like the real thing and is a great way to add some extra protein to any pasta. This dish is a take on a classic Italian recipe and is filled with bold, delicious flavours.
While it may seem a bit odd, hummus is not only great as a dip, but as a pasta sauce. It's creamy, rich and coats pasta beautifully. Try out this recipe with hummus, peas and fresh herbs
When you want pasta but don't want it hot, reach for a plate of Vegan Greek Pasta Salad. It's fresh, light and vibrant. You'll also learn how to make your own homemade "tofu feta" to crumble on this pasta salad!
For the pickle lovers out there! Dill Pickle Pasta Salad is a tangy twist on a classic macaroni salad. Top it off with chopped pickles and fresh dill for a flavour-packed pasta salad!
When you're looking for a way to use up all the summer veggies in your fridge, make a batch of this roasted vegatable pasta salad. You can use a short pasta like orzo (that looks like rice) or any other pasta you love.
This Vegan Pasta Bake is packed with veggies, noodles and is topped off with vegan cheese. It then gets baked to perfection for the perfect weeknight meal. Bonus? It freezes great!
A Greek pasta dish made with layeres of noodles, vegan meat sauce and topped off with a vegan bechamel sauce. You'll love this baked pasta dish packed with Greek flavours.
This post contains affiliate links which means I will make a small commission if you purchase through those links. I only recommend products that I know, trust and love!