Vegan Pumpkin Alfredo
This Vegan Pumpkin Alfredo is made with the creamiest pumpkin sauce that goes perfectly with any type of pasta you love. Say hello to your new favourite Fall recipe!
three words for you. Vegan pumpkin Alfredo. That is all. Thank you and goodbye!
No but really, I can't even describe to you my magnitude of love I have for the pumpkin Alfredo sauce. I'm not just talking good, I'm talking LICK OFF THE SPOON kind of good. In fact, who needs the pasta in this dish? Just gimme a bowl of pumpkin Alfredo sauce on its own. Because a bowl of sauce makes a perfectly acceptable dinner, right? RIGHT.
This is one of those sauces that makes die-hard dairy fans go "this is Vegan? Really? There's no cream in here? Or butter? What? HOW!?"
Yeah. That's right. And take it from someone who loves a good traditional Alfredo sauce, this pumpkin Alfredo is LYFEE.
One thing I love about this vegan pumpkin Alfredo is that it's super creamy, but not made with coconut milk like many creamy vegan sauces. I mean, don't get me wrong, I love a good coconutty-noodle dish, but this recipe uses a homemade cashew cream….which is just amazing.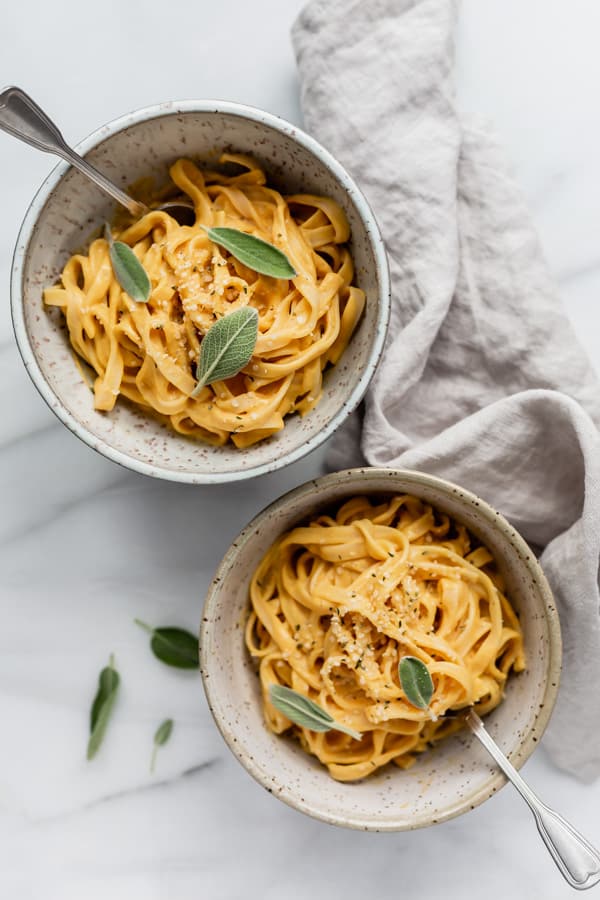 A few notes on this recipe:
So here it is. The big secret to this dreamy vegan pumpkin Alfredo. The cashew cream!
You'll want to make sure you're using raw unsalted cashews for this recipe, and soak them in a bowl of water overnight, or in hot water for 2 hours. This will help them get nice and soft and plump. Then just blend up the cashews with some water and voila! magic! Super luscious cashew cream! You'll want to make sure to blend this up for a good minute or two in a high powered blender so it gets SUPER creamy.
This cashew cream gets mixed up with the rest of the ingredients (i.e. PUMPKIN!) and tossed with your pasta.
I love this sauce with fettuccine noodles for a more traditional type of fettuccine Alfredo dish, but you can use any type of pasta you love! Gluten-free pasta, chickpea pasta, whole-grain pasta, all will be delicious!
This vegan pumpkin Alfredo is:
Quick & easy to make
Perfect for a cozy night in
THE BEST SAUCE EVER
Other pasta recipes to try
Make sure to serve this up right away, it's best fresh out the pan!
Print
Vegan pumpkin alfredo
Author: Jess
Prep Time: 10 minutes
Cook Time: 10 minutes
Total Time: 20 minutes
Yield: 4 servings 1x
Category: Dinner
Method: Cook
Cuisine: Italian
---
Description
BEST EVER pumpkin Alfredo sauce. Seriously can't get enough!
---
1/2 cup raw cashews, soaked in water overnight then drained
1 1/2 cups water
1 tbsp olive oil
3 garlic cloves, minced
2 sprigs of fresh sage
1/4 cup pumpkin puree
1/2 tsp salt
1/2 tsp pepper
1/8 tsp freshly grated nutmeg
4 servings pasta of choice
---
Instructions
Blend the cashews and water in a high-speed blender until smooth & creamy. Set aside.
Heat the olive oil in a pan on medium-high heat, then add the garlic and sage and let cook for 1 minute.
Reduce heat to medium and add the pumpkin puree and cashew cream mixing until incorporated.
Add the salt, pepper, nutmeg and let the sauce cook down for 2 minutes. Remove the sage from the pan.
Add your cooked pasta to the pan and toss together.
---
Notes
I use this blender to make the cashew cream. Taste the sauce and adjust seasoning as needed. You can substitute fresh sage for dried sage if needed.
For best results serve this pasta up right away after cooking!
---
Nutrition
Serving Size: 1 bowl
Calories: 313
Sugar: 2g
Fat: 12g
Saturated Fat: 2g
Carbohydrates: 45g
Fiber: 7g
Protein: 10g
Keywords: vegan pumpkin recipes, healthy vegan pasta
This post contains affiliate links which means I will make a small commission if you purchase through those links. I only recommend products that I know, trust and love!
This post contains affiliate links which means I will make a small commission if you purchase through those links. I only recommend products that I know, trust and love!