Acai Bowl Recipe
Learn how to make your own homemade Acai Bowl right at home with this healthy and simple recipe! This Acai bowl comes together in under 10 minutes and is naturally gluten-free, dairy-free and vegan.
What is Açai?
Açai, (pronounced aa·saa·ee) is a small round purplish coloured berry, (looks similar to blackcurrant) that grows in the rainforest of the Amazon. It's become increasingly popular in recent years in North America for its health benefits.
Açai berries are loaded with antioxidants, can help with digestion, heart health and act as an immune booster. I could go on and on but I think you get the idea… Açai is good for you. Because of its amazing nutritional profile, Açai is considered to be a "superfruit."
Açai nutrition
Just 100 grams of frozen acai pulp contains:
70 calories
5 grams of fat
2 grams of sugar
2 grams of fiber
Acai berries are actually very low in sugar compared to many other fruits and berries, making them a great low-sugar fruit option to enjoy in smoothies and smoothie bowls.
What does Açai taste like?
Açai has a very earthy flavour and most people describe it taste like a cross between a blackberry with chocolate. For this reason, Acai pairs well with nut butter, chocolate and cacao. Acai is also slightly acidic which makes it pair well with sweet fruits and honey.
What is an Acai bowl?
An Acai bowl is a smoothie bowl that is made by blending acai with other frozen fruits and a little bit of liquid, usually almond milk or fruit juice. The result is a thick and creamy blended fruit bowl that has a similar consistency to ice cream or sorbet.
The bowls are then topped off with an assortment of toppings from fresh fruit to granola or drizzled peanut butter.
There are many different variations and ways to make acai bowls that you can play around with to find your favourite flavour combination.
Is an Acai Bowl Healthy?
There is some controversy over whether or not Acai Bowls are actually healthy. This is mainly due to Acai Bowls becoming popular and offered at some restaurants that might not be using the healthiest ingredients, or 100% pure acai in their Acai Bowls. Some store-bought Acai Bowls can also be very large, making them high in calories and sugar.
Homemade Acai Bowls, on the other hand, can always be made healthy. You can control the quality of ingredients you use, and make a reasonable-sized portion.
Acai bowls (when made with good ingredients) are packed with nutrients, vitamins, minerals, fiber, protein and healthy fats, making them part of a healthy diet.
Frozen Açai vs Açai powder
Acai generally comes in two different formats: frozen acai, or acai powder. You won't find fresh acai berries anywhere and you wouldn't want to use them to make an acai bowl.
Frozen Acai puree
Frozen acai usually comes in individualized portions of frozen packets. These packets can be added directly to your blender or food processor with the other bowl ingredients and blended up. I get my frozen Acai from the brand Sambazon.
Acai Powder
Acai powder comes in a bag, and you'll need to add a small amount (about 2 teaspoons) to the blender to make an acai bowl. I buy Acai powder online from Organic Burst.
So which one is better for an Acai Bowl? Frozen acai is best, but if you only have acai powder it will work too.
Where to buy Açai
Both frozen acai and acai powder are becoming more popular at large chain grocery stores. Whole foods and Trader Joe's now sell frozen in their freezer section.
You can also find acai at almost all health food stores in the freezer section (or the powder) in the superfood section. Acai is also available at some shops online and can be easily ordered and shipped to your home.
Acai Bowl Ingredients
Acai: you can use frozen acai or powdered acai for the bowls. I personally prefer frozen acai as I find it adds more flavour and texture to the bowl.
Banana: frozen banana cut into peices. Cutting the banana will help it blend more easily.
Berries: you can use any type of berries you like! I use a mix of raspberries and blueberries for this bowl.
Almond butter: this adds a bit of creaminess and richness to the acai bowl. It also adds some healthy fats and protein to balance out the bowl. (This will help keep you feeling full!)
Almond milk: just a splash. You can use any type of plant-based milk or jucie you like here.
How to make an Acai Bowl
The key to making a thick and creamy acai bowl is to use frozen fruit and a powerful blender. I used this blender for these acai bowls. Just add all the ingredients to a high-speed blender and blend, using the temper (the black long plastic stick) to push the fruits into the blades of the blender.
Tip: if your blender has an "ice cream mode," use this setting for blending. Most Vitamix blenders will have this option.
How to make Acai Bowls without a Blender
If you don't have a strong blender, you can make an Acai Bowl with a food processor. Just add everything to the food processor and pureé everything together as pictured below. Once your mixture is nice a smooth, spoon it into a bowl, top and enjoy immediately!
Acai Bowl Recipe Variations
Acai bowls are really easy to customize and can be made in many different ways. As long as you have acai as an ingredient, you can vary your fruits, liquids and mix-ins for the bowl. You can even add some hidden veggies to your Acai Bowl to make it a veggie smoothie bowl. Here are some fun options if you want to play around and mix up any of the ingredients listed in the recipe!
Fruits
Frozen mango
Frozen pineapple
Frozen coconut meat
Frozen avocado
Frozen dragonfruit
Liquids
Coconut milk
Coconut water
Apple juice
Pineapple juice
Pomegranate juice
Mix-ins
Protein powder
Chia seeds
Hemp hearts
Superfood powders
Matcha powder (to make it a matcha smoothie bowl)
What Toppings are Good for Acai Bowls?
Let's talk about the best part of making a homemade Acai Bowl: THE TOPPINGS.
There are so many different toppings you can add to your bowl, the possibilities are truly endless! Here are some suggestions for some classic toppings, but feel free to experiment with any toppings you love and want to try.
Banana
Mango
Passionfruit
Kiwi
Pineapple
Berries
Coconut flakes
Chia seeds
Flax seeds
Granola
Cacao nibs
Nuts
Seeds
Edible flowers
Nut butters
Dark chocolate
How to thicken an Acai Bowl
The key to making a thick Acai Bowl is to use frozen fruit and very little liquid. All the fruit used in an Acai Bowl should be frozen, otherwise, it may release too much liquid and turn the Acai bowl into more of an Acai Smoothie.
If you've already blended up your Acai Bowl ingredients and it came out too thin, try adding some more frozen berries and blending again. This should thicken it right up.
Acai Bowl calories and nutrition
Many store-bought acai bowls can be very high in calories as they're made with a lot of added fruits and fruit juices and tend to be quite a large serving. Some acai bowls can have up to 1000 calories in them including toppings!
This homemade Acai Bowl recipe only has 356 calories per bowl. (without toppings.) It also contains 8.2 grams of fiber and 6 grams of protein per serving.
The key to keeping an acai bowl healthy is to not make it too large and to add some fruits that are low in calories and sugar, such as berries. It also helps to keep the toppings light with some fresh berries and a sprinkle of coconut or granola.
Tips for making the perfect Acai Bowl
If using frozen Acai, let the Acai packet thaw for 5 minutes on the counter. This will help to soften the frozen acai and make it blend more easily. (These frozen packets can get quite hard in the freezer!)
Use a powerful blender or a food processor. If your blender isn't strong, you might be better off using a food processor. It's important that the blender can handle blending together all the frozen ingredients.
Don't add too much liquid. It can be tempting to add more almond milk to the blender when it seems like the fruit isn't blending, but adding too much liquid will turn your acai smoothie bowl into a liquidy smoothie.
Use the blender tamper to help push down the ingredients. If you're using a Vitamix or similar type of blender, use the tamper (the black stick that goes in the center) to push down the frozen fruit into the blades. This will help you blend everything together.
Serve immediately. Make sure to eat your Acai Bowls right away after making them! Otherwise they'll start to melt.
Acai Bowl Recipe FAQ
Can you eat acai every day?
Acai berries are very dense in nutrients and are perfectly healthy to consume every day, so feel free to make an Acai Bowl for breakfast every morning if you like!
Will acai bowls help you lose weight?
This will depend on how many calories are in the acai bowl. Homemade acai bowls tend to be lower in calories and can be a great healthy option to help you lose weight. However many store-bought acai bowls are very large and packed with calories, so it's best to make one at home.
Is it cheaper to make acai bowls at home?
Yes! Many store-bought acai bowls can range from $10-$20 per bowl! Buying frozen acai and some fruits to make the bowls at home is much cheaper.
Are acai bowls just sugar?
Not at all! Acai bowls contain natural sugars from fruit, but they also contain a lot of other nutrients. Store-bought acai bowls will often have more sugar in them than homemade acai bowls.
More smoothie recipes to try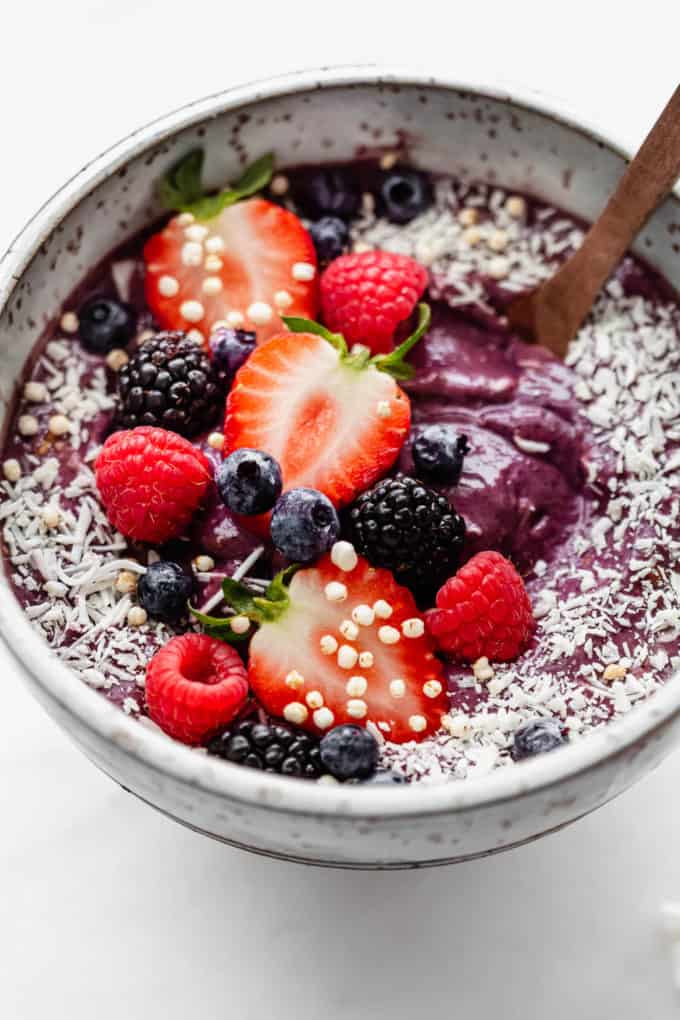 If you tried this Acai Bowl or any other recipe on the blog let me know how you liked it by leaving a comment/rating below! Be sure to follow along on Pinterest, Instagram and Facebook for even more deliciousness!
Print
Acai Bowl
Author: Jessica Hoffman
Prep Time: 10 minutes
Cook Time: 0 minutes
Total Time: 10 minutes
Yield: 1 serving 1x
Category: Breakfast
Method: Blend
Cuisine: American
Diet: Vegan
---
Description
Learn how to make your own homemade Acai Bowl right at home with this healthy and simple recipe!
---
1 pack frozen acai (or 2 tsp acai powder)
1 cup blueberries (frozen)
1 large banana (frozen)
1 tbsp almond butter
1/4 cup almond milk
topping options
fresh fruit
coconut
granola
nuts & seeds
---
Instructions
Blend all the ingredients together in a high-speed blender or food processor. If using a blender, use the tamper (the black stick that can be placed in the center of the blender) and push the frozen fruit into the blades to help it blend. Otherwise, you can pause the blender and scrape down the edges every few seconds. 
scoop into a bowl and add your toppings of choice.
---
Notes
If using frozen acai, let it thaw for 5 minutes, then cut the frozen acai packet into 2-4 smaller pieces. This will make it easier to blend. 
Cut the frozen banana into small pieces too for easy blending. 
Don't add too much liquid to the blender. It may be tempting, but adding too much liquid will thin out the acai bowl too much and turn it into a smoothie. 
---
Nutrition
Serving Size: 1 bowl
Calories: 356
Sugar: 29
Fat: 10g
Carbohydrates: 50g
Fiber: 8.2g
Protein: 6g
Keywords: Acai bowl, how to make an acai bowl, homemade acai bowl, acai smoothie bowl
This post contains affiliate links which means I will make a small commission if you purchase through those links. I only recommend products that I know, trust and love!