Farmers market vegan breakfast bowl
This farmers market vegan breakfast bowl is loaded with scrambled tofu, baked hash browns, and quinoa to fuel you up for the day!

I'm back in the kitchen after a much needed week away in Mexico. How strange it was to not cook a single thing for an entire week! It was even more strange to not do any dishes for an entire week! (Which is how I usually spend a large chunk of my day after lots of recipe development.)
After being on holiday I always get really excited to cook again. Especially healthy food after a week of not so healthy indulgences. (A girls gotta have some pina coladas and ice cream once in a while after all!) So I came home, headed straight to the farmers market, grabbed some fresh ingredients and got right too it.
Making a farmers market vegan breakfast bowl:
I understand why breakfast bowls are the "hype" now; these dishes are easy, flavorful and extremely versatile. The great thing about this farmers market vegan breakfast bowl is that you can substitute all the veggies for what you have available and in season at your local farmers market! Shopping and cooking this way is not only going to save you money in your grocery shopping (hello budget-friendly living!), but will also nourish your body with in-season fruits and vegetables containing far more nutrients than anything grown and exported. Plus you help our your local economy – sounds like a win, win, win to me!
My farmer's market adventure left me with peppers and spinach, so that's what went into mine. But maybe you'll find some kale, squash, or sweet potatoes to add to your scramble! The important thing is to add what you love and enjoy preparing.
Vegan breakfast bowls are also a great option for an easy, quick breakfast. But how is that, you ask? Make several servings of quinoa and cooked vegetables at once, so you can quickly throw these bowls together! Believe me, taking time to prep these bowls is far better than that instant oatmeal you typically have for breakfast.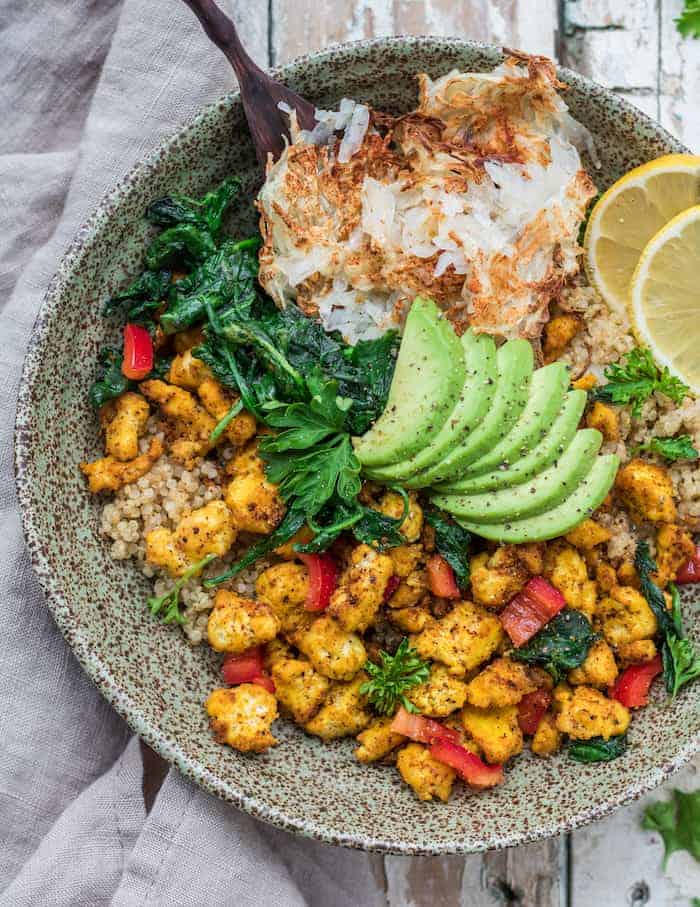 Print
Farmers market vegan breakfast bowl
Author: Jess
Prep Time: 15 mins
Cook Time: 25 mins
Total Time: 40 mins
Yield: 4 bowls 1x
Category: Breakfast
Method: Cook
Cuisine: American
---
Description
The ultimate vegan breakfast for brunch! This bowls loaded with scrambled tofu, hash browns, and quinoa.
---
tofu scramble
1 tbsp avocado oil (or coconut oil)
1 brick firm tofu
1/2 tsp turmeric
1/2 tsp chilli powder
1/2 tsp garlic powder
salt & pepper to taste
1 green onion, chopped
1/2 red pepper, chopped
2 cups spinach
baked hash browns
2 medium potatoes
1/4 onion, finely chopped
1 tbsp olive oil
pinch of salt & pepper
garnish
handful parsley, or other herbs
lemon wedge
---
Instructions
Cook quinoa according to package directions. set aside.
Pat tofu dry with a paper towel to remove any excess moisture. Using your hands, crumble the tofu into small chunks.
Heat avocado oil in a skillet on medium high heat. Add the green onion, tofu and seasoning and cook, stirring constantly for 2-3 minutes. Add the red pepper and spinach. Mix well and cook for another 2-3 minutes.
To prepare your hash browns, preheat the oven to 400 degrees F.
Grate your potatoes and onion with a large grater, or pulse a couple times in a food processor. Using a kitchen cloth or paper towels, squeeze out as much water as possible.
Mix the potatoes, onion, olive oil, salt and pepper together in a bowl.
Form into patties and place on a baking sheet lined with parchment paper.
Bake for 20-25 minutes, flipping halfway through.
To assemble the bowls, place quinoa on the bottom, the top with tofu scramble and hash browns. Garnish with some chopped parsley and lemon.
---
---
Nutrition
Serving Size: 1 bowl
Calories: 218
Sugar: 3g
Fat: 6g
Saturated Fat: 1g
Carbohydrates: 35g
Fiber: 6g
Protein: 8g
Keywords: Vegan breakfast, vegan breakfast bowl, farmer's market breakfast bowl
Craving more breakfast? Here are 4 more great breakfast recipes from the blog!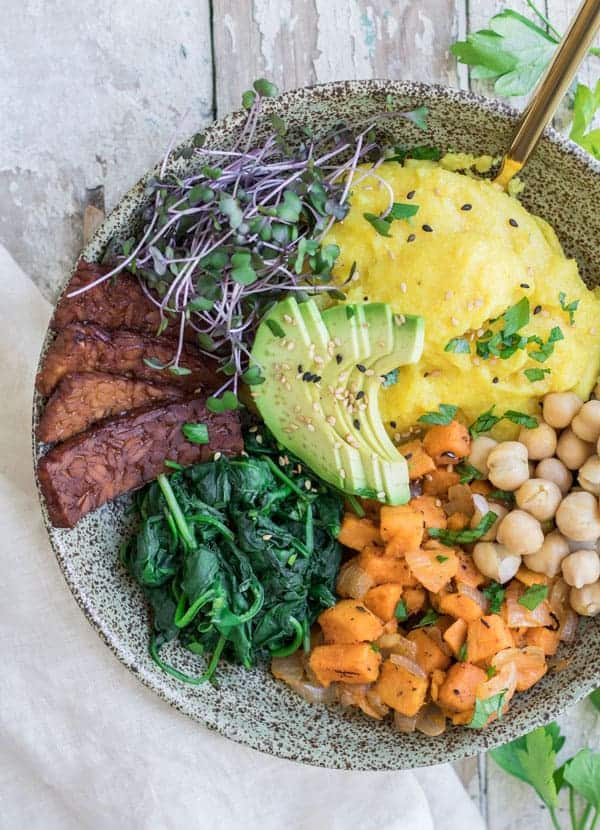 This post contains affiliate links which means I will make a small commission if you purchase through those links. I only recommend products that I know, trust and love!