Hummus Toast 3 Ways
Learn how to make Hummus Toast 3 Ways for a simple and healthy breakfast! With a variety of savoury toppings and delicious flavour pairings, these toasts are a creative way to get in some extra protein!
This post is sponsored by Sabra.
Move over, avocado toast
There's a new kid on the block: HUMMUS TOAST.
While hummus is often used for dipping crackers and snacks or used on the side with falafel or pita, today it's getting in the spotlight as the main topping for our toasts!
If you'd like to make your own hummus for this dish, this Healthy Hummus recipe is the perfect option! We also did another sponsored post with Sabra for Hummus Toast 4 Ways – a few more creative ways to serve hummus toast!
Health Benefits of Hummus
Hummus is full of plant-based protein, is full of nutrients that fight inflammation, and is high in fiber because of the shell on the chickpeas. Like all plant-based foods, hummus can help lower cholesterol helping out all our hearts and hummus has a low glycemic index, which will help to keep you full and keep you from having a big drop in blood sugar – say hello to not grabbing that cookie from the break room!
Something else that cannot be overlooked – hummus is dairy free, gluten free and nut free, so it can be easily served to anyone!
How to make hummus toast
Put hummus on toast. The end!
Ok, kidding. We're going to make these toasts a little fancier than that.
Start off with a hearty grain or seed bread. Today I'm using a whole-grain organic Kamut bread. (Which has a super nutty flavour, SO GOOD.) Other good options would be a multigrain bread, Ezekiel bread or if needed a seeded gluten-free bread.
Then next comes the hummus. I'm using Sabra's regular flavoured hummus for the toast, but you can experiement with any flavoured hummus you love. Take a big dollop and spread in on there. Don't worry-you can be generous here!
After the hummus, there are so many different types of topping options but today we're sticking with my 3 favourites:
Hummus toast with sliced avocado & black sesame seeds
Hummus toast with roasted chickpeas and za'atar spice
Hummus toast with mixed-seed blend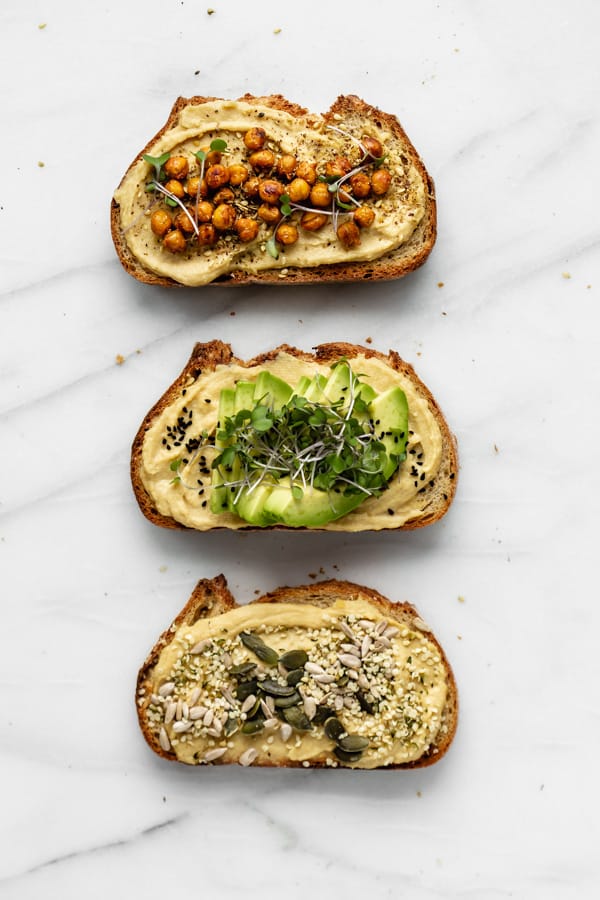 A few notes on the recipe:
So this hummus toast 3 ways is a rather simple recipe, which is perfect when you need an easy and healthy breakfast in the morning.
The only real cooking involved here, is making the roasted chickpeas. To do this you'll start with a can of organic chickpeas, and roast them in the oven for about 30 minutes. If you're looking to have a quick start to your day in the morning, then I'd definitely recommend making the roasted chickpeas the night before and storing them in a container to use as you please!
If there are any additional toppings you'd love to add to these toasts then go for it! Here are so great options:
Chia seeds
Crumbled feta cheese
Thinly sliced radishes
Sliced tomatoes
Eggs
Sautéed mushrooms
Any type of spices you love
More hummus recipes to try
Print
Hummus Toast 3 Ways
Author: Jess
Prep Time: 10 minutes
Cook Time: 0 minutes
Total Time: 10 mins
Yield: 2-4 servings
Category: Breakfast
Method: Toast
Cuisine: American
---
Description
Say hello to your new favourite toast! Hummus toast!
---
Whole-grain Kamut bread or seeded bread  (or bread of choice)
Hummus
Topping option 1
Sliced avocado
Sprouts
Black sesame seeds
Topping option 2
Roasted chickpeas (store-bought or homemade)
Za'atar spice
Topping option 3
Pumpkin seeds
Sunflower seeds
Sesame seeds
---
Instructions
Toast 1: Spread the hummus onto the toast then top with sliced avocado, sprouts and black sesame seeds. (Optionally) add a sprinkle of salt.
Toast 2: Spread the hummus onto the toast them top with roasted chickpeas and a sprinkle of za'atar spice
Toast 3: Spread the hummus onto the toast, then top with seeds.
---
---
Nutrition
Serving Size: 1 slice of toast (average)
Calories: 300
Sugar: 1g
Fat: 8g
Saturated Fat: 2g
Carbohydrates: 24g
Fiber: 7g
Protein: 10g
If you tried this Hummus Toast 3 Ways or any other recipe on the blog let me know how you liked it by leaving a comment/rating below! Be sure to follow along on Pinterest, Instagram and Facebook for even more deliciousness!
This post contains affiliate links which means I will make a small commission if you purchase through those links. I only recommend products that I know, trust and love!