Best Healthy Hummus Recipe
This Healthy Hummus recipe is smooth and creamy, and made with simple & healthy ingredients! It tastes just like the authentic hummus you'd get in a restaurant.
THE Go-To Healthy Hummus Recipe
Hummus has become one of those things that I ALWAYS have to have on hand in my kitchen. Seriously, if there's no hummus in the fridge, then something just doesn't feel quite right.
I should probably warn you before making this recipe that this hummus will forever change your perspective on store-bought hummus. I'm serious here people, once you go homemade…it's hard to go back.
If you're looking to make some fun or more creative hummus recipes, this Everything Bagel Hummus and this Roasted Beet Hummus are perfect to play!
Healthy Hummus Ingredients
Can of chickpeas: I recommend using organic chickpeas which tend to have a better taste.
Baking soda: This is the "secret ingredient" that will help soften the chickpeas and make them super creamy when we blend them.
Tahini: Make sure to use the runny kind of tahini. You can find tahini in the Middle-Eastern section of most grocery stores.
Garlic: Fresh garlic. Don't substitute for powdered.
Salt: For flavour.
Cumin: Just a touch. This adds a delicious taste to the hummus.
Olive oil: Use a good quality olive oil for the best tasting hummus
Lemon juice: Freshly squeezed, not bottled.
Cold water: The water MUST be cold. This is the key ingredient that will help the hummus whip up and become super luscious and creamy.
How to make hummus healthy
First off, you can use either dry or canned chickpeas. For this recipe to speed things up, we're using canned chickpeas. If using dry chickpeas, soak them overnight and then cook them in a pot of boiling water until soft.
Chickpeas naturally have a little peel on them that will come right off when you gently squeeze them with your fingers, or when you roll them gently in a clean kitchen towel. Don't skip this step! This is going to give the hummus that smooth and creamy texture.
Next, we're going to cook the chickpeas in a pot of boiling water on medium-high heat for about 10 minutes, until they're extra soft. This is step two in achieving creamy dreamy hummus.
You can use either a high-speed blender (like a Vitamix) or a food processor to whip up your hummus. Make sure to blend and mix for a good 4-5 minutes to make sure everything is well incorporated.
How to Store Hummus
Since this hummus is made fresh with all natural ingredients, it won't stay as long as store-bought hummus, which has never been a problem in my home since it usually gets eaten up within a day or two.
This hummus recipe is easy to make, naturally vegan and can be made in a Vitamix or food processor.
Can You Freeze Hummus?
Yes! Hummus freezes very well. You can store hummus in the freezer for up to 4 months.
Make sure to freeze the hummus in an air-tight container so the hummus doesn't get freezer burned. It is also important not to over-fill the container as hummus will expand a bit once frozen.
I like to make homemade pita chips to serve with the best healthy hummus. To do this I just cut up some pita into triangles, brush them with olive oil, sprinkle them with za'atar spice, and toast them up until they're nice and crispy!
Ways to Serve Healthy Hummus
With a side of your favourite crackers
As a spread on a sandwich
On a salad
With cut-up veggies
On a spoon
If you're looking for some other great hummus variations make sure to check out this roasted beet hummus and this edamame hummus recipe!
Healthy Hummus FAQs
Is Hummus Healthy Naturally?
Eating hummus in moderation is part of a healthy diet. 2 tablespoons of hummus has 2 grams of fiber and 5 grams of protein in it. Just remember that while hummus is healthy, it can be high in calories and fat if you consume too much in a day.
Is Hummus Good for You?
Hummus is good for you consumed in moderation. It's made with ingredients like chickpeas, olive oil and tahini which contain protein, healthy fats and healthy carbodydrates.
More hummus recipes to try
If you tried this Healthy Hummus or any other recipe on the blog let me know how you liked it by leaving a comment/rating below! Be sure to follow along on Pinterest, Instagram and Facebook for even more deliciousness!
Print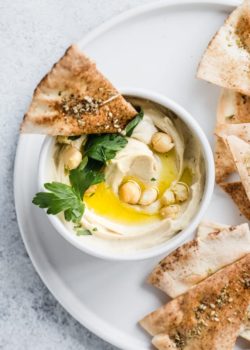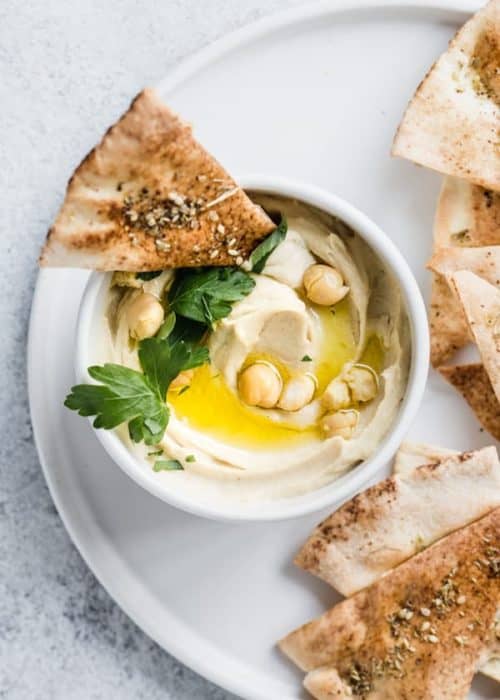 The Best Hummus – Healthy Recipe
Author: Jess
Prep Time: 15 minutes
Cook Time: 10 minutes
Total Time: 25 minutes
Yield: 20 servings 1x
Category: Appetizer
Method: Blend
Cuisine: Middle Eastern
---
Description
This is the BEST healthy hummus recipe! Find out the secret to making smooth creamy and fluffy hummus!
---
1 15 oz can organic chickpeas
1/2 tsp baking soda
1/2 cup tahini
2 garlic cloves
1/2 tsp salt
1/2 tsp cumin
3 tbsp olive oil
2 tbsp lemon juice
1/2 cup-3/4 cup cold water (depending on how thick you like your hummus)
olive oil, za'atar, paprika, parsley or whatever you like to top!
---
Instructions
Drain and rinse the can of chickpeas, and remove the skins by rolling the chickpeas in a clean kitchen towel. The skins will naturally come off.
Discard the skins and place the chickpeas in a pot of boiling water with 1/2 tsp baking soda.
Cook for 8-12 minutes on medium-high heat until the chickpeas are soft. Remove from heat and drain.
Add the chickpeas, tahini, garlic, salt, cumin, olive oil and lemon juice to a food processor or high-speed blender. blend until everything is smooth, scraping down the edges as needed.
Begin to add the cold water, adding 1/4 cup at a time and blending to incorporate, for about 5 minutes.
Taste and adjust seasoning if needed (salt, cumin, lemon juice)
Serve topped with olive oil, za'atar spice, paprika, or parsley.
---
Notes
I use about 1/2 tsp of salt, but depending on the chickpeas you use, you may want to add a bit more salt or seasoning. Taste and adjust accordingly.
This hummus will store well for up to a week in the fridge
---
Nutrition
Serving Size: 2 tbsp
Calories: 110
Sugar: 2g
Fat: 6g
Saturated Fat: 0g
Carbohydrates: 14g
Fiber: 2g
Protein: 5g
Keywords: healthy hummus, easy hummus recipe, creamy hummus recipe
This post contains affiliate links which means I will make a small commission if you purchase through those links. I only recommend products that I know, trust and love!
This post contains affiliate links which means I will make a small commission if you purchase through those links. I only recommend products that I know, trust and love!