Mini vegan key lime pies
These mini vegan key lime pies are healthy, gluten-free and refined sugar-free. They make the perfect little healthy treat that features a "buttery" almond flour crust!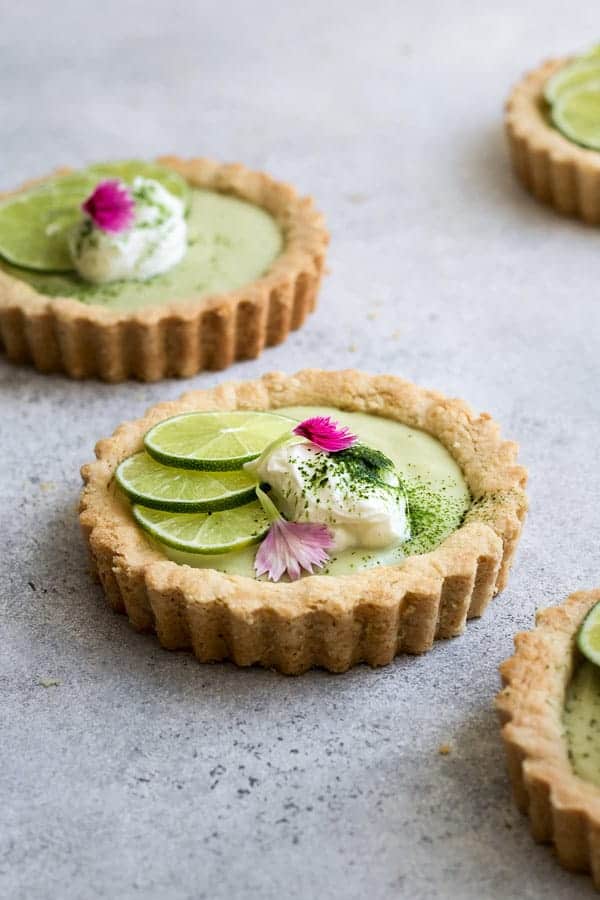 The best vegan key lime pie
Key lime is one of my favourite flavours to make desserts with. It's fresh and light and always a crowd pleaser! These key lime pies can be made mini or can be made as one big key lime pie.
The crust is made from a base of almond flour and the filling is made from coconut milk, so these tarts are entirely grain-free and made with wholesome ingredients.
Why you'll love this recipe
Since these pies are mini, they are perfectly portioned and you can have an entire pie all to yourself!
This is a great recipe to suit a variety of diets and can be enjoyed by anyone who is vegan or eats dairy-free, gluten-free or grain-free.
The combination of the almond flour crust and creamy key lime filling is so delicious!
Can I make this recipe nut-free?
Yes! If you want to make this recipe for mini vegan key lime pies nut-free you can substitute the almond flour in the recipe for oat flour.
You can either buy pre-made oat flour or make it yourself by blending oats up in a blender until fine.
How to make mini vegan key lime pies
This recipe is simple and straightforward to make and doesn't require any complicated pie crust!
Mix the crust ingredients together and then press the crust into mini pie tins. Bake for 10-12 minutes.
While the crust bakes, prepare the filling by mixing the ingredients together in a small pot.
Once the pie crusts have finished baking and cooled, add the filling to the center of each pie.
Place in the fridge to firm up for 1-2 hours.
Using almond flour for the pie crust
The pie crust for this recipe is made almost entirely out of almond flour, which is made entirely out of almonds.
The almonds give these light yet rich texture and flavour to the crust, and also make it entirely gluten-free. (And high in protein!) To get the dough for the crust to stick together, I use a mix of coconut oil and brown rice syrup. Brown rice syrup is the BEST of the sticky syrups for binding. (It's similar to the texture of corn syrup-but much healthier.)
Tips for making this recipe perfectly
Use almond flour rather than almond meal to make the crust. Almond flour is more finely ground and will give a better texture to the pie crust.
Use mini tart pans, or a larger 11-inch tart pan to make this recipe with a removable bottom. This is important so you can easily get the pie out of the pan!
Be gentle when removing the tarts from the mould so they don't break.
Make sure to mix the cornstarch in with the lime juice before adding to the pan so it completely dissolves. You don't want to end up with clumps of cornstarch!
Other citrus treats to try
If you tried these mini vegan key lime pies any other recipe on the blog let me know how you liked it by leaving a comment/rating below! Be sure to follow along on Pinterest, Instagram and Facebook for even more deliciousness!
Print
Mini vegan key lime pies
Author: Jess
Prep Time: 20 minutes
Cook Time: 15 mnites
Total Time: 35 minues
Yield: 4 mini pies 1x
Category: Dessert
Method: Bake
Cuisine: American
---
Description
Mini key lime tarts that are vegan and refined-sugar free! They also feature a "buttery" almond crust!
---
Almond crust
Key lime filling
---
Instructions
Preheat the oven to 350 degrees F.
In a large bowl, mix together the almond flour, coconut oil, brown rice syrup and pinch of salt until if forms a soft dough. You should be able to press the dough together between your fingers. (If it is too crumbly, add a bit more oil & brown rice syrup)
Spoon 1/4 of the mixture evenly between 4 mini tart pans (this kind), and press down into the pan with your fingers.
Bake for 10-12 minutes, or until lightly browned.
While the tarts cool, start preparing the filling.
Add cornstarch to the cup of lime juice and mix until dissolved.
Next scoop out the cream from the top of the can of the coconut milk and add it to a small pan on medium-high heat along with the lime juice mixture, lime zest, coconut oil and maple syrup.
Stir the mixture until it begins to bubble. The mixture should thicken.
Reduce the heat to medium and keep stirring for 2-3 minutes. Then Remove from heat and set aside, allowing the mixture to cool down to room temperature. (You can also pop it in the fridge to speed up this process.)
Separate the tarts from the tart pans. (I like to set the tarts on a small cup, and gently pull down the sides of the pan. It will slide right off!)
Pour some of the key lime mixtures into each tart.
Let set in the fridge for at least 1 hour to firm up.
(Optional) Decorate with lime slices and whipped coconut cream.
---
---
Nutrition
Serving Size: 1 mini pie
Calories: 500
Sugar: 19g
Fat: 30g
Saturated Fat: 20g
Carbohydrates: 33g
Fiber: 3g
Protein: 5g
Keywords: vegan key lime pie, mini key lime pies, gluten-free key lime pie
This post contains affiliate links which means I will make a small commission if you purchase through those links. I only recommend products that I know, trust and love!
This post contains affiliate links which means I will make a small commission if you purchase through those links. I only recommend products that I know, trust and love!