23 Vegan Thanksgiving Recipes
For every classic dish on your Thanksgiving table, there's a plant-based option to match! This roundup of Vegan Thanksgiving Recipes has some of our favourite Thanksgiving mains, sides, and desserts, from green bean casserole to stuffed squash to pumpkin pie!
A vegan recipe for all of the classic Thanksgiving dishes
Beyond the obvious platter of turkey on the table, Thanksgiving isn't too difficult of a holiday to make vegan friendly! Fortunately, there are so many fantastic recipes to share with all of you to make the big day a little easier – (and hopefully less stressful in the kitchen!)
Whether you're making a conscious effort to eat more vegetables, an ethical choice to go vegan, or if you're just trying to figure out what to make to accommodate your long-lost vegan cousin for the day, this roundup has everything you'll need to make some of your favourite Thanksgiving dishes plant-based, without sacrificing any of the flavour.
In this roundup, you'll find:
Brunch recipes (to hold you over until the big meal)
Show-stopping main dishes
A plethora of delicious sides (cranberry sauce with orange zest? yes please!)
Creative desserts, to round off your sweet tooth on Thanksgiving day
And, if there's another dish that you want to make vegan friendly, but it's not included in the post, leave it in a comment below and we'll help you find a great recipe!
Happy cooking, and happy vegan Thanksgiving!
BREAKFASTS
A healthy and nourishing breakfast, topped off with a candied maple pecan crumble! It's perfect for Thanksgiving brunch (plus, we could all use an excuse to have more pecan pie-inspired dishes!)
A fluffy, doughy pan of delicious cinnamon rolls, loaded with cinnamon sugar, pumpkin puree, and pumpkin spice for a sweet and icing-covered breakfast!
For a quick and easy breakfast, these Pumpkin Pie Oats come together in 5-15 minutes, and can be topped with anything from bananas to nut butters and maple syrup!
MAINS
A healthy and delicious vegan dish made with lentils, mushrooms and vegetables, and topped with a sweet and tangy glaze! It's the perfect plant-based Thanksgiving recipe as an alternative to meatloaf.
Packed with hearty vegetables like leeks, swiss chard and butternut squash, this phyllo pie has a delicious and flaky crust for a beautiful dish sure to impress!
This vegan pot roast has garlic, onion, red wine, and dried herbs for a delicious main entree that takes on the flavour of everything it's cooked with! Serve it with chopped carrots and potatoes and a gravy for a classic plant-based Thanksgiving main!
Cook up some veggies and lentils, then deglaze the pan with wine for a simple dish with big flavour. Top the shepherd's pie off with mashed potatoes, and bake to a beautiful golden perfection for the perfect dinner!
This sweet potato soup is made with roasted sweet potatoes to give the soup more depth and flavour, then blended up with a cinnamon and a little nutmeg for a unique combo!
These acorn squashes are filled with caramelized onions, cauliflower florets, spinach, dried cranberries, and pecans, then served with a lemon tahini sauce for a colourful dish with tons of texture and flavour!
SIDES
This sweet potato casserole has a delicious crumble topping made from pecans, oats and almond flour for a sweet and creative side dish that everyone will love!
3 healthy ingredients and 20 minutes are all you need to make this sweet and simple cranberry sauce! (Bonus: it uses maple syrup instead of cane sugar for a healthy twist.)
This is truly the perfect cornbread recipe – it's moist, not too crumbly, and subtly sweet with a buttery texture! It's perfect on its own or as a side dish in your plant-based Thanksgiving dinner spread.
Featuring the perfect healthy comfort food, filled with wholesome and natural ingredients like butternut squash and cashew milk. The sauce can even be made ahead of time to save you time on Thanksgiving Day!
This vegan stuffing is a simple recipe that's easy to add extra flavours and ingredients to, depending on your tastes! It has dried sage, thyme, garlic, and onion for the perfect savoury flavour.
This vegan gravy is made from scratch with simple ingredients and a mushroom base. It's rich, hearty, flavourful, and perfect to pour all over every plant-based Thanksgiving main!
Shaved Brussels sprouts, fennel, apples, and pomegranate seeds come together for a perfect appetizer topped with a light and creamy maple dijon dressing!
Cauliflower has had its rightful spotlight for the last few years, and we love having healthy side dishes on our table. It's easy to make, and filled with pungent roasted garlic, thyme, and rosemary for the perfectly creamy mashed side!
A classic green bean casserole, but healthier and made from scratch! It's vegan and dairy-free, but still topped with everyone's favourite crispy fried onions.
Deliciously seasoned roasted vegetables with an incredible homemade seasoning blend. Stacked perfectly with seasonal root veggies and potatoes!
DESSERTS
These Healthy Mini Pecan Pies are the perfect treat for the holidays, made with an oat crust and caramel made from dates! They're vegan, gluten-free, and refined sugar-free as well.
9 ingredients and a blender is all you need for this delicious vegan pumpkin pie! The sweet, spiced pumpkin custard filling is classic, and basically requires a healthy serving of vegan whipped cream.
These Chewy Chai Snickerdoodles are perfectly soft and chewy on the inside, have a great buttery texture, and are filled with warming chai spices!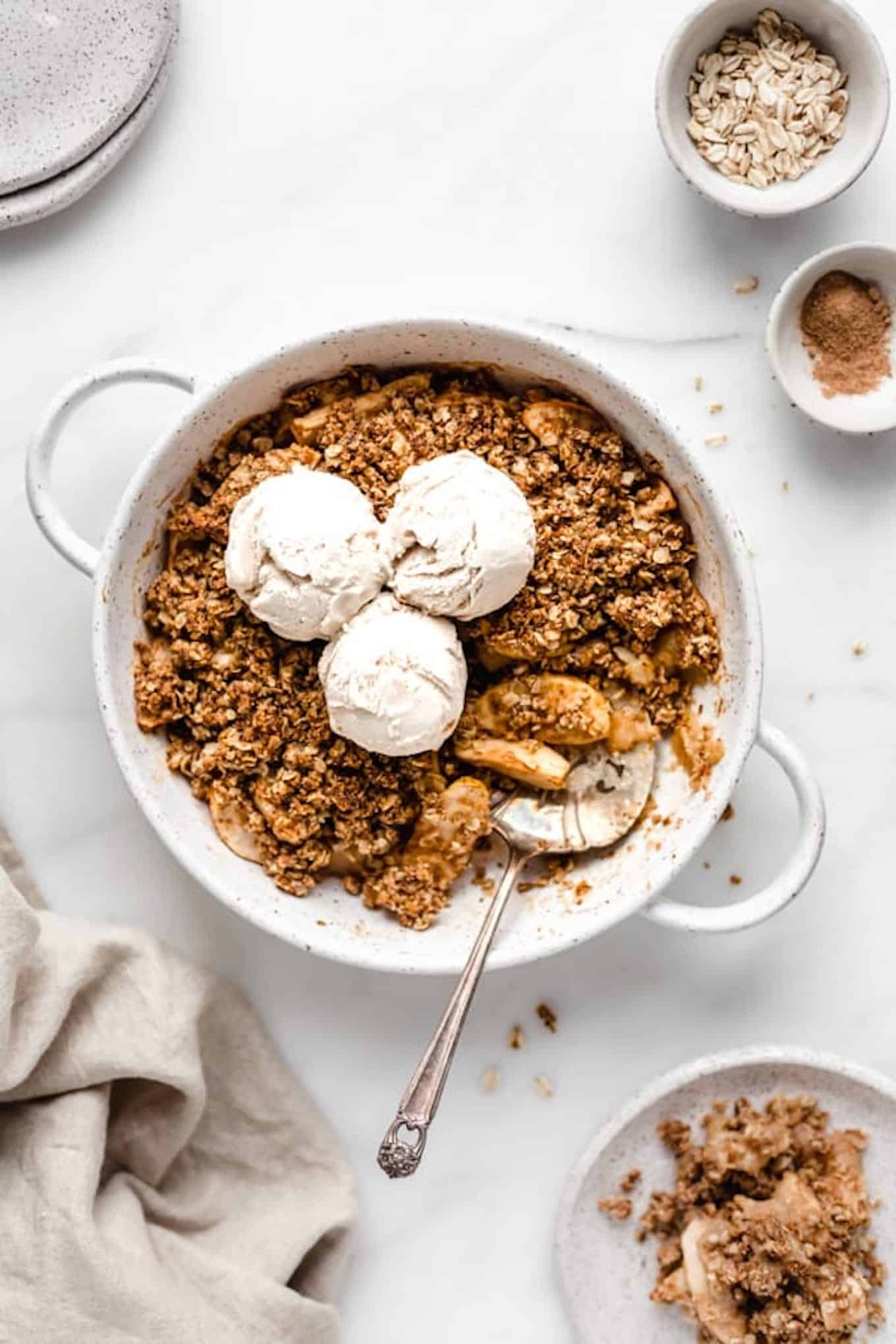 Apple crisp is an easy, sweet, and cozy dessert! This recipe is naturally vegan, gluten-free, and refined sugar-free for a healthy twist.
This post contains affiliate links which means I will make a small commission if you purchase through those links. I only recommend products that I know, trust and love!