Rhubarb Oat Bran Muffins
These Rhubarb Oat Bran muffins are the BEST healthy muffins! They're made with oat bran and whole-grain flour and loaded with tangy rhubarb for a sweet, filling treat!
The key to baking with rhubarb
I took my weekly trip to the local farmer's market and it finally happened…LOCAL RHUBARB.
I'll be honest, I've never had raw rhubarb because it's mostly featured in baked goods – and rightly so! Rhubarb bakes up tangy, which makes it pair perfectly with sweet flavours of desserts. It's most commonly paired with strawberries, like in this Healthy Strawberry Rhubarb Crisp, and this Strawberry Rhubarb Chia Pudding!
Bran muffins are one of my favourite types of muffins out there. They have this rich flavour and are loaded with healthy fibre – so I loaded them with fresh rhubarb, and these muffins are the delicious result!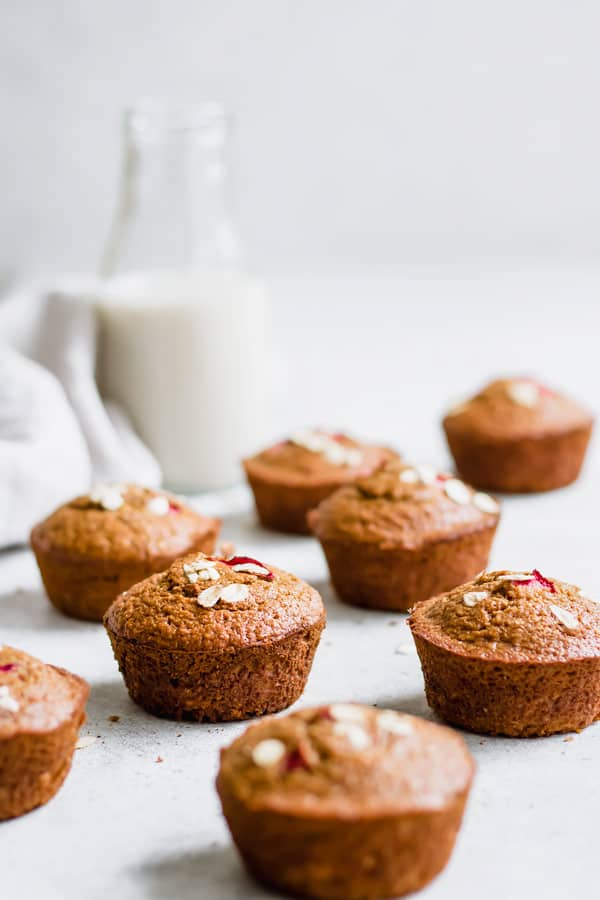 Healthy rhubarb oat bran muffins with great ingredients
These muffins are gluten-free, high in fibre, and filled with whole grain ingredients!
These rhubarb oat bran muffins are quite low in sugar for a muffin recipe. I use coconut sugar in these muffins because it has a lower glycemic index than regular sugar. (That just means it won't make you "crash" as much as when you eat regular sugar. It's also better for your blood sugar levels!)
I prefer oat bran because of the chewy texture and taste, but you can also use wheat bran in this recipe! Both should be readily available in most grocery stores (usually in the oatmeal section).
How to make rhubarb oat bran muffins
Make a dairy-free buttermilk by mixing almond milk and apple cider vinegar in a glass or bowl, and let it sit to create buttermilk.
Add dry ingredients to a bowl and mix them together. In a separate bowl, mix together the wet ingredients.
Mix the wet and dry ingredients together thoroughly, but don't overmix! Gently fold the batter together – this will keep the muffins nice and fluffy.
Spoon the batter into muffin moulds lined with papers, but only fill them 3/4th of the way full. They will expand when they cook!
A few notes on this recipe:
If you're substituting spelt flour with a gluten-free flour, make sure to use a one to one gluten-free flour blend that contains xanthan gum, a rising agent to help your baked goods come out light and fluffy!
You can substitute wheat bran for oat bran if you prefer in this recipe, but don't switch out the oat bran for rolled oats! They're not the same thing! Oat bran is just the bran of the oat, not the whole oat.
I haven't tried replacing the egg in this recipe to make it vegan, but I think a flax egg should work great. If you try this and have success with it, definitely let us know in the comments below!
You can also mix in some chopped up strawberries into these muffins to make strawberry rhubarb muffins, which would be delicious!
More muffin recipes to try
If you tried these Rhubarb Oat Bran Muffins or any other recipe on the blog let me know how you liked it by leaving a comment/rating below! Be sure to follow along on Pinterest, Instagram and Facebook for even more deliciousness!
Print
Rhubarb Oat Bran Muffins
Author: Jess
Prep Time: 10 minutes
Cook Time: 15 minutes
Total Time: 25 minutes
Yield: 12 muffins 1x
Category: Breakfast
Method: Bake
Cuisine: American
---
Description
These Rhubarb Oat Bran Muffins are the perfect tangy and wholesome treat for breakfast!
---
---
Instructions
Preheat the oven to 400 degrees F
Mix the almond milk and apple cider vinegar together. Set aside for 5 minutes to allow it to turn into "buttermilk"
Mix the oat bran, flour, coconut sugar, baking powder, baking soda, salt and cinnamon together in a bowl.
Mix the egg, molasses, oil, vanilla and almond milk mixture together in another bowl.
Pour the wet ingredients into the dry and mix until combined.
Stir in the rhubarb
Spray a muffin tin with cooking spray, or line with muffins tins and make for 15-17 minutes.
---
Notes
The batter will be a bit runny. This is normal.
Try mixing in raisins, walnuts or any of your favourite berries into these muffins!
---
Nutrition
Serving Size: 1 muffin
Calories: 198
Sugar: 14g
Fat: 9g
Saturated Fat: 7g
Carbohydrates: 29g
Fiber: 3g
Protein: 4g
Keywords: bran muffins recipe, rhubarb muffins, vegan muffin recipe
This post contains affiliate links which means I will make a small commission if you purchase through those links. I only recommend products that I know, trust and love!
This post contains affiliate links which means I will make a small commission if you purchase through those links. I only recommend products that I know, trust and love!