Dutch Baby Pancake
This Dutch Baby Pancake recipe is the perfect brunch to make for something a little extra special. Top this fluffy, rich pancake off with your favourite berries and a sprinkle of powdered sugar!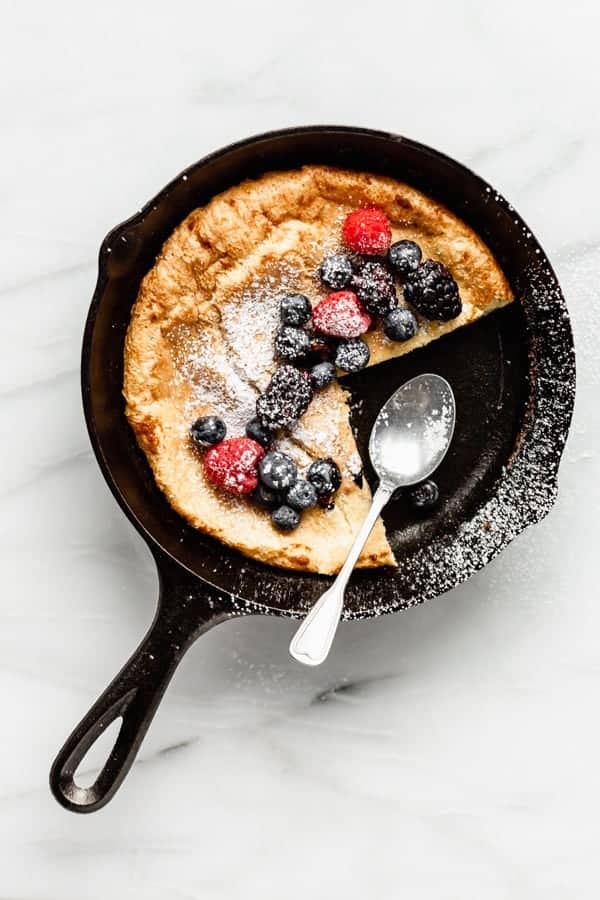 How has it taken me so long to discover the amazingless of a dutch baby pancake?!
Seriously, move over regular pancakes because dutch baby pancakes are one special treat for weekend brunch! This pancake feels rich, fluffy and is soooo fun to watch bake and puff up in the oven like a cloud!
If you're in the mood for a fluffy stack of pancakes, whip up these Fluffy Almond Flour Pancakes or Vegan Blueberry Pancakes.
What is a dutch baby?
A dutch baby pancake is essentially like one big popover! It's very similar to a Yorkshire pudding, but it's slightly sweetened.
It's thicker than a typical pancake. Rather than being cooked in a pan, it's cooked in the oven.
Dutch baby pancakes are also generally made with more eggs than regular pancakes, which helps them to get the light puffy texture!
How to make a dutch baby
Now there are a few components I want to go over to make the perfect dutch baby, and to make your dutch baby pancake rises in the oven.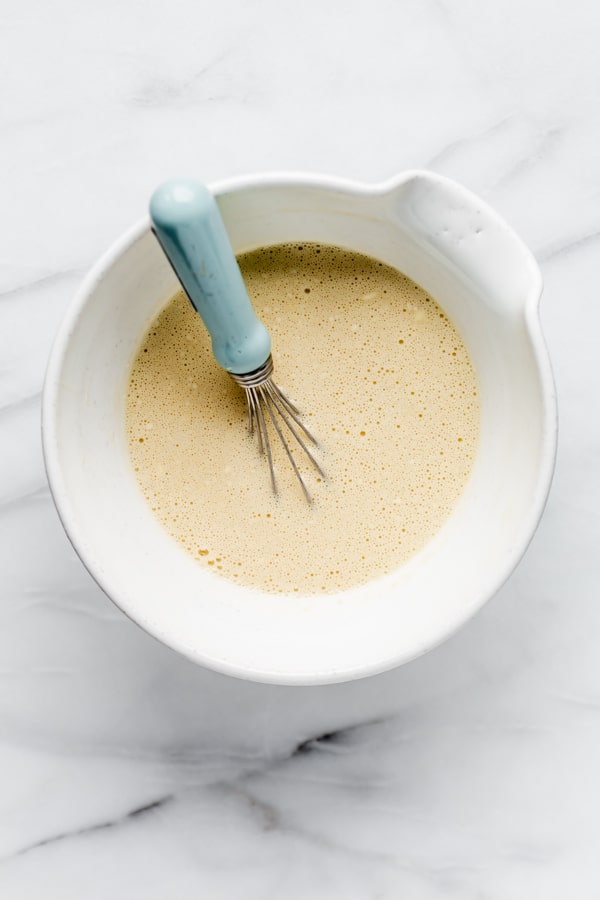 Firstly, let's go over the ingredients you'll need:
Flour
Eggs
Sugar
Milk
Butter
Mix all the pancake ingredients together in a large bowl or in a blender, then pour the mixture into a preheated skillet coated with melted butter.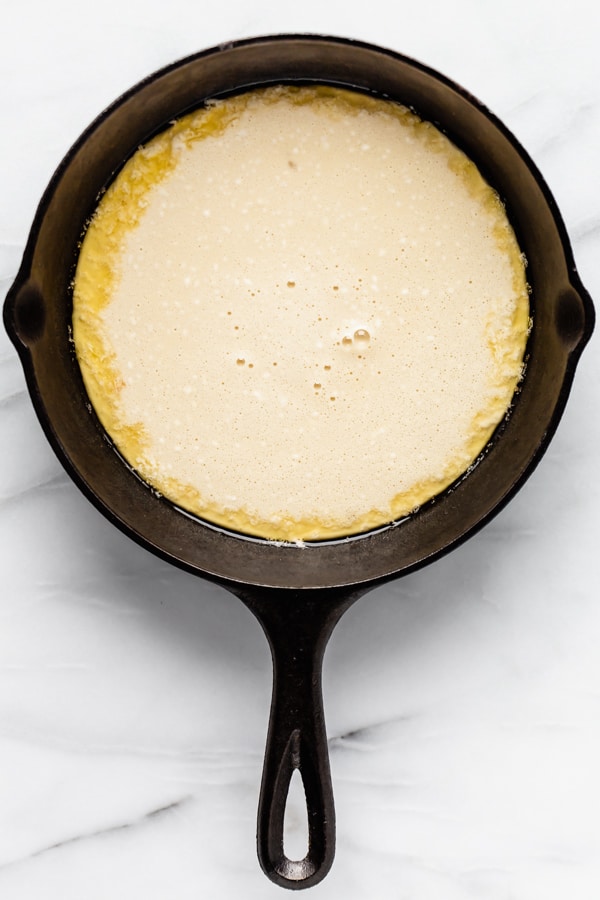 Then, immediately place the skillet and batter in the oven and bake at 425 degrees F for 22-25 minutes until golden brown on top.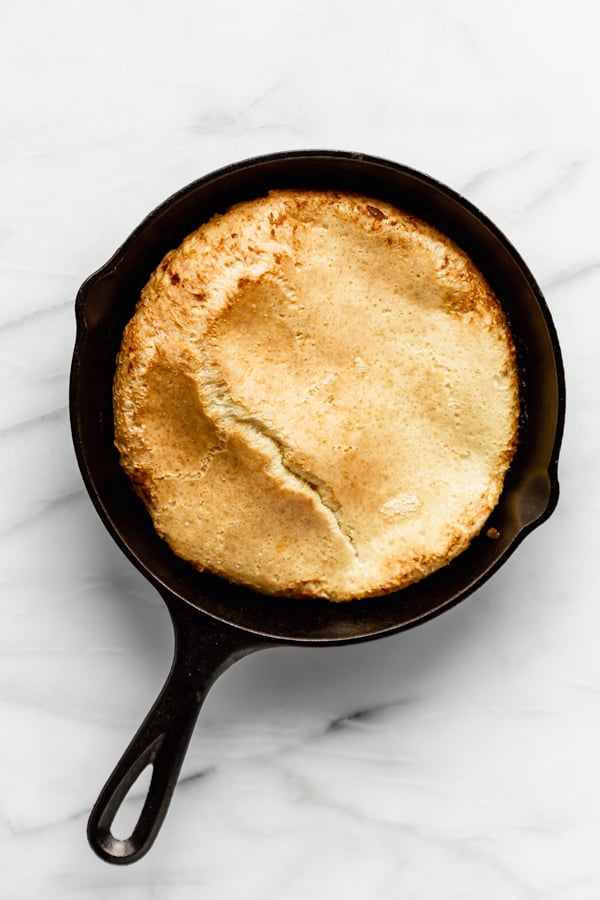 Tips to making a perfect dutch baby
Let's talk about the process to make a perfect dutch baby pancake.
One way to make sure your pancake rises in the oven is to use room temperature eggs and milk
To bring eggs to room temperature quickly, place them in a bowl of lukewarm water for 5-10 minutes before cooking
The ingredients can be mixed together in a bowl or blender until smooth
Make sure your skillet is HOT before you pour your batter in. I recommend using a cast iron skillet and preheating it on the stove top so it's nice and hot.
Add your butter or oil to the skillet and let it heat up before pouring in your batter
DO NOT open your oven door to take a peek! You want to keep the door closed, and keep it nice and hot in there!
Make sure your guests are present when you take the dutch baby out of the oven for that "wow" factor. It will deflate rather quickly!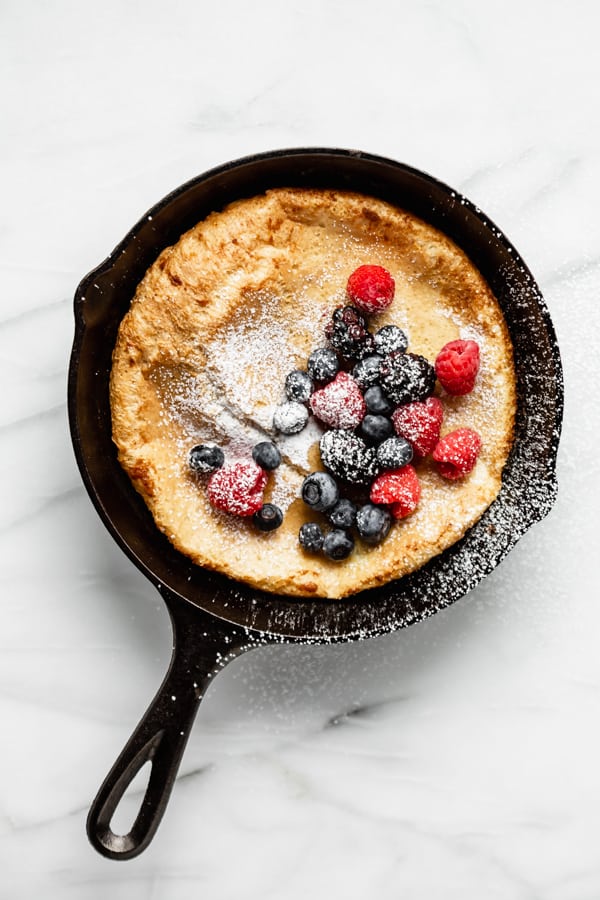 Recipe substitutions and variations
The dutch baby can be made dairy-free by using coconut oil instead of butter. You can also use any type of flour you like, though it will puff up more if the flour contains gluten.
You can top this dutch baby pancake with any fruits, jams or sauces you like. I enjoy this recipe with some fresh berries and just a light dusting of powdered sugar.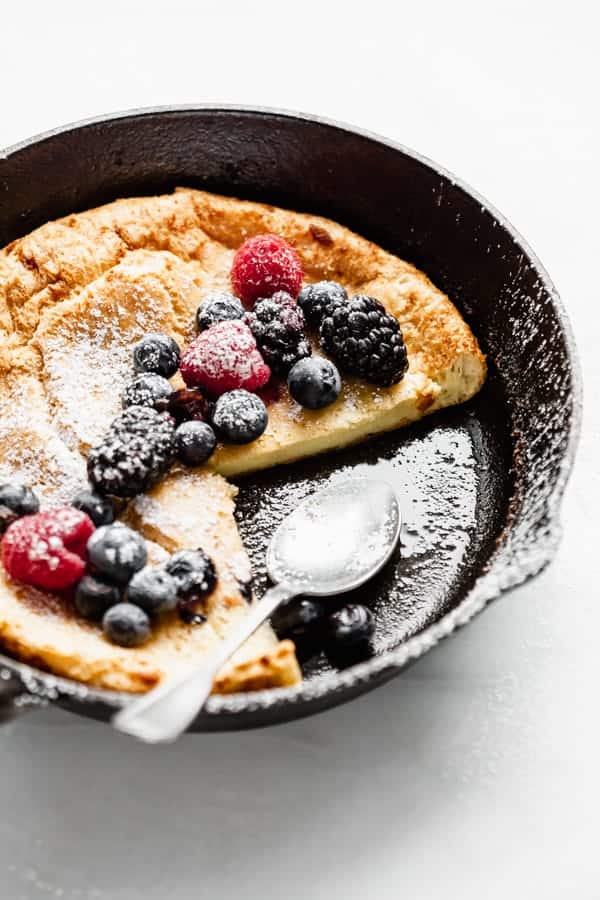 More brunch recipes to try
Print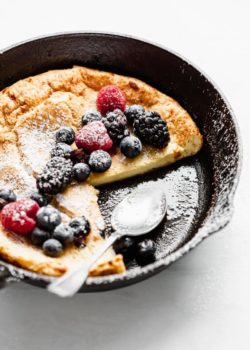 Dutch Baby Pancake
Author: Jess
Prep Time: 5 minutes
Cook Time: 25 minutes
Total Time: 30 mins
Yield: 4 servings 1x
Category: Breakfast
Method: Bake
Cuisine: German
---
Description
A fun pancake recipe perfect for a weekend brunch!
---
1/2 cup Spelt flour (can sub regular flour, gluten-free flour…etc.) 
1/4 tsp salt
1 tbsp cane sugar
3 eggs, at room temperature
2/3 cups milk of choice, at room temperature 
2 tbsp butter or coconut oil
berries, powdered sugar or anything else you love to top! 
---
Instructions
Preheat the oven to 425 degrees F.
Mix all the pancake ingredients together in a large bowl, or in a blender until smooth. 
Heat a 10-inch cast iron skillet on the stove until it's nice and hot, then add butter or coconut oil and let heat for a minute. 
Pour your batter into the hot skillet then immediately transfer to the oven and bake for 22-25 until puffy and golden brown. 
Serve immediately and top with berries and powdered sugar
---
Notes
Make sure to use room temperature eggs and milk in this recipe to make the Dutch baby puff up in the oven! 
Preheat your oven and your cast iron skillet before making this recipe. 
For best results, I recommend a cast iron skillet for this Dutch baby pancake.
---
Nutrition
Serving Size: 1/4 of the recipe
Calories: 244
Sugar: 4g
Sodium: 250mg
Fat: 10g
Saturated Fat: 5g
Carbohydrates: 15g
Fiber: 2g
Protein: 8g
Keywords: dutch baby pancake recipe, dutch baby recipe
If you tried this Dutch Baby Pancake or any other recipe on the blog let me know how you liked it by leaving a comment/rating below! Be sure to follow along on Pinterest, Instagram and Facebook for even more deliciousness!
This post contains affiliate links which means I will make a small commission if you purchase through those links. I only recommend products that I know, trust and love!