Vegan Black Bean Soup
Vegan black bean soup is the perfect protein-packed hearty soup recipe that is packed with delicious flavour! This Cuban-inspired soup has 12.5 grams of fibre and 17 grams of protein per serving.
Cuban Black Bean Soup
If you're looking for a soup that eats like a meal then this Cuban-style vegan black bean soup is just what you need!
The soup is seasoned with vegetables, oregano, cumin and coriander for a flavourful vegetable soup that is high in both protein and fibre from the black beans.
While you may be used to seeing black beans in black bean burritos and black bean burgers, black beans are absolutely delicious when enjoyed in a soup! This soup can also be enjoyed un-blended so it's thick and chunky, or blended so it's smooth and creamy. Both ways taste great!
Why you'll love this recipe
Packed with plant-based protein. Each serving of this black bean soup has 17 grams of plant-based protein and 12.5 grams of fibre to keep you feeling full and satiated!
Great meal prep recipe. The flavour of the soup gets even better when it sits in the fridge overnight, making this the perfect recipe to meal prep for the week.
Freezer-friendly. If you like having simple meals ready to go in your freezer, make a batch of this black bean soup to freeze and have on hand whenever you need.
Vegan black bean soup ingredients
Black beans: this recipe calls for canned black beans, but you can also cook up some dried black beans to use if you prefer.
Vegetable broth: or any type of broth you love.
Onion: one Spanish onion, red onion or white onion work well.
Garlic: use fresh garlic for the best taste!
Celery: while celery may not have tons of flavour on its own, it adds a really nice flavour when cooked down in the soup.
Carrot: for flavour and colour!
Jalapeno pepper: this is optional but adds a nice flavour and a little bit of heat to the black bean soup. If you don't have a jalapeno pepper but want some heat you can add a dash of cayenne pepper.
Tomato paste: for flavour.
Spices: this soup uses a combination of dried oregano, cumin, ground coriander, salt and pepper.
Lime: this adds a hint of acidity to the soup.
How to make black bean soup
Step 1
Heat some avocado oil or vegetable oil in a pot on medium-high heat, then add the onion, garlic and celery and sauté for 1-2 minutes. Next add the carrots, jalapeno pepper and spices and mix everything together. Sauté for another 2 minutes.
Step 2
Add the black beans, tomato paste and vegetable broth and mix everything together. Bring the soup to a light boil, then reduce the heat to low and cover and let simmer for 15 minutes until the vegetables are tender.
Step 3
Transfer 1/2 the soup to a blender and blend until smooth. Add the soup back to the pot and stir everything together. season with salt, pepper and lime juice to taste. Serve as is or top with vegan sour cream, cilantro, jalapeno and avocado.
Tip: you can also use an immersion blender to lightly blend the soup in the pot to your desired texture.
How to store and freeze leftovers
Fridge: transfer the soup to an airtight container and place it in the fridge for up to 5 days. Reheat the soup in a pot on the stove or in a bowl in the microwave.
Freezer: let the soup cool completely then transfer to a freezer-safe container. Place in the freezer for up to 3 months. Let the soup thaw on the countertop or defrost it in the microwave. (if using a microwave-safe container.)
Tips for making black bean soup
Use unsalted black beans. Some canned black beans have a lot of salt added to them which I find can make the soup too salty. It's best to use unsalted black beans and add salt to the soup to your desired taste.
Use low-sodium broth. For the same reason as using unsalted black beans! This gives you control over how salty the soup will be.
Prepare the soup a day in advance for even more flavour. As this soup sits in the fridge it will build even more flavour than if you serve it right away.
Double the recipe to freeze half for later. This soup freezes wonderfully! So if you like having freezer-friendly meals on hand then double the recipe and freeze half of the soup.
Add any toppings you love. You can enjoy this black bean soup similar to how you'd enjoy chilli and add any of your favourite toppings.
Vegan black bean soup FAQ
How can I thicken black bean soup?
The best way to thicken black bean soup is to add more beans to the soup or to blend part of the soup.
Is black bean soup good for you?
Yes! Black bean soup is packed with fibre, protein and essential nutrients that are healthy for you.
Can I use dried black beans?
Yes, but you will need to pre-cook the dried black beans before adding them to the soup. If you add dried black beans directly to the soup they will absorb all the broth and you won't be left with any soup.
Try these soup recipes next!
If you tried this Vegan Black Bean Soup or any other recipe on the blog let me know how you liked it by leaving a comment/rating below! Be sure to follow along on Pinterest, Instagram, Tiktok and Facebook for even more deliciousness!
Print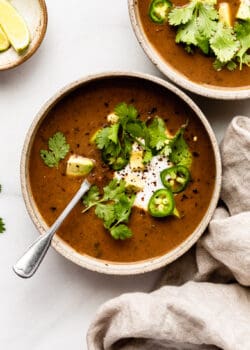 Vegan Black Bean Soup
Author: Jessica Hoffman
Prep Time: 10 minutes
Cook Time: 20 minutes
Total Time: 30 minutes
Yield: 4 servings 1x
Category: Main
Method: Boil
Cuisine: Cuban
Diet: Vegan
---
Description
Vegan black bean soup is packed with protein and ready in just 30 minutes!
---
2 tbsp avocado oil
1 small onion, finely chopped
2 garlic cloves, minced
1 celery rib, chopped
1 carrot, peeled and chopped
1 jalapeno pepper, seeds removed and chopped
2 14 oz cans of black beans, drained
1/2 tsp cumin
1/2 tsp oregano
1/2 tsp ground coriander
2 tbsp tomato paste
4 cups vegetable broth
salt & pepper to taste
1 tbsp lime
---
Instructions
Heat the avocado oil in a large pot on medium-high heat then add onion, garlic and celery and saute for 1-2 minutes.
Add the carrot, jalapeno, cumin, oregano and ground coriander and continue to saute for another 2 minutes.
Add the black beans and tomato paste and mix everything together.
Add the vegetable broth and bring the soup to a light boil, then cover and let simmer on low for 15 minutes. 
Transfer 1/2 the soup to a blender and blend until smooth, then add back to the pot of soup and mix. (You can also use an emulsion blender.) Season with salt and pepper and lime.
Serve as is or top with vegan sour cream, avocado and cilantro.
---
Notes
You can enjoy this soup un-blended, partially blended or fully blended. 
Store leftovers in the fridge for 5 days or the freezer for 3 months.
Add any toppings you love!
---
Nutrition
Serving Size: 1/4 of recipe
Calories: 265
Sugar: 3g
Fat: 5.5g
Carbohydrates: 37g
Fiber: 12.5g
Protein: 17g
Keywords: vegan black bean soup, vegetarian black bean soup, healthy black bean soup
This post contains affiliate links which means I will make a small commission if you purchase through those links. I only recommend products that I know, trust and love!