23 Healthy Vegan Meal Prep Recipes
To help you find some delicious meals to make for the week, we've rounded up 23 of our favourite Healthy Vegan Meal Prep Recipes! From banana bread granola to Vietnamese noodle bowls, you'll find a dish to power you through every part of your day.
Vegan Meal Prep Ideas
Life gets busy, and nutritious meals are one of the most important parts of powering through the daily grind. If you're like me, you spend your weekends wandering through Pinterest for vegan meal prep ideas. Well look no further!
Some weeks, I feel like the hardest part of meal prep is just finding recipes that fit my cravings! But one of the best feelings on Sundays is having a full fridge, stocked with ready-to-go meals to support your busy week.
We've pulled together some of our favourite vegan meal prep recipes from every category, from breakfast to main dishes to mid-day snacks. There's sweet morning baked goods, raw protein bites, and healthy bowls stacked with different flavours – something for every craving!
Enjoy!
BREAKFAST
These Healthy Blueberry Muffins are loaded with rolled oats and whole-grain flour for a muffin that is super healthy and delicious! They're perfect for prepping breakfast on the go!
This Banana Bread Granola is easy to make, healthy and tastes just like banana bread! It's a simple recipe for vegan meal prep, gluten-free, and great on top of yogurt or smoothies.
This toasted Easy Muesli comes together in just 20 minutes! It's a healthy cereal made with a base of rolled oats and a mix of nutritious ingredients like nuts, seeds and dried fruits.
These Healthiest Breakfast Cookies are loaded with nuts, seeds, oats and whole grains for a cookie that packs some serious health benefits. Also, they're filled with protein and healthy fats for a delicious vegan breakfast on the go!
These Healthy Lemon Poppyseed Muffins are light, fluffy, and bursting with lemon flavour! They have a crispy top and a soft center that make them a delicious option for vegan breakfast meal prep.
These Baked Oatmeal Cups are more dense than a muffin, but just as nutritious and delicious! Also, they come together quickly with healthy and simple ingredients.
This Chocolate Raspberry Chia Pudding has layers of delicious creamy chocolate pudding and fruity raspberry chia pudding so you get a great texture and flavour combo in every bite! Suggestion, assemble ahead of time for easy vegan meal prep!
This Vegan Banana Bread is healthy, moist, fluffy, and loaded with tons of banana flavour! It's spiced with cinnamon and nutmeg and baked to a fluffy perfection.
MEALS
These Spicy Satay Power Bowls feature quinoa, tofu, sliced cucumber, pickled red onions, and a spicy peanut sauce. They're high in protein, loaded with flavour, and are easy to assemble!
This Superfood Salad boasts good for you ingredients like kale, quinoa and chia seeds and is topped off with a fresh and light maple vinaigrette. Store the dressing separately and assemble when you're ready to eat!
These Vegan Burrito Bowls with Chipotle Crema have delicious cilantro-lime rice, black beans and sautéed peppers. This recipe is naturally vegan, gluten-free and makes the perfect healthy lunch or dinner!
This recipe for Kimchi Fried Rice is quick and easy to make, savoury, crispy, and bursting with flavour! Skip the egg to make it vegan, or add some tofu for extra protein to make it a healthy vegan meal prep.
This Soba Noodle Salad with Spicy Peanut Sauce is a healthy gluten-free and vegan recipe, loaded with ingredients like cucumber, carrots and red cabbage and topped off with sliced green onions and sesame seeds! It's best served cold, which makes it perfect for a quick meal prep!
This Red Lentil Curry is Thai-inspired, filled with protein and fibre, and can be reheated super easily! Even better, it's a healthy, vegan, and hearty gluten-free dish.
These Vietnamese Noodle Bowls with Lemongrass Tofu are the perfect fresh and light healthy meal. Easily bake up the tofu until crispy, and put it on top of a bed of rice noodles and a light sesame salad!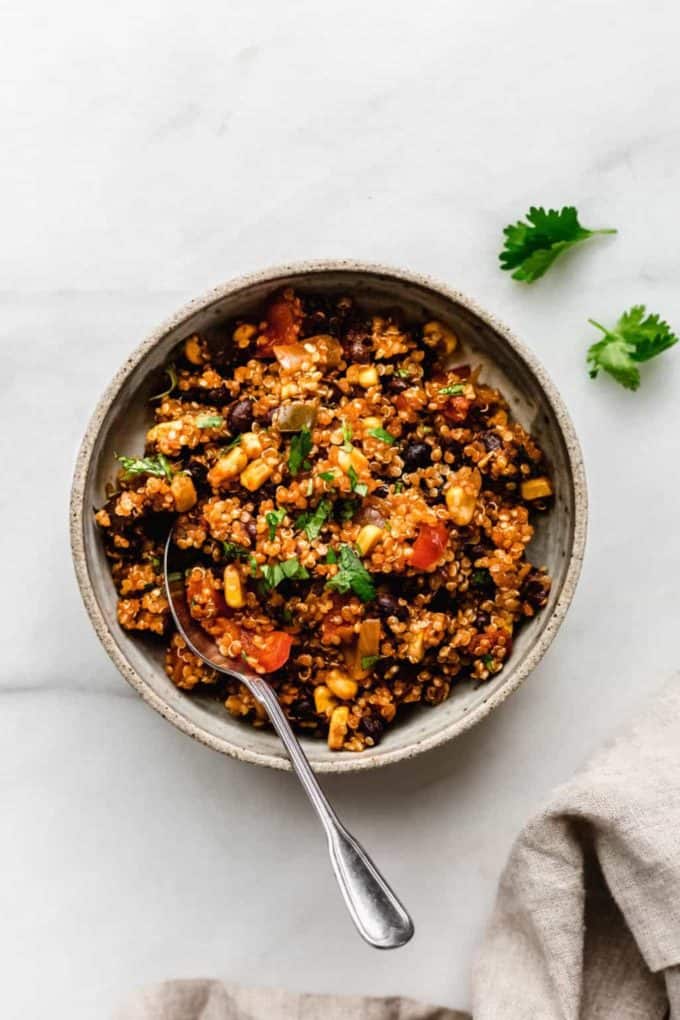 This One-Pan Mexican Quinoa comes together in under 30 minutes, is easy to make, and uses minimal dishes for easy vegan meal prep! It's filled with peppers, salsa, black beans, corn.
This Spiced Vegetable Tagine is a Moroccan-inspired dish with a mix of stewed vegetables in a tangy tomato-based sauce. It's a healthy and delicious dish that can be enjoyed served over some couscous or quinoa!
SNACKS
Can't exclude the snacks from your weekly vegan meal prep! These Coconut Apricot Energy Balls made with 6 simple ingredients, and make the perfect sweet healthy snack or treat.
These Superfood Granola Bars have an assortment of healthy nuts, seeds and whole-grain oats for a bar filled with protein, fibre and nutrients. Additionally, they're no-bake, naturally vegan, gluten-free and refined sugar-free!
This Roasted Sweet Potato Hummus is light and creamy and packed with delicious sweet potato flavour. It's great as a dip or spread with pits chips or sliced peppers!
These Chocolate Chip Cookie Dough Balls have 7 simple ingredients, and are completely grain-free, gluten-free and refined sugar-free! Also, you can make a batch in less than 20 minutes for a tasty and healthy vegan meal prep treat.
These recipes for Roasted Chickpeas 3 Ways have spicy, sweet and salty, and chilli lime flavours! Enjoy them as a snack, or on top of your favourite salads or meal bowls!
These Trail Mix Energy Balls are loaded with a mix of nuts, seeds, dried fruits and dark chocolate chip for the ultimate healthy and energizing snack. Bonus, you can make them in just 20 minutes, and they're healthy, vegan and gluten-free!
This post contains affiliate links which means I will make a small commission if you purchase through those links. I only recommend products that I know, trust and love!