20 Easy & Healthy Breakfast Recipes
These 20 easy and healthy breakfast recipes are perfect ways to start a new day, and a new year! From sweets to savories and everything in between, all of these recipes are healthy, easy to make, and delicious on all accounts!
Delicious and healthy breakfast recipes you'll love
Everyone says it's the most important meal of the day, but sometimes inspiration for what to make just falls short.
These 20 healthy breakfast recipes are packed with delicious flavors and the option to make ahead for a grab-and-go meal. After all, quick and tasty are my two favorite words on a busy weekday morning.
All of these recipes are kid-friendly, allergen-friendly, and most have the option to be made vegan or gluten-free. Which one is going to help you start the morning right?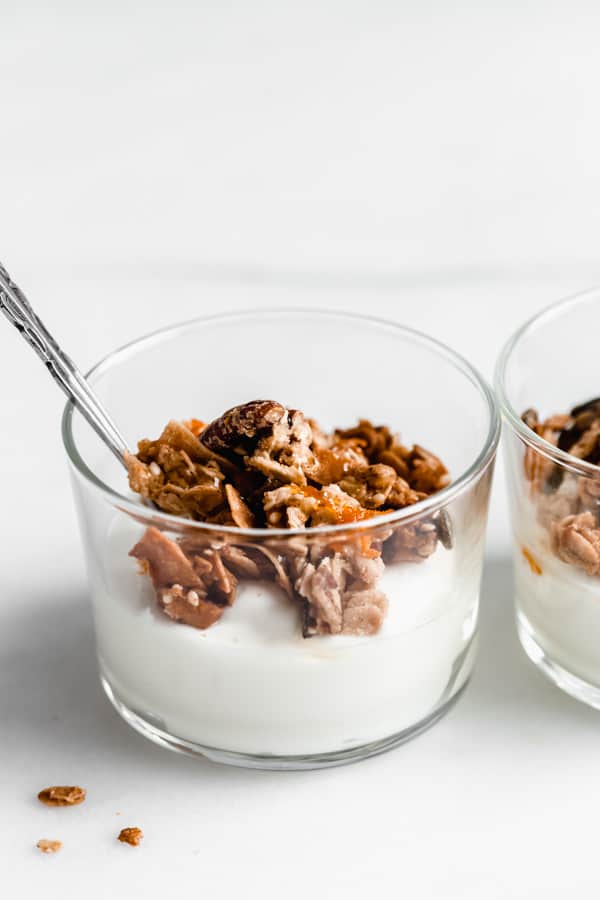 In only 10 minutes, this Orange Cardamom Tahini Granola comes together to create deliciously crunchy granola clusters. With a lot less sugar than most recipes, the orange and maple syrup in this healthy granola recipe let the sweetness come naturally.
Easy to make in a skillet, these 5-ingredient hash browns crisp up using olive oil as a healthy source of fat. Grate the potatoes yourself, or buy packages of shredded potatoes to make them quickly.
These grain-free almond flour pancakes and light, fluffy, and keto friendly as well. Try them with a flax egg to make them vegan!
Mash up and combine 4 ingredients to make this delicious chia seed jam! Switch out strawberries for any other fruit for a different morning flavor.
No-bake, gluten-free, and with chocolate included? And we can call peanut butter breakfast?! Yes, please!
These vegan pancakes bring a classic lemon poppyseed flavor into fluffy breakfast form. Pour over some vegan vanilla yogurt for a light and sweet topping!
Because we love the flavor, but we don't love the store-bought price. Vowing to make some of this 2-ingredient coconut yogurt for myself this year!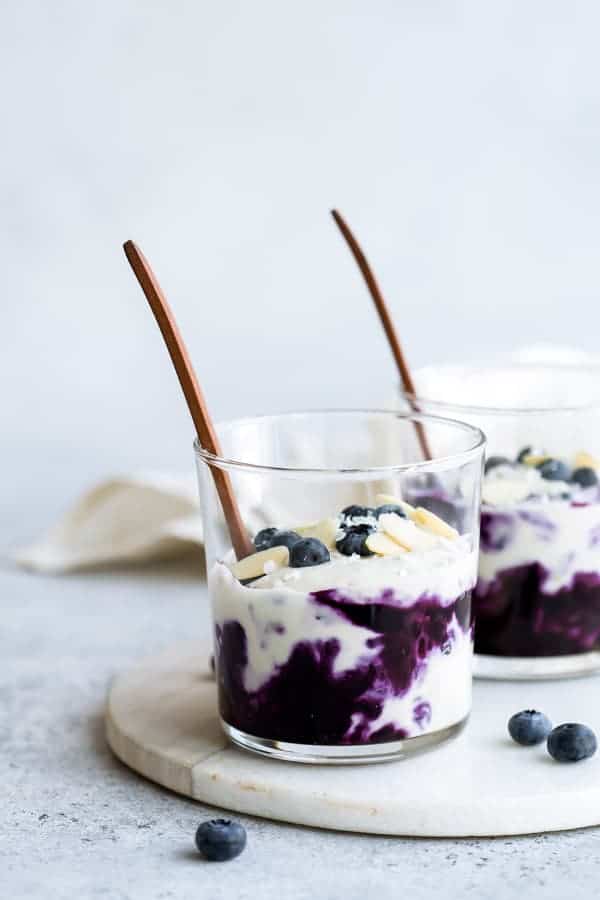 An indulgent yet healthy breakfast recipe, these Vegan Blueberry Cheesecake Jars are a light and creamy treat to add to your breakfast rotation.
You know them, you love them, now make them whole-grain! You can also easily make these healthy breakfast muffins ahead to freeze and pack ahead of time.
If you're looking for an easy meal prep idea, this Coconut Chia Pudding is it! You can let it sit for 20 minutes or overnight to let the healthy chia seeds absorb the rich coconut milk.
With the option to pack these with superfoods like pumpkin seeds, flax seeds, and chia seeds, these no-bake breakfast cookies sound like a no-brainer for a healthy breakfast recipe.
Up-level your standard avocado toast with protein-packed chickpeas for an easy and savory breakfast recipe.
Trying out the paleo diet? Swap your white potatoes for sweet potatoes to make this savory and vegetable-loaded Sweet Potato Hash!
Wrapped with sweet potato, avocado, tofu, and spinach, this Vegan Breakfast Burrito is a fresh and easy savory recipe to jump start your day!
Not sure what to do with those brown, overripe bananas? Have no fear – Healthy and Easy Banana Nut Muffins are here! (With a banana nut loaf option, too!)
Forget about those overripe avocados, too? Either chuck them in the freezer, or add them to your blender to make this antioxidant-loaded Blueberry Avocado Smoothie!
Cutting down on the coffee? Add this healthy anti-inflammatory turmeric latte into your breakfast routine for a caffeine-free morning jolt!
If you set the goal to eat more greens in 2020 – drinking them counts, too! Blend up some fresh kale with sweet almond milk to make this deliciously nutritious Kale Smoothie.
This Pecan Pie Baked Oatmeal pairs the sweet flavor of pecan pie with a healthy baked oatmeal. Packed with Omega 3's and healthy fats, this vegan and gluten-free dish is a deliciously healthy breakfast recipe.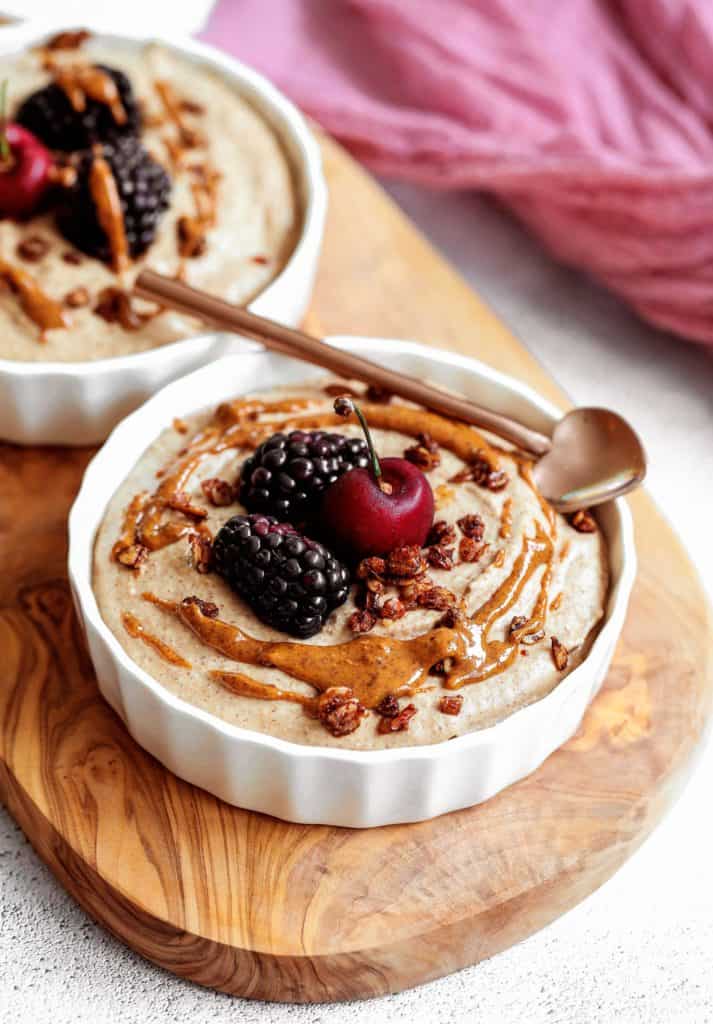 Cherries and blackberries and almond butter, oh my! Add all of the good stuff to the top of this Almond Protein Breakfast Pudding for a long-lasting morning meal.
This post contains affiliate links which means I will make a small commission if you purchase through those links. I only recommend products that I know, trust and love!