Oat Flour Banana Muffins
These Oat Flour Banana Muffins are healthy, easy to make and perfect for a nutritious breakfast or snack! Try adding in chocolate chips or any other mix-ins you love.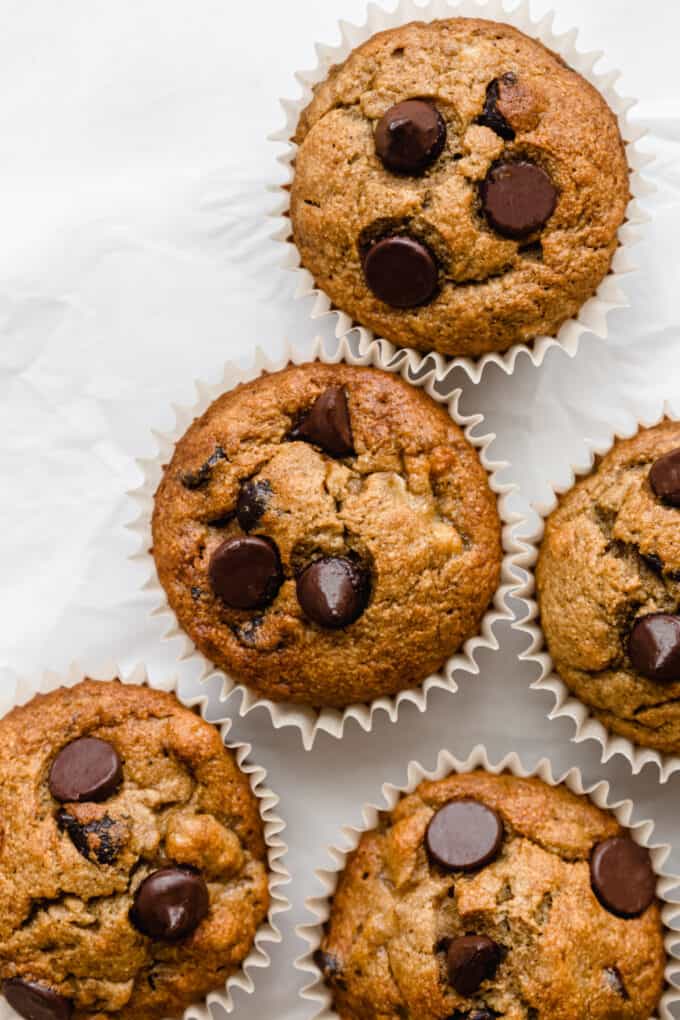 What is oat flour?
Oat flour is a whole-grain flour made from rolled oats that is high in fibre and rich in nutrients. It has a mild nutty taste and is slightly more grainy than all-purpose flour.
Oat flour can be purchased at most grocery stores or easily made at home. It's a great and healthy alternative to using wheat flour in baked goods and pancakes and is also gluten-free if it's made with gluten-free certified rolled oats.
These Oat Flour Banana Muffins are similar to oatmeal muffins, but have a finer texture.
Why you'll love these oat flour banana muffins
One bowl recipe. This recipe doesn't require any mixers or fancy kitchen equipment. These muffins are made entirely in one bowl.
Healthy snack. If you want a healthy homemade snack these muffins are perfect! They're made with good for you ingredients like oats and bananas and are naturally sweetened with maple syrup.
Taste delicious! No need to sacrifice taste to make healthy muffins. These muffins are soft, moist and packed with flavour!
Ingredients and substitutions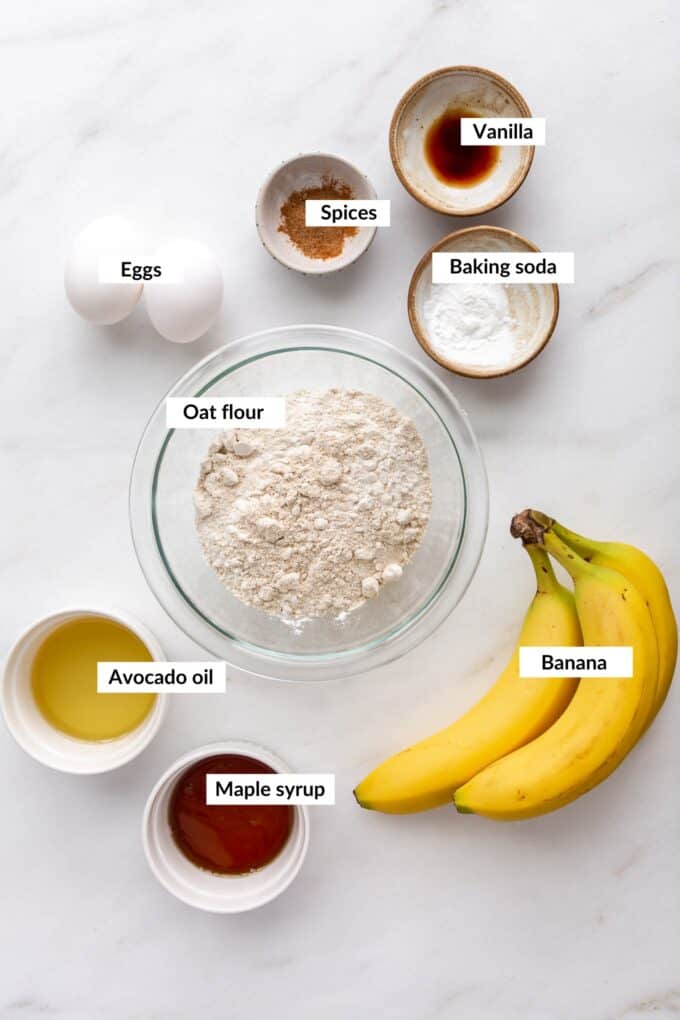 Banana: it's best to use ripe and spotty bananas in this recipe to sweeten the muffins and give them the best taste!
Egg: 2 medium-large sized eggs work well.
Avocado oil: you can substitute with melted and cooled coconut oil or butter.
Maple syrup: you can also use honey, agave syrup or brown sugar.
Vanilla extract: use real vanilla extract for the best taste!
Oat flour: you can use store-bought oat flour or make oat flour at home. You can also substitute with all-purpose flour if you prefer.
Baking soda: this is used to make the muffins rise. Make sure to use baking soda, not baking powder.
Salt: a pinch of salt is always needed in baked goods to balance out the flavour.
Cinnamon: to flavour the muffins.
Nutmeg: also to flavour the muffins. This is optional but will give the muffins a banana bread taste!
Chocolate chips (optional): an optional ingredient but who doesn't love chocolate in their banana muffins!
How to make oat flour at home
Oat flour is an ingredient that you can find at many grocery stores, but they often charge more for it than a bag of oats! So if you prefer, you can easily make oat flour at home by blending quick oats or rolled oats in a food processor until they turn into flour.
How to make oat flour banana muffins
Step 1
Mash the bananas in a mixing bowl, then add the eggs, vanilla extract, oil and maple syrup and mix together until combined.
Step 2
Next add in the oat flour, baking soda, salt, cinnamon and nutmeg and gently fold the batter together.
Step 3
If you like to add any mix-ins to your oat flour banana muffins, go ahead! Add chocolate chips, chopped nuts, raisins or whatever you like and fold into the batter.
Step 4
Spoon the batter into a muffin pan lined with muffin liners and bake in the oven at 350 degrees F for 18-22 minutes or until a toothpick comes out clean.
How to store
Store these oat flour muffins in an airtight container on the countertop for up to 4 days, or in an airtight container in the fridge for up to 7 days.
You can also freeze these muffins. Place the muffins in a freezer bag and place them in the freezer for up to 2 months. Defrost on the countertop.
Expert tips for making oat flour muffins
Use overripe spotty bananas. You know those really old bananas sitting on the counter that you're debating if you should throw out? Those are the best bananas to use in muffins! They will give the best taste and add natural sweetness.
Don't overmix the batter. Overmixing muffin batter will lead to dense and tough muffins.
Use all-purpose flour if you prefer. If you don't have oats or oat flour, feel free to substitute with all-purpose flour in this recipe.
Add any mix-ins you love. Chocolate chips, walnuts and dried fruit are all delicious in these muffins!
Oat flour banana muffins FAQ
Is oat flour gluten-free?
Yes, technically oats and oat flour are gluten-free,however some are processed in facilities that may be cross-contaminated with products containing gluten. For this reason, if you are gluten intolerant, it's best to use gluten-free certified oats or oat flour.
Can I make these muffins in a blender?
Yes, however I prefer the texture of the muffins when they are mixed in a bowl. When using a blender, it's easy to overmix the batter which can lead to dense muffins.
Can I make these into mini muffins?
Absolutely! They will need to bake for a shorter amount of time. If making mini muffins, bake for 10-15 minutes.
Are these banana muffins healthy?
Yes! These muffins are made with healthy ingredients and are filled with nutrients, protein and fibre.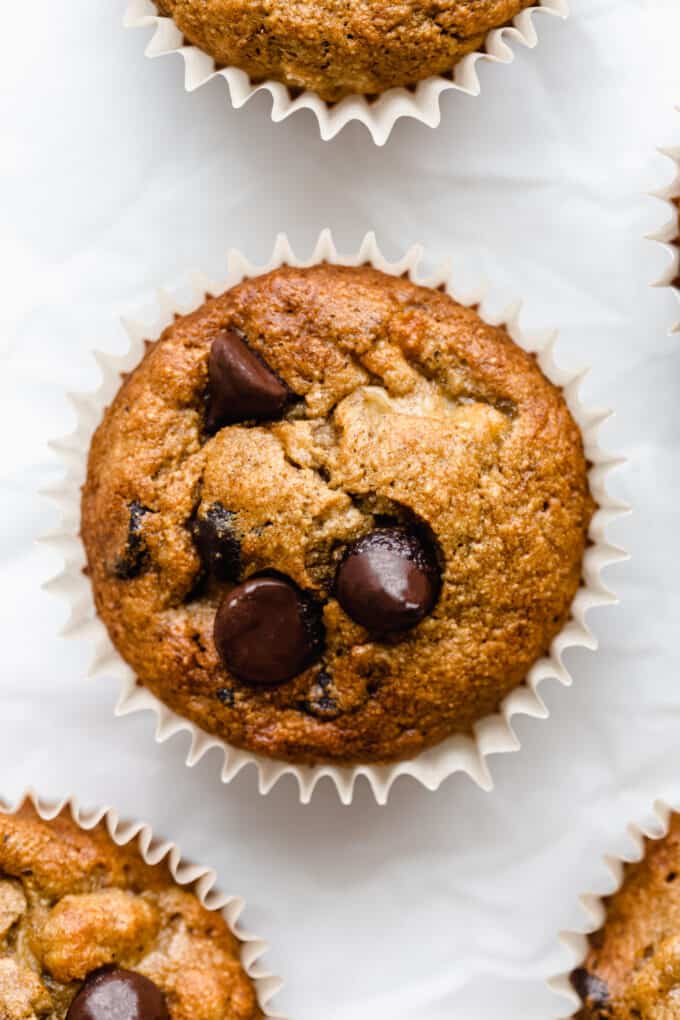 Try these muffin recipes next!
If you tried these Oat Flour Banana Muffins or any other recipe on the blog let me know how you liked it by leaving a comment/rating below! Be sure to follow along on Pinterest, Instagram and Facebook for even more deliciousness!
Print
Oat Flour Banana Muffins
Author: Jessica Hoffman
Prep Time: 10 minutes
Cook Time: 20 minutes
Total Time: 30 minutes
Yield: 12 muffins 1x
Category: Breakfast
Method: Bake
Cuisine: American
Diet: Gluten Free
---
Description
Oat flour banana muffins are perfect for a healthy breakfast or snack!
---
3 bananas, mashed (about 1 cup mashed)
2 eggs, at room temperature
1/3 cup avocado oil (can sub vegetable or canola oil)
1/3 cup maple syrup or honey
1 tsp vanilla extract
1 3/4 cups oat flour
1 tsp baking soda
1/4 tsp salt
1/2 tsp cinnamon
1/2 tsp nutmeg
1/2 cup chocolate chips
---
Instructions
Preheat the oven to 350 degrees F and line a muffin pan with muffin liners.
Add the mashed bananas, eggs, avocado oil, maple syrup and vanilla extract to a large mixing bowl and mix until well combined.
In a separate bowl, mix together the oat flour, baking soda, salt, cinnamon and nutmeg.
Add the dry ingredients to the bowl of wet ingredients and gently fold them together until combined.
Add the chocolate chips and mix them together.
Spoon the batter into the muffin pan filling each muffin liner 3/4 of the way full.
Bake for 18-22 minutes.
---
Notes
Make your own oat flour at home by blending quick oats into a fine powder using a food processor.
Don't overmix the batter. This will cause dense muffins.
Test if the muffins are done by sticking a toothpick in the muffin. If the toothpick comes out clean the muffins are ready.
---
Nutrition
Serving Size: 1/12th of recipe
Calories: 165
Sugar: 12g
Fat: 9g
Carbohydrates: 20g
Fiber: 2g
Protein: 3g
Keywords: oat flour muffins, banana muffins with oat flour, oatmeal banana muffins, gluten-free banana muffins
This post contains affiliate links which means I will make a small commission if you purchase through those links. I only recommend products that I know, trust and love!