21 Tasty Recipes That Use a Can of Beans
These 21 Tasty Recipes that use a Can of Beans are filled with staple pantry ingredients. From red beans and rice to black bean brownies, so many creative uses for beans are revealed in this recipe roundup!
How many different ways can you use a can of beans?
Canned beans and legumes are such a great staple to have on hand in the kitchen. They can be used in a variety of ways, and last pretty much forever.
From Kidney beans to lentils to chickpeas (also known as garbanzo beans), each of these legumes has their own unique tast and are delicious in a variety of dishes.
Beans are packed with protein, fibre and essential nutrients, making them a great option to include in your cooking for a hearty and filling meal.
Enjoy these 21 recipes that use a can of beans, send some to a friend, and save your favorite ones to Pinterest for later!
These Black Bean Quinoa Burgers are completely vegan and gluten-free! They pack a big flavour for a veggie burger, loaded with protein and bold flavours of onion, garlic, bbq sauce and cumin.
These Roasted Chickpeas 3 Ways are perfect as a snack, or on top of your favourite salads, toasts, or veggie bowls! Choose between spicy, sweet and salty, and chilli lime flavours!
This Instant Pot Vegan Chili has two types of beans, onions, and spices galore to make this hearty and filling meal. There's also a secret trick in there to help create the perfect chili texture!
These Instant Pot Red Beans and Rice are filled with red beans cooked from scratch with veggies, flavorful cajun spices, and vegan sausage. Serve over rice and fresh herbs for a fresh and wholesome meal!
Feeling like a trip to the Mediterranean? Satisfy your cravings with this bean salad, or Balela – filled with lots of fresh herbs, vegetables, sumac, olive oil, and freshly squeezed lemon juice!
These White Beans with Tomatoes and Garlic are so simple and delicious! Filled with cannellini beans cooked with tomatoes, garlic, and chicken broth, the flavour sounds too good to be true!
These Quick and Easy Maple Baked Beans come together in just 20 minutes, with simple sweet and savory ingredients you already have in your kitchen! A delicious breakfast item to enjoy with eggs, hashbrowns, or on toast!
We love a good slow cooker meal, like this Black Bean Soup! Combine black beans vegetables like onion, bell pepper, and jalapeños, and a ton of spices, top with avocado and sour cream, and let it simmer until eating time!
This comforting Lentil Bolognese is the ultimate comfort food, loaded with veggies and lentils, and a sneaky helping of red wine to deepen the flavours from the spices!
This delicious Vegan Minestrone Soup is made with beans, potatoes, noodles, and vegetables for a healthy soup that will keep you feeling full!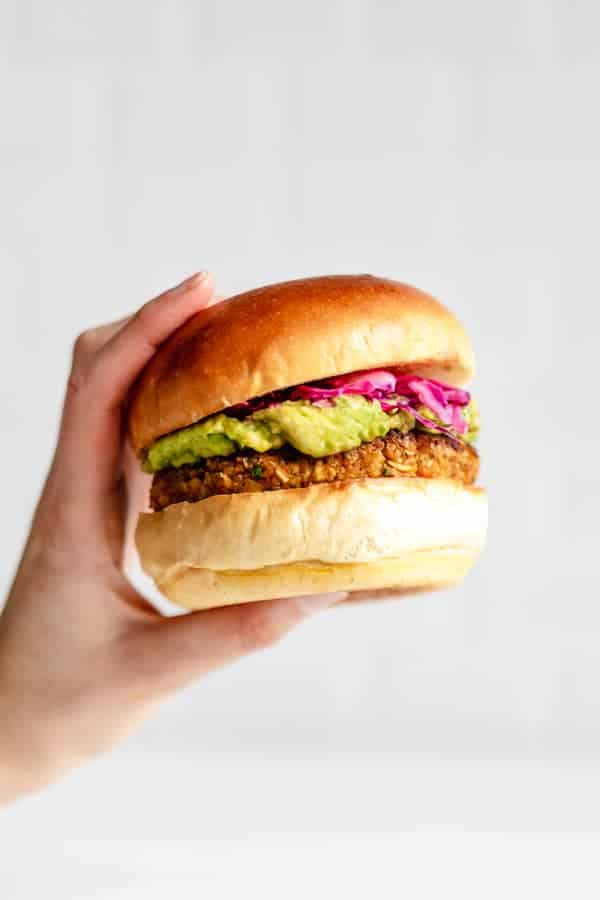 If you're looking for a veggie burger that's loaded with spices and flavour, this is just what you need! This Chickpea Veggie Burger is packed with vegetables, whole grains, and has the perfect burger texture!
These homemade Refried Beans use canned pinto beans, onion, garlic, cumin, and chili powder for a quick and easy to make side dish! This recipe is super versatile, and pairs perfectly with your favorite Mexican dishes!
This Coconut Chickpea Curry is light and can be as spicy as you choose! It's loaded up with warm spices like ginger, garlic, and turmeric, and packed with flavour, protein, and fiber!
Vegan Lentil Loaf is made with a combination of green lentils, portobello mushrooms, quinoa and vegetables! It's topped with a sweet and tangy balsamic ketchup sauce, and is perfect for a vegetarian/vegan meal!
Move over, hummus! This curried white bean dip is made with some madras curry powder for a bold flavour that is so smooth and easy to make!
If you're not drooling over your screen yet, maybe this will help. These plant-based Quinoa & Black Bean Tacos with Cilantro Lime Crema are so simple to make, and vegetarian too!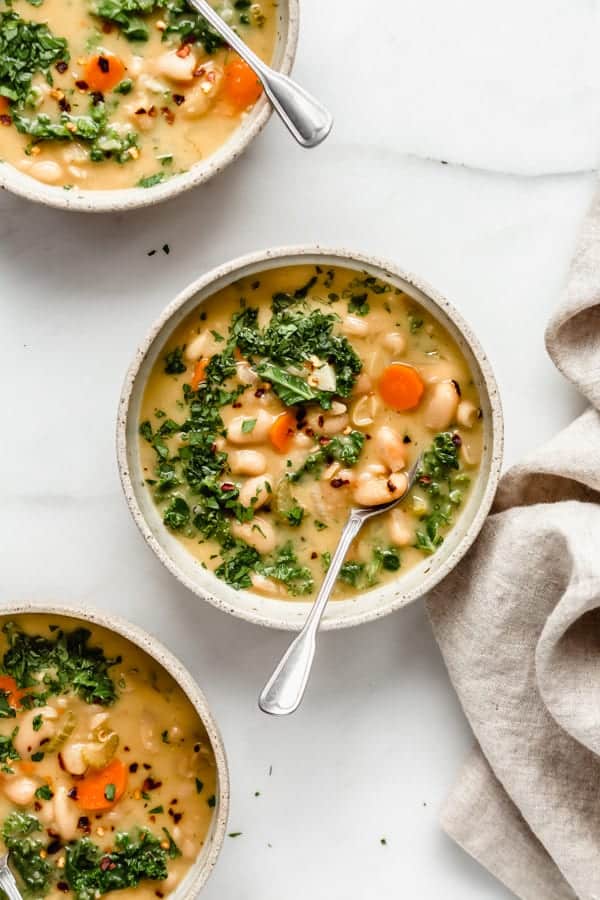 This Tuscan White Bean Soup is a healthy vegetarian recipe that comes together in less than 30 minutes! It's made with white cannellini beans, veggies and kale for a delicious soup that is creamy and filled with flavour!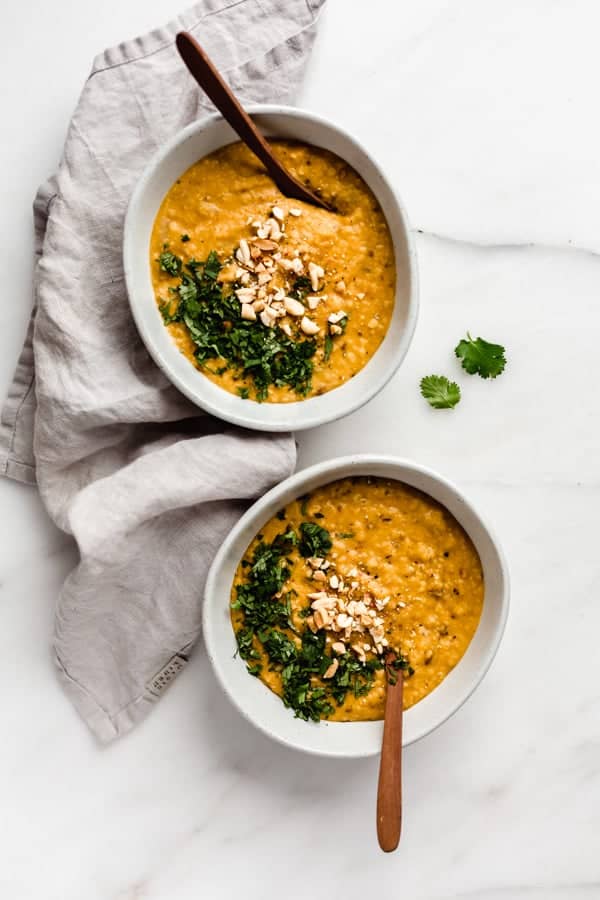 Sri Lankan Style Dal is made with coconut milk and curry leaves, which gives it a creamier texture, and a smoother softer flavour. It makes a delicious vegan and gluten-free meal that is high in protein.
We'll admit, we're suckers for raw cookie dough – just without not the raw egg part. So, this Chickpea Cookie Dough Dip sounds like the perfect alternative for a healthy dessert or snack!
In case you're a skeptic, you should know that Black Bean Brownies are absolutely delicious. Plus, the black beans make them fudgey and healthy, and they can be made with a blender and some cocoa powder!
This recipe for delicious White Bean Blondies is naturally sweetened, filled with protein, and so easy to make. Bonus, the white chocolate chips add that delicious melty texture we all know and love in a blondie!
This post contains affiliate links which means I will make a small commission if you purchase through those links. I only recommend products that I know, trust and love!