25 Easy Vegan Dinner Recipes
These 25 easy vegan dinner recipes are perfect time-savers during busy weeks! From soups to noodles to pasta, there is something here for everyone to enjoy. All 25 recipes are totally vegan with gluten-free options!
Quick & easy vegan dinners you'll love
Everyone is busy these days, and sometimes the last thing we want to think about it what to make for dinner. Enter: my favorite healthy vegan dinners!
These 25 easy vegan dinner recipes are full of nutritious ingredients that will keep you satisfied, and many of them are excellent for meal prep (nothing better than freezer-friendly cooking!).
From soups to noodles to rice dishes, this list has everything you need when brainstorming healthy meals for the week. The only question remaining is: which one to make first?
This recipe is comforting and packed with protein, fibre and veggies. This recipe is made on the stovetop and comes together quickly, so it's perfect for those busy weeknights.
These noodles are super versatile and can pretty much be made with any type of veggies or protein you love added in.
This recipe is quick and easy to make, and you can use whatever vegetables you have on hand. Sometimes I just use whatever is left in my fridge!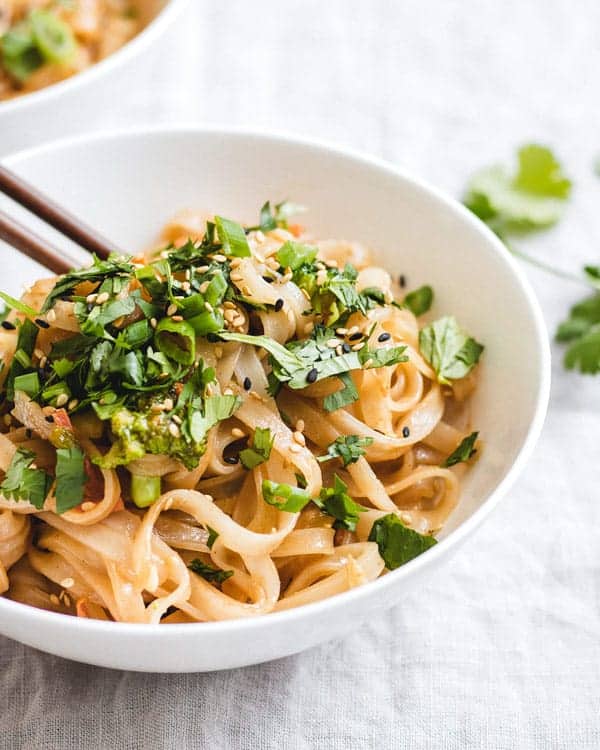 What I also love about this recipe is that you can add pretty much any veggies you have on hand. Broccoli, bok choy, edamame, and snow peas would work particularly well!
Lemongrass has so many benefits. First, it has antioxidant properties, which can help rid the body of free radicals (hello reducing the risk of cancer!). Not surprisingly, lemongrass also can help reduce inflammation. And we all know how bad chronic inflammation is for the body!
You can also mix up this recipe and add whatever types of veggies you have on hand. I'd recommend trying it with some sweet potato, zucchini, green beans, or even some fall squash! You can also feel free to add in any fresh herbs you have on hand!
These spicy sweet potato falafel are perfect to make on a meal prep day to have on hand for easy lunches or dinners. They reheat perfectly in the oven or a toaster oven and can be enjoyed tossed in salads, wraps or on their own with your favourite hummus.
Scrambled tofu mixed with rice is just delicious and has a very similar texture to a scrambled egg. (In fact, many people will think it is egg if you don't tell them!)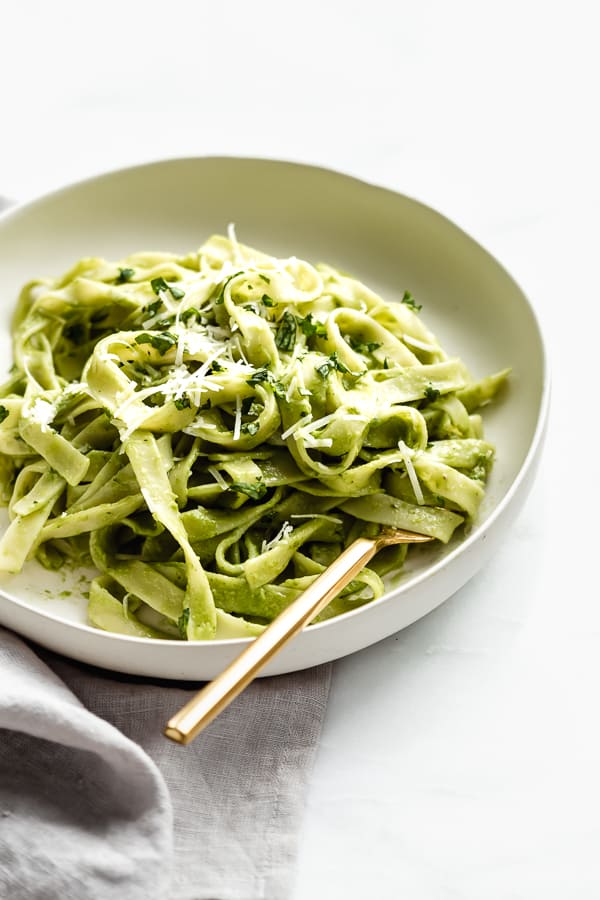 This pasta makes the perfect weeknight, date night or weekend dinner when you're feeling lazy to cook and want something that comes together in under 30 minutes but feels a little fancy.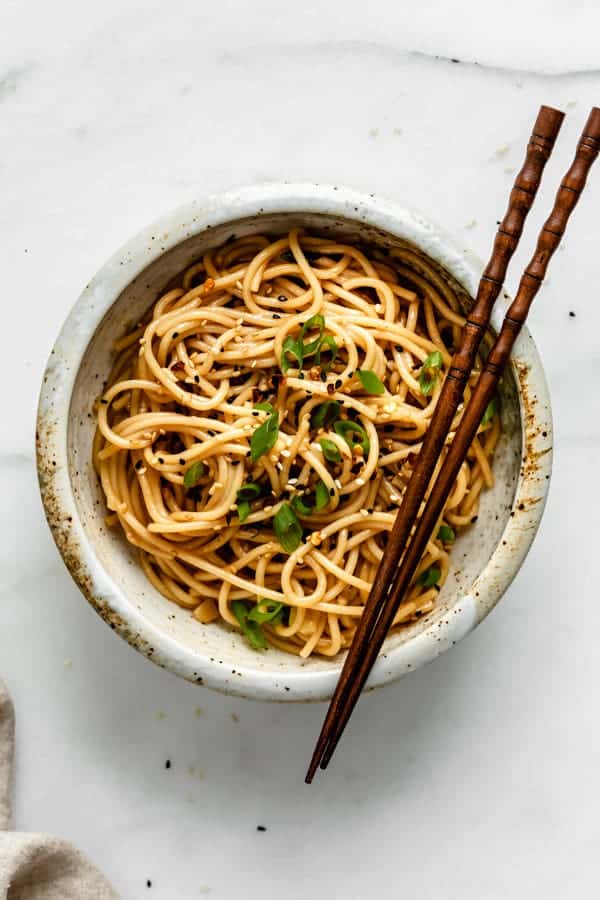 Like the title says, this recipe comes together in just 15 minutes. It's perfect to make on a busy weeknight when you're pressed for time, or just not in the mood to deal with cooking.
This dish is loaded with bold Thai flavours, super creamy, and filled with slurpy chewy ramen noodles!
These noodles are a healthier variation on the classic takeout meal, they won't leave you feeling sluggish!
One thing I love about poke bowls is how versatile they are and how many different topping options you can add to them! Some of my favorites include nori, mango, tempura, and kimchi.
One thing I love about this recipe is that you can make it a day (or a few days) in advance and store it in the fridge so it's ready to go when dinner comes around. Plus, you get to drink wine while you cook!
This is one of those sauces that makes die-hard dairy fans go "this is Vegan? It really tastes like there is heavy cream here!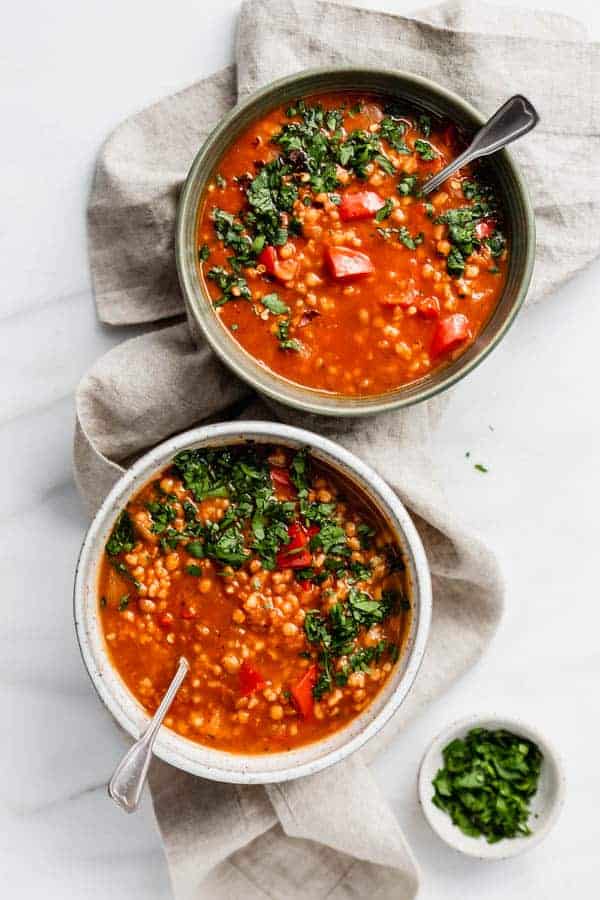 Besides being SO easy this soup also packs some serious stuffed pepper flavour. We've got red peppers, (duh) crushed tomatoes, lentils, and brown rice that come together and simmer away into this deliciousness
This gorgeous beet risotto is naturally vibrant and perfectly finished with a dollop of vegan ricotta cheese!
Quinoa lends a hearty texture to this soup, while coconut milk makes it extra creamy! It's a filling meal that is perfect for freezer storage.
This would make the perfect weeknight meal when you want something hearty and nutritious on the table fast. I also love making it for lunch when I want something fast and filling.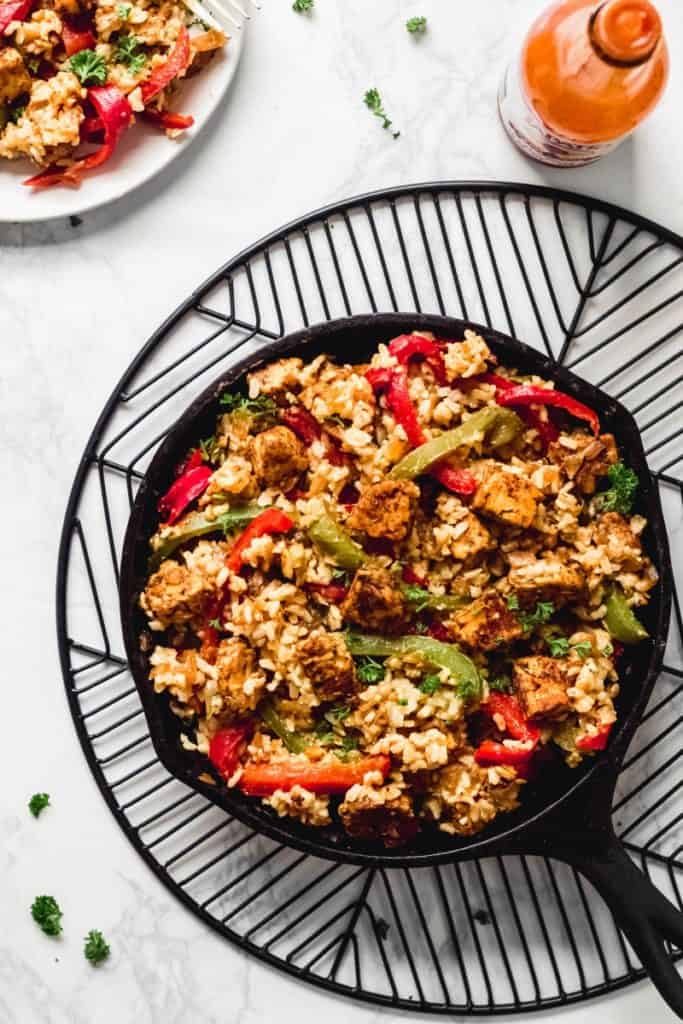 This recipe uses leftover grains and is fully loaded with Cajun flavor! It also freezes well to be saved for busy weeks.
This recipe is loaded with healthy vegetables and totally delicious hot or cold! It's really customizable to whatever your favorite veggies are.
The best part about these fajitas is that you don't need much to create them! They're super nutrient dense and easy to make.
This recipe is inspired by the classic dish but made healthier without cream. Totally vegan!
What's great about this recipe is that you can whip a batch of it up in less than 30 minutes and have a warm and hearty meal ready for the rest of the week.
Chickpeas add a wonderful amount of plant protein here, and the fresh veggies add a great crunch! It's a fun spin on a traditional approach.
This post contains affiliate links which means I will make a small commission if you purchase through those links. I only recommend products that I know, trust and love!