Coffee Smoothie
Enjoy a morning pick-me-up with this easy Coffee Smoothie that's ready in less than 10 minutes. It's smooth, creamy, and made with energizing ingredients for a healthy and refreshing start to your day!
Coffee Banana Smoothie
For those days when you wake up and want your coffee boost but might not want a hot cup of coffee, I bring you the Coffee Smoothie! There's nothing quite waking up and enjoying coffee in the morning. And this Coffee Smoothie with banana is a whole new way to enjoy your morning cup of coffee.
Coffee also has some great nutritional benefits and as we all know, has caffeine to help wake us up in the morning. The caffeine makes it the perfect ingredient to add to a smoothie when you're in need of a little bit of energy! (I mean, we could all use a little more energy some days, right?)
This smoothie recipe is easy to make by blending frozen bananas with coffee or cold brew to turn it into a delicious breakfast smoothie you'll love.
If you want to have even more coffee flavour with your breakfast try pairing this coffee smoothie with a batch of coffee overnight oats!
Why you'll love this smoothie recipe
Energy-boosting. When you need a little energy boost, whether it's in the morning or in the afternoon, this is the perfect smoothie for you!
Healthy and easy. This smoothie is both healthy and easy to make and is much healthier than many store-bought smoothies. (Not to mention it will also be much cheaper.)
Customizable. This coffee smoothie recipe is easy to customize in so many ways! Add any fruits you love, nut butter or protein powder.
Coffee Smoothie ingredients
Banana: make sure to use frozen banana in this recipe to create a thick and creamy smoothie.
Coffee: you can use freshly brewed coffee, or cold brew coffee for this smoothie.
Almond milk: or any other type of milk you love to add to your smoothies or coffee.
Dates: the dates add some sweetness and delicious taste to the smoothie.
How to make a coffee smoothie
Step 1
Add the banana, coffee, almond milk and dates to a high-speed blender and blend until smooth and creamy.
Tip: You can also make a coffee smoothie with instant coffee by simply adding 1-2 teaspoons of instant coffee to your blender along with the rest of the ingredients.
Step 2
Pour into a glass and enjoy!
Smoothie add-ins
There are so many different add-ins you can add to this smoothie for an extra nutrition boost, flavour-boost or protein boost. Here are some of my favourite smoothie add-ins to add to this coffee smoothie.
1 tablespoon nut or seed butter (peanut butter, almond butter and tahini work great)
1 scoop of protein powder
1 teaspoon chia seeds
1 teaspoon flax seeds
1 tablespoon hemp seeds
2 tablespoons oats
2 teaspoons cocoa powder (to make it a mocha smoothie)
1/2 cup mixed berries
1/2 cup cubed mango
pinch of cinnamon
1/2 teaspoon vanilla extract
Expert tips for making a coffee smoothie
Use frozen bananas. This is important to create a thick and creamy smoothie. If you use fresh bananas, you'll have to add more ice which will dilute the flavour of the smoothie.
Cut the bananas into pieces. This will make the pieces of banana much easier to blend and the smoothie will blend more evenly.
Let the coffee cool slightly. If you add boiling hot coffee in the smoothie, it will heat the frozen banana too much and leave you with a smoothie that isn't cold and frosty.
Add protein for a complete breakfast. If you want to make this smoothie more of a complete breakfast, try adding a scoop of your favourite protein powder or a tablespoon of nut butter to the smoothie. This will help keep you feeling full.
Coffee Smoothie FAQ
Can I put espresso in this smoothie?
Yes. If you prefer to use espresso instead of brewed coffee, use 1-2 shots of espresso depending on how strong you like it. You may need to add some extra almond milk to the recipe if using espresso.
Can I make this coffee smoothie without banana?
Absolutely! If you don't like bananas, try using frozen mango or berries instead. You can also freeze coconut milk in ice-cube trays and use the frozen coconut milk cubes in the smoothie instead of banana.
Can I just add ground coffee to this smoothie?
No. Ground coffee cannot be added directly to the smoothie and must be brewed first. You can however add instant coffee directly to this smoothie. Add 1-2 teaspoons of instant coffee instead of the brewed coffee.
Can I use cold brew?
Yes! Cold brew coffee works great in this smoothie. If you have cold brew on hand you can use that instead of freshly brewed coffee.
More smoothie recipes to try
If you tried this Coffee Smoothie or any other recipe on the blog let me know how you liked it by leaving a comment/rating below! Be sure to follow along on Pinterest, Instagram and Facebook for even more deliciousness!
Print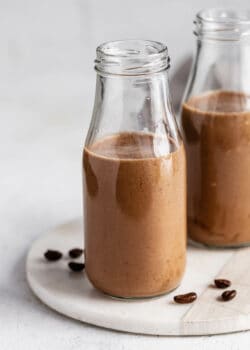 Coffee Smoothie
Author: Jessica Hoffman
Prep Time: 5 minutes
Cook Time: 0 minutes
Total Time: 5 mins
Yield: 1 smoothie 1x
Category: Drink
Method: Blend
Cuisine: American
Diet: Vegan
---
Description
Your morning coffee and morning smoothie all mixed into one!
---
2 bananas, frozen
2 medjool dates, pitted
1/2 cup brewed coffee (or 1 shot espresso, or 2 tsp instant coffee)
1/2 cup plant-based milk of choice
1 tsp chia seeds
Handful of ice
Any additional mix-ins you love
---
Instructions
Blend all the ingredients together until smooth and creamy
Pour into a glass, and serve immediately
---
Notes
Make it a mocha smoothie by adding some cocoa powder!
Keeping it low sugar? Use frozen cauliflower instead of bananas.
---
Nutrition
Serving Size: 1 smoothie
Calories: 241
Sugar: 32g
Fat: 4g
Saturated Fat: 0g
Carbohydrates: 52g
Fiber: 7g
Protein: 4g
Keywords: coffee smoothie, banana coffee smoothie, coffee smoothie vegan
This post contains affiliate links which means I will make a small commission if you purchase through those links. I only recommend products that I know, trust and love!