25 Healthy And Easy Buddha Bowl Recipes
These 25 Healthy and Easy Buddha Bowl Recipes are filled with fresh vegetables, protein, and deliciously paired sauces or dressings! From Asian-inspired to breakfast-ready, these buddha bowls have the perfect meal prep ideas for spring!
Why You'll Love these Buddha Bowl Recipes
Buddha bowls are delicious and healthy to eat. They're a fantastic way to get in whole grains, lean protein, fresh veggies and top it off with a favourite dressing of your choosing! They're something I fell in love with when I travelled to Bali and are perfect for a well-balanced diet.
Buddha bowls are:
Easy to make
Great for meal prep
Store well in the fridge
Great source of plant-based protein
Vegetarian
Vegan
Gluten-free (usually)
High in Protein
High in Fibre
Fun to make
What is a Buddha Bowl?
A buddha bowl is essentially a simple, one-bowl meal. Usually, it's vegetarian or vegan (but can also include animal proteins) that include rice or quinoa, legumes, fresh, vibrant veggies and plant proteins. You can also top them with your favourite nuts or seeds and dressing of your choosing!
Where are Buddha Bowls from?
It's hard to pinpoint the exact origin of the buddha bowl. Many cultures have their version of a bowl of grains mixed with vegetables and protein. In Hawaii they have poke bowls, in Korea they have bibimbap and in Vietnam, they have Bun bowls.
Buddha bowls are also very popular in Bali, so it's likely they originated in Asia.
Are buddha bowls served hot or cold?
Your buddha bowl can be hot or cold, it's completely up to you. That's what is so great about these bowls, they're creative and can be topped with hot or cold items. The recipes below showcase both hot and cold recipes.
Are buddha bowls healthy?
A Buddha bowl is a great example of a healthy, balanced meal. With the majority of the bowl made of up fresh veggies, and the rest a healthy mix of carbohydrates and protein, it's a great meal that you can feel good about.
What's the Difference between a Poke Bowl & a Buddha Bowl?
A poke bowl is a Hawaiin dish made of raw fish served over rice with some vegetables and toppings. The word "Poke" is Japanese for "cut into pieces," referring to the fish that is cut into cubes for the bowls.
A buddha bowl is made of any type of grain with vegetables and a variety of toppings and protein. Buddha Bowls are generally vegetarian or vegan.
---
Now let's quickly chat about the different healthy choices you can add to your bowls and where you should start when building your bowl!
Vegan Buddha Bowl Ingredients
Whole grains:
Quinoa
Barley
Brown rice
Wild rice
Bulgar
Millet
Farro
These are just to name a few! Starting with a whole grain base helps keep you full for hours! It's a nice way to start and pile on the protein and veggies next.
Protein:
Chickpeas
Tempeh
Seitan
Black beans
Lima beans
Vegetables:
When it comes to vegetables, the options are quite endless. I usually say to pick your favourite veggies and use those in your buddha bowl. If you're looking for some ideas for your own, here are a few staples that I love
Broccoli
Cauliflower
Sweet potatoes
Onions (pickled onions are great here too!)
Kale
Sprouts (alfalfa, radish sprouts…etc.)
Brussel sprouts
Avocado (technically a fruit, I know 😉 )
You really can't go wrong with this step. Put what you love in your buddha bowl!
Nuts and seeds:
Now is the time to add crunch and additional flavour to your buddha bowl with your favourite nuts, seeds. Here are some great options.
Almonds
Walnuts
Cashews
Sunflower seeds
Pepitas
Hemp seeds
Dressing & Sauce
Top off your buddha bowl with some dressing or sauce for flavour. You can use a store-bought dressing/sauce or homemade.
How to Make a Buddha Bowl
Buddha bowls are easy to make and can be easily customized with a variety of ingredients.
Start by layering the grains at the bottom of the bowl.
Next, you'll want to layer your vegetables and protein in small piles on top of the grains. While you can just add everything mixed up on top, buddha bowls are generally served to look beautiful before you eat them with each ingredient added in small piles.
Next, you'll top your buddha bowl off with any type of dressing or sauce you love.
We saved the best part of last. Now that you made a beautiful buddha bowl, it's time to mix it all up before digging in.
25 Healthy Buddha Bowl Ideas with Recipes
The genius of food bloggers never ceases to amaze me. Particularly when Buddha bowls are involved!
Each of these 25 Buddha bowl recipes is so uniquely and wonderfully made, loaded with healthy ingredients and satisfying flavours. Whether you're on the hunt for a dinner recipe or need inspiration for a fridge clean-out, one of these recipes is sure to leave you inspired!
Feast with your eyes on these beautiful bowls, and check out the recipes that sound the best. Comment below, and tell us which Buddha bowl recipes made your mouth water!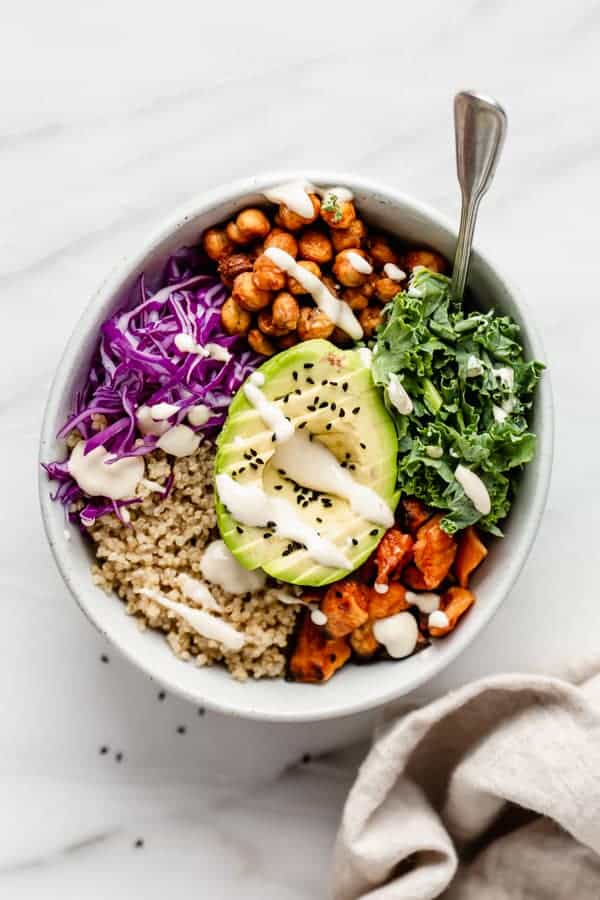 This Nourishing Buddha bowl with Maple Roasted Chickpeas makes the perfect wholesome plant-based meal. Loaded with whole grains, vegetables, and crispy chickpeas, you'll love this bowl!
These Vegan Poke Bowls make for a healthy, fresh and light dinner. Filled with rice, tofu, and fresh greens like edamame, green apple, and avocados, it's perfect for when you want something filling and easy to make!
This Green Goddess Buddha Bowl is made with a base of farro and is topped with a variety of delicious greens and green goddess dressing. It's perfect if you're looking to get in your greens for the day!
If you love burritos then you'll love these Vegan Burrito Bowls that are topped with a chipotle crema! These bowls are made with rice, black beans and sauteéd red bell peppers for all the delicious flavours you'd find in a burrito.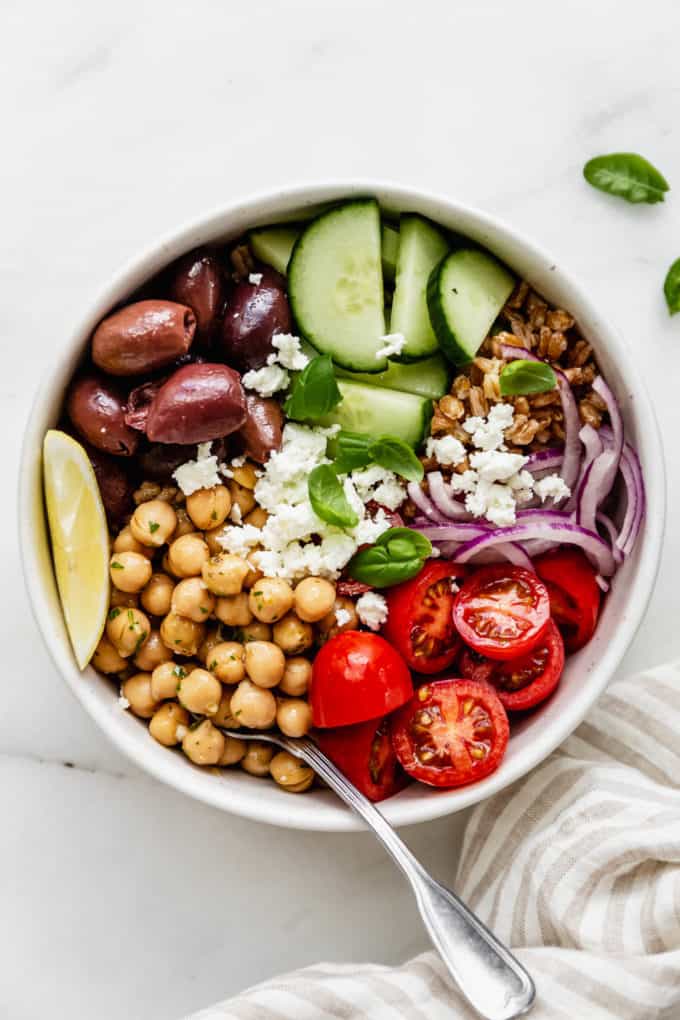 These easy Greek Power Bowls are full of classic Mediterranean ingredients like cucumbers, chickpeas, and Kalamata olives. Add any grains, veggies, and plant-based protein and you're good to go!
This Vegan Poke Bowl is made with sushi rice, crispy tofu and edamame beans for a delicious Japanese-inspired vegan version of a traditional poke bowl!
Make a burrito bowl in the comfort of your own kitchen, with these Easy Chipotle Sofritas! Keep it budget friendly with brown rice, beans, corn, fresh crunchy greens and chipotle mayo!
Get ready to eat the rainbow! Either use these Rainbow Nourishment Bowls as inspiration for different coloured ingredients or start the hunt for watermelon radishes and dark leafy greens!
These quinoa bowls are topped with super flavorful sesame tofu, avocado, soft boiled eggs, and arugula! They're sprinkled with roasted, salted chopped pistachios, and make a great meal with tons of flavor and texture!
You know the fresh rolls you get in a Vietnamese restaurant? The ones wrapped in rice paper, loaded with noodles and veggies and peanut butter sauce on the side? Welcome to spring rolls in a bowl!
These Turkish eggs and quinoa make for a uniquely delicious breakfast bowl! I don't know which part sounds better, the herbed yogurt, spicy sesame butter sauce, or the sun-dried tomato pesto!
This Chili Mango Zesty Quinoa Salad is bringing you all the flavor, nutrition, and refreshing feels. This sweet and spicy chili mango goodness tops off this delicious zesty quinoa salad!
These Dragon Bowls are loaded with fresh and thin-cut veggies, soft brown rice, pan-fried tofu and the most delicious garlicky dragon sauce!
These Spicy Satay Power Bowls are a healthy balanced meal! They're made with quinoa, tofu, sliced cucumber, pickled red onions and a spicy peanut sauce for a bowl that is high in protein, nourishing and loaded with flavour!
This plant-based bowl with oil-free sweet potato fries, asparagus, quinoa, and edamame topped with lemon tahini. It features fresh squeezed lemon to add fresh citrus flavor, and basil to add sweetness and flavor!
How's this for the ultimate breakfast? This buddha bowl recipe features pan-fried potatoes, charred cherry tomatoes, wilted spinach, and vegan scrambled eggs, all flavoured with magical black salt!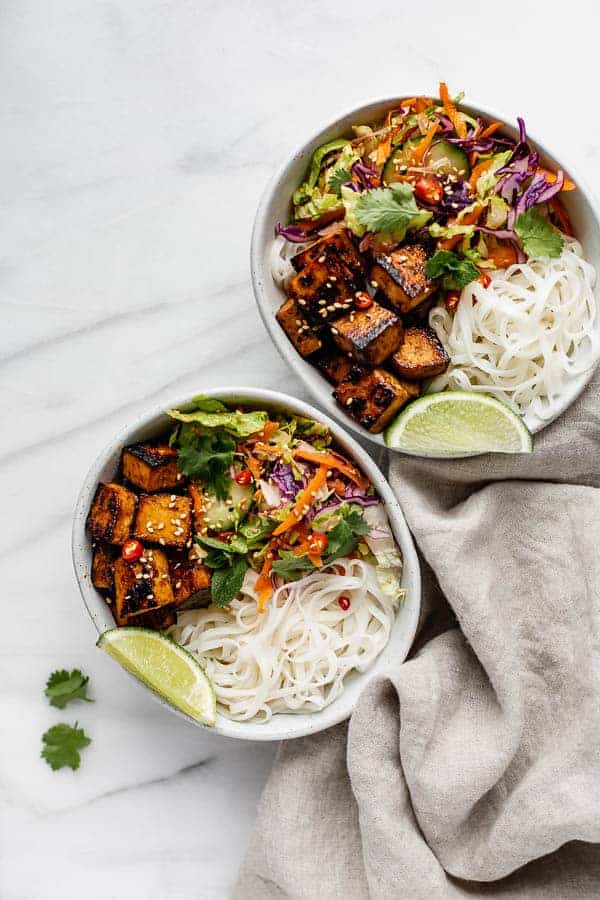 These Vietnamese Noodle Bowls are made with Asian rice noodles, marinated lemongrass tofu that's cooked until it's nice and crispy, and served on top of a light sesame salad!
Cauliflower, black beans, and whole grains, oh my! Not to mention that the avocado pesto on top of this bowl is absolutely everything – it's fresh, it's light, it's spring in a sauce!
Grab some quinoa, chickpeas, seeds, veggies and greens and make this delicious power bowl that will be sure to nourish you for the whole day!
This vegan sushi-inspired Buddha bowl recipe is loaded with nourishing veggies, fresh cubed mango, and topped with a spicy tangy mango sauce!
Don't tell anyone, but this perfectly spiced cauliflower shawarma might be my favourite bowl of them all! Paired with refreshing tomato and cucumber salad, with a tangy tahini dressing, there are so many delicious and herby flavours in this one.
Don't these look like summer in bowl? Healthy vegan Bali Bowls with Peanut Tofu, roasted sweet potatoes, black rice, shredded cabbage, radish, and snow peas are the tastiest little bowls of sunshine!
This Cauliflower Rice Burrito Bowl is TOTALLY versatile, which is what I love about it most. Now, follow the tutorial to make your own cauliflower rice, and top your bowls off with spicy salsa and a squeeze of lime!
How's this for some spring comfort food? These Lentil Curry Bowls have roasted carrots, basmati rice, sliced avocado, lime juice, and a creamy cilantro cashew sauce!
Feeling a savory breakfast over something sweet? Prep these buddha bowl recipes ahead of time with boiled eggs, pan-fried tofu, hummus, greens, and sliced avocados! Add whatever spices you'd like to make the flavours entirely your own!
Print
Buddha Bowl Recipe
Author: Jessica Hoffman
Prep Time: 10 minutes
Cook Time: 15 minutes
Total Time: 25 minutes
Yield: 1 bowl 1x
Category: Main
Method: Cook
Cuisine: American
Diet: Vegan
---
Description
A simple base recipe on how to make an easy buddha bowl!
---
1 cup grains (rice, quinoa, farro etc.)
1/2 cup protein (tofu, tempeh, chickpeas etc.)
Greens (kale, microgreens, spinach etc.)
Vegetables (cabbage, peppers, sweet potato, beets, cucumber etc.)
Avocado
Nuts and seeds (sliced almonds, pumpkin seeds, sunflower seeds etc.)
Sauce
---
Instructions
Cook the grains according to package directions. Layer the grains at the bottom of the bowl. 
Cook the protein by pan-frying or baking. Add the protein to the bowl with an assortment of greens, vegetables, avocado, nuts, seeds and sauce of your choice.) 
---
---
Nutrition
Serving Size: 1 bowl
Calories: 480
Sugar: 5g
Fat: 18g
Carbohydrates: 50g
Fiber: 12g
Protein: 15g
Keywords: buddha bowl recipe, how to make a buddha bowl
Buddha Bowl FAQ
Are buddha bowls healthy?
Yes! Buddha bowls are a very healthy meal consisting of whole grains, vegetables and protein and are part of a healthy and balanced diet.
What's the difference between a poke bowl and a Buddha bowl?
A poke bowl generally contains fish and a buddha bowl generally contains plant-based proteins. Poke bowls are generally also always made with rice while buddha bowls use an assortment of different grains.
Can Buddha bowls have meat?
While buddha bowls are generally plant-based, you can make your buddha bowl however you like. If you prefer to add animal protein to your bowl you definitely can.
What's another name for a Buddha bowl?
Buddha bowls are often also referred to as macro bowls, power bowls, hippie bowls and grain bowls. If you see these names used for recipes or in restaurants, know that they are generally the same thing as a buddha bowl.
This post contains affiliate links which means I will make a small commission if you purchase through those links. I only recommend products that I know, trust and love!