25 Healthy and Creative Buddha Bowl Recipes
These 25 Healthy and Creative Buddha Bowl Recipes are filled with fresh vegetables, warm proteins, and deliciously paired sauces or dressings! From Asian-inspired to breakfast-ready, these bowls have the perfect meal prep ideas for spring!
Buddha Bowls
Buddha bowls are one of my favourite things to eat. It's a fantastic way to get in whole grains, lean protein, fresh veggies and top it off with a favourite dressing of your choosing! They're something I fell in love with when I travelled to Bali that are seriously popular at all the restaurants.
Another reason I love buddha bowls so much is that they're simple to make and perfect for meal prep. If you're not used to meal prepping, I highly suggest you start with buddha bowls. They're easy to make, perfect for lunches and dinners and will help fuel healthy habits.
Before we get to the delicious recipes below, let's cover some common questions about buddha bowls!
What makes it a buddha bowl?
A buddha bowl is essentially a simple, one-bowl meal. Usually, it's vegetarian or vegan (but can also include animal proteins) that include rice or quinoa, legumes, fresh, vibrant veggies and plant proteins. You can also top them with your favourite nuts or seeds and dressing of your choosing!
Are buddha bowls hot or cold?
Your buddha bowl can be hot or cold, it's completely up to you. That's what is so great about these bowls, they're creative and can be topped with hot or cold items. The recipes below showcase both hot and cold recipes.
Are buddha bowls healthy?
Buddha bowls are a great example of a healthy, balanced meal. With the majority of the bowl made of up fresh veggies, and the rest a healthy mix of carbohydrates and protein, it's a great meal that you can feel good about.
---
Now let's quickly chat about the different healthy choices you can add to your buddha bowls and where you should start when building your bowl!
Let's start with your whole grains:
My favourite base for buddha bowls is quinoa, but there are a lot of different options you can choose from:
Quinoa
Barley
Brown rice
Wild rice
Bulgar
Millet
Farro
These are just to name a few! Starting with a whole grain base helps add bulk and this is how you stay full for hours! It's a nice way to start and pile on the protein and veggies next.
Now, let's dive into some protein:
If you've been reading the blog for a while, then you know chickpeas are a go-to for me. They're a great source of protein. As mentioned above, buddha bowls are usually made with plant-based protein, but if you're looking for something else, then animal protein is good here too. My personal favourite to use is some tofu.
Vegetarian and vegan-friendly options for protein are:
Chickpeas
Tofu
Tempeh
Seitan
Black beans
Garbanzo beans
Time for veggies!
When it comes to vegetables, the options are quite endless. I usually say to pick your favourite veggies and use those in your buddha bowl. If you're looking for some ideas for your own, here are a few staples that I love
Broccoli
Cauliflower
Sweet potatoes
Onions (pickled onions are great here too!)
Kale
Sprouts (alphalfa, radish sprouts…etc.)
Brussel sprouts
Avoacdo (technically a fruit, I know 😉 )
You really can't go wrong with this step. Put what you love in your buddha bowl!
Alright, it's time to top it off with nuts, seeds & dressing:
Now is the time to add crunch and additional flavour to your buddha bowl with your favourite nuts, seeds and dressing. I love raw nuts like cashews and almonds. One of my favourite dressings is the green goddess dressing, it's healthy, delicious and dairy-free!
Some ideas for nuts, seeds and dressing:
Raw nuts (cashews, walnuts, almonds, pistachios, etc.)
Seeds (sunflower seeds, pepitas, hemp seeds, etc.)
Dressing (vinegar-based, olive oil, avocado-based, etc.)
Have fun with this step! Add what you like and enjoy.
Now that you know the basics of the buddha bowl and how to make one yourself, I'm going to share 25 buddha bowl recipes that are AMAZING. Check them out below and let me know what you think!
How many ways can you fill a bowl?
The genius of food bloggers never ceases to amaze me. Particularly when Buddha bowls are involved!
Each of these 25 Buddha bowl recipes is so uniquely and wonderfully made, loaded with healthy ingredients and satisfying flavours. Whether you're on the hunt for a dinner recipe or need inspiration for a fridge clean-out, one of these recipes is sure to leave you inspired!
Feast with your eyes on these beautiful bowls, and check out the recipes that sound the best. Comment below, and tell us which Buddha bowl recipes made your mouth water!
25 Healthy Buddha Bowl recipes
This Nourishing Buddha bowl with Maple Roasted Chickpeas makes the perfect wholesome plant-based meal. Loaded with whole grains, vegetables, and crispy chickpeas, you'll love this bowl!
Quinoa, broccolini, and fresh blood oranges make for the most beautiful vegan bowl! Let the Japanese flavors come through with soy sauce, sesame seeds, brown rice vinegar and sesame oil.
These Vegan Poke Bowls make for a healthy, fresh and light dinner. Filled with rice, tofu, and fresh greens like edamame, green apple, and avocados, it's perfect for when you want something filling and easy to make!
This sesame crusted hoisin tofu honestly looks unreal. Make this comforting bowl with spicy roasted sweet potatoes, quinoa, avocado, and spinach!
This easy Mediterranean Buddha Bowl is full of classic Mediterranean ingredients like cucumbers, hummus, and Kalamata olives. Add any grains, veggies, and plant-based protein and you're good to go!
These Sweet Potato Bowls are fluffy, caramel-y, and whipped, then infused with cinnamon and some healthy plant based fats. I love the addition of pomegranate and pumpkin seeds for added superfoods! Cold weather or not, I'm trying these!
Make a burrito bowl in the comfort of your own kitchen, with these Easy Chipotle Sofritas! Keep it budget friendly with brown rice, beans, corn, fresh crunchy greens and chipotle mayo!
Get ready to eat the rainbow! Either use these Rainbow Nourishment Bowls as inspiration for different colored ingredients, or start the hunt for watermelon radishes and dark leafy greens!
These quinoa bowls are topped with super flavorful sesame tofu, avocado, soft boiled eggs, and arugula! They're sprinkled with roasted, salted chopped pistachios, and make a great meal with tons of flavor and texture!
You know the fresh rolls you get in a Vietnamese restaurant? The ones wrapped in rice paper, loaded with noodles and veggies and peanut butter sauce on the side? Welcome to spring rolls in a bowl!
These Turkish eggs and quinoa make for a uniquely delicious breakfast bowl! I don't know which part sounds better, the herbed yogurt, spicy sesame butter sauce, or the sun-dried tomato pesto!
This Chili Mango Zesty Quinoa Salad is bringing you all the flavor, nutrition, and refreshing feels. This sweet and spicy chili mango goodness tops off this delicious zesty quinoa salad!
These Dragon Bowls are loaded with fresh and thin-cut veggies, soft brown rice, pan-fried tofu and the most delicious garlicky dragon sauce!
These Spicy Satay Power Bowls are a healthy balanced meal! They're made with quinoa, tofu, sliced cucumber, pickled red onions and a spicy peanut sauce for a bowl that is high in protein, nourishing and loaded with flavour!
This plant-based bowl with oil-free sweet potato fries, asparagus, quinoa, and edamame topped with lemon tahini. It features fresh squeezed lemon to add fresh citrus flavor, and basil to add sweetness and flavor!
How's this for the ultimate breakfast? This buddha bowl recipe features pan-fried potatoes, charred cherry tomatoes, wilted spinach, and vegan scrambled eggs, all flavoured with magical black salt!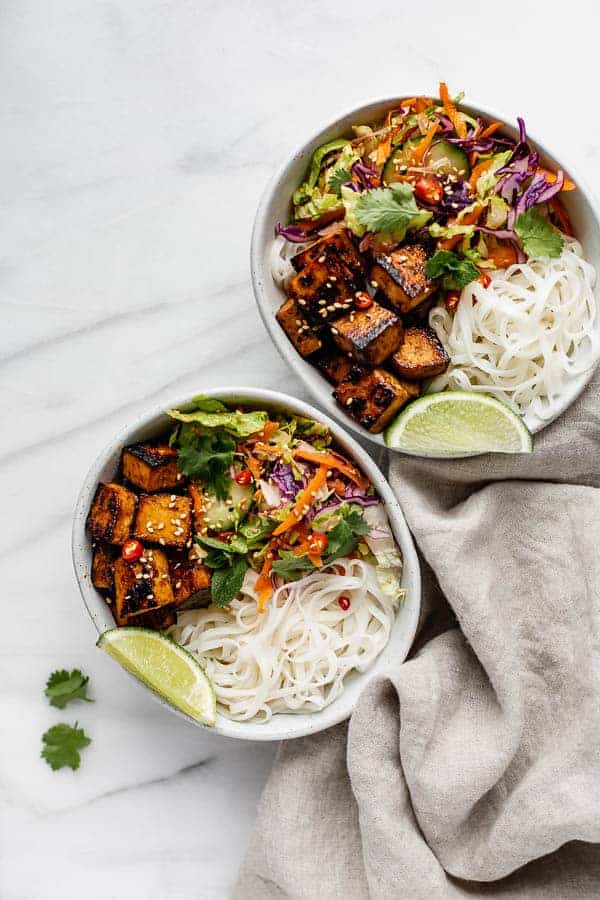 These Vietnamese Noodle Bowls are made with Asian rice noodles, marinated lemongrass tofu that's cooked until it's nice and crispy, and served on top of a light sesame salad!
Cauliflower, black beans, and whole grains, oh my! Not to mention that the avocado pesto on top of this bowl is absolutely everything – it's fresh, it's light, it's spring in a sauce!
If you feel like you need an extra dose of greens in your day, then these Green Goddess Bowls are for you! Filled with crisp veggies that are packed full of vitamins, avocado for a dose of healthy fats, and some edamame to keep you full!
These vegan sushi-inspired Buddha bowl recipes are loaded with nourishing veggies, fresh cubed mango, and topped with a spicy tangy mango sauce!
Don't tell anyone, but this perfectly spiced cauliflower shawarma might be my favorite bowl of them all! Paired with refreshing tomato and cucumber salad, with a tangy tahini dressing, there are so many delicious and herby flavors in this one.
Don't these look like summer in bowl? Healthy vegan Bali Bowls with Peanut Tofu, roasted sweet potatoes, black rice, shredded cabbage, radish, and snow peas are the tastiest little bowls of sunshine!
This Cauliflower Rice Burrito Bowl is TOTALLY versatile, which is what I love about it most. Now, follow the tutorial to make your own cauliflower rice, and top your bowls off with spicy salsa and a squeeze of lime!
How's this for some spring comfort food? These Lentil Curry Bowls have roasted carrots, basmati rice, sliced avocado, lime juice, and a creamy cilantro cashew sauce!
Feeling a savory breakfast over something sweet? Prep these buddha bowl recipes ahead of time with boiled eggs, pan-fried tofu, hummus, greens, and sliced avocados! Add whatever spices you'd like to make the flavours entirely your own!
Let us know if you end up trying any of these buddha bowls!
If you like these buddha bowls, make sure to check out these 21 fresh healthy salads next 🙂
This post contains affiliate links which means I will make a small commission if you purchase through those links. I only recommend products that I know, trust and love!