Crispy Air Fryer Tortilla Chips
Air fryer tortilla chips are easy to make right at home in less than 10 minutes and taste even better than store-bought tortilla chips! This recipe is made with just 4 simple ingredients and is gluten-free and vegan-friendly!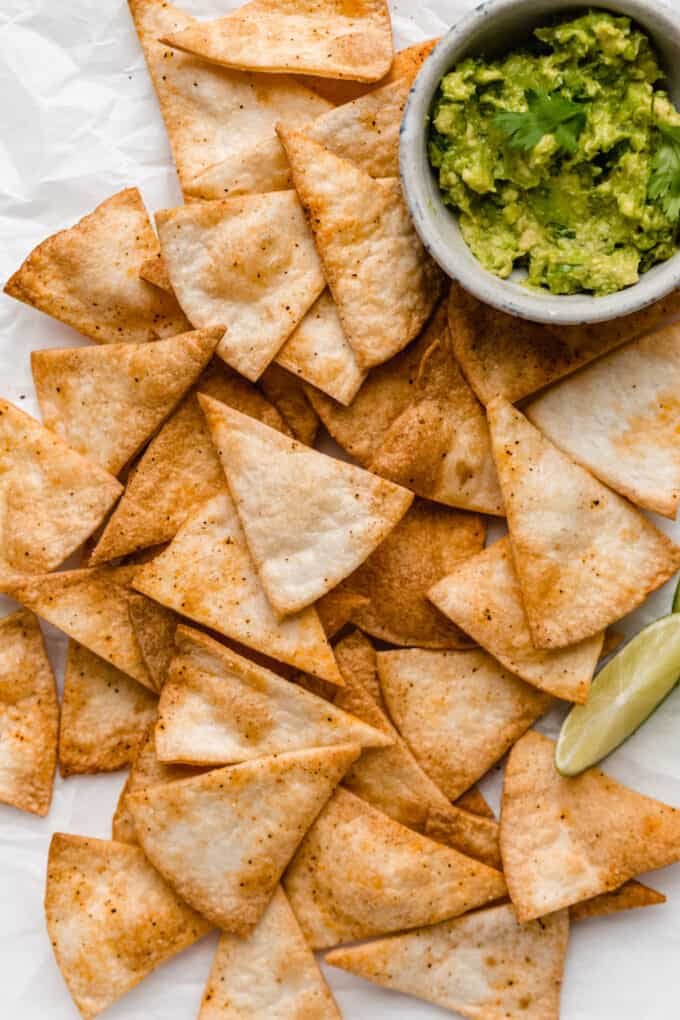 Easy Air Fryer Tortilla Chips
If you love tortilla chips then you need to try making your own homemade tortilla chips in the air fryer! Seriously, once you try these tortilla chips you'll never want to go back to store-bought chips again.
This recipe couldn't;t be easier to make and comes together from start to finish in just 10 minutes' time.
These tortilla chips can be made with any type of tortilla you love (such as corn tortillas, gluten-free tortillas or flour tortillas) and can be seasoned any way you like!
I personally recommend using corn tortillas for this recipe if you want tortilla chips that taste like corn tortilla chips you'd buy from the grocery store. Corn tortillas are also naturally gluten-free which makes them a great option for everyone to enjoy!
These chips are delicious on their own, with dips, as nachos with melted cheese or even as a topping on vegan burrito bowls or tortilla soup!
Why you'll love this recipe
Easy to make. There's nothing better than an easy-to-make recipe that is ready quickly and has minimal cleanup!
Tastes better than store-bought. While store-bought chips are tasty, these homemade tortilla chips are even better. Plus it's way cheaper to make them at home!
Healthy. Making tortilla chips in an air fryer is a healthier alternative to regular tortilla chips which are deep-fried in oil.
Air fryer tortilla chips ingredients
Tortillas: you can use corn tortillas or flour tortillas in this recipe. I personally recommend corn tortillas if you want your chips to taste like corn chips!
Avocado oil: you can substitute this with olive oil or vegetable oil.
Seasoning: I keep it simple and use salt and a touch of paprika for colour. You can add any seasoning you love to your tortilla chips!
How to make air fryer tortilla chips
Step 1
Brush the tortillas with the avocado oil and cut them into triangles. Then toss in a bowl with the salt and paprika.
Step 2
Add the sliced tortillas to the air fryer basket in a single layer, making sure not to overcrowd the basket.
Step 3
Air fry the tortillas at 350 degrees F for 5-7 minutes, shaking the basket halfway through.
Step 4
Serve the air fryer chips with your favourite dips or let them cool completely then transfer to a ziplock bag to keep them fresh.
What to serve with tortilla chips
There are many different ways you can enjoy these tortilla chips! They're delicious just on their own, with dips, as a size, or as a topping. Here are some ideas to get you started!
Guacamole
Pico de Gallo
Tomato salsa
How to store
Let the tortilla chips cool completely, then transfer to a ziplock bag or an airtight container. Keep in a cool dry place (like your pantry) for 2 weeks.
Tips for the best Air fryer tortilla chips
Use oil spray if you want. If you don't have a brush to brush the oil onto the tortillas you can also use an oil spray to spray on the tortillas.
Don't overcrowd the air fryer basket. The tortilla chips will cook more evenly if they are in a single even layer. This will also help to make sure the chips become crispy.
Cook in batches if needed. If your air fryer is small, you may need to cook the tortilla chips in a few batches!
Don't cook on too high heat. Tortillas are delicate and cook very quickly in the air fryer. Make sure to set the air fryer to 350 degrees when cooking.
Check on the tortilla chips after a few minutes. Different air fryers will work slightly differently, so it's best to check on the tortilla chips after 3-4 minutes to see how cooked they are. If you find the chips are cooking quickly, you may want to reduce the total cook time.
Tortilla chips FAQ
Are tortilla chips good in the air fryer?
Yes! Air-fried tortilla chips are delicious and healthier than deep-fried tortilla chips.
Can I make air fryer tortilla chips with no oil?
Yes, you can skip the oil entirely in this recipe and just add the tortillas directly to the air fryer and air fry for 4-6 minutes at 350 degrees F. Just keep in mind this will alter the final taste of the tortilla chips and they won't be as crispy as air fryer tortilla chips made with oil.
Are air fryer tortilla chips healthy?
Yes! Each serving of these air fryer tortilla chips has 140 calories, 1.5 grams of fibre and 4 grams of protein. I recommend pairing these tortilla chips with some guacamole for a healthy balanced snack.
Why are my air fryer tortilla chips chewy?
If this happens it's likely because the basket was overcrowded or the chips weren't cooked long enough. If the chips are chewy then add them back to the air fryer in a single layer and cook for a couple more minutes until crispy.
Try these recipes next!
If you tried these Air Fryer Tortilla Chips or any other recipe on the blog let me know how you liked it by leaving a comment/rating below! Be sure to follow along on Pinterest, Instagram, Tiktok and Facebook for even more deliciousness!
Print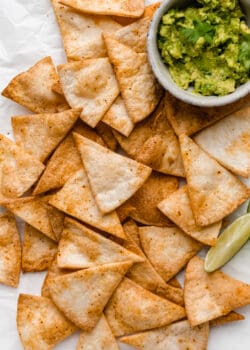 Air Fryer Tortilla Chips
Author: Jessica Hoffman
Prep Time: 10 minutes
Cook Time: 5 minutes
Total Time: 15 minutes
Yield: 4 servings 1x
Category: Appetizer
Method: Air fry
Cuisine: Mexican
Diet: Vegan
---
Description
Make these healthy and easy air fryer tortilla chips in less than 15 minutes!
---
6 6-inch corn or flour tortillas
1–2 tbsp avocado oil
1/2 tsp salt
1/4 tsp paprika (optoinal)
---
Instructions
Lightly brush the tortillas with avocado oil then cut them into triangles.
Toss the cut tortillas in a bowl with the salt and paprika.
Spread the cut tortillas in the bottom of an air fryer basket. Don't overcrowd the basket.
Air fry at 350 degrees F for 5-7 minutes, shaking the basket halfway through.
Serve with your favourite dips!
---
Notes
Serve with your favourite dips.
Store in a sealed bag in a cool dry place for 2 weeks.
---
Nutrition
Serving Size: 1/4 of recipe
Calories: 140
Fat: 7g
Carbohydrates: 23g
Fiber: 1.5g
Protein: 4g
Keywords: air fryer tortilla chips, air fried tortilla chips, tortilla chips in the air fryer
This post contains affiliate links which means I will make a small commission if you purchase through those links. I only recommend products that I know, trust and love!