23 Easy & Healthy Breakfast Smoothies
When your smoothie mood strikes, these 23 Easy & Healthy Breakfast Smoothies are perfect to satisfy that craving! Made with healthy ingredients like fresh fruits, veggies, oats and chia seeds, these smoothies are just what you need to start your day!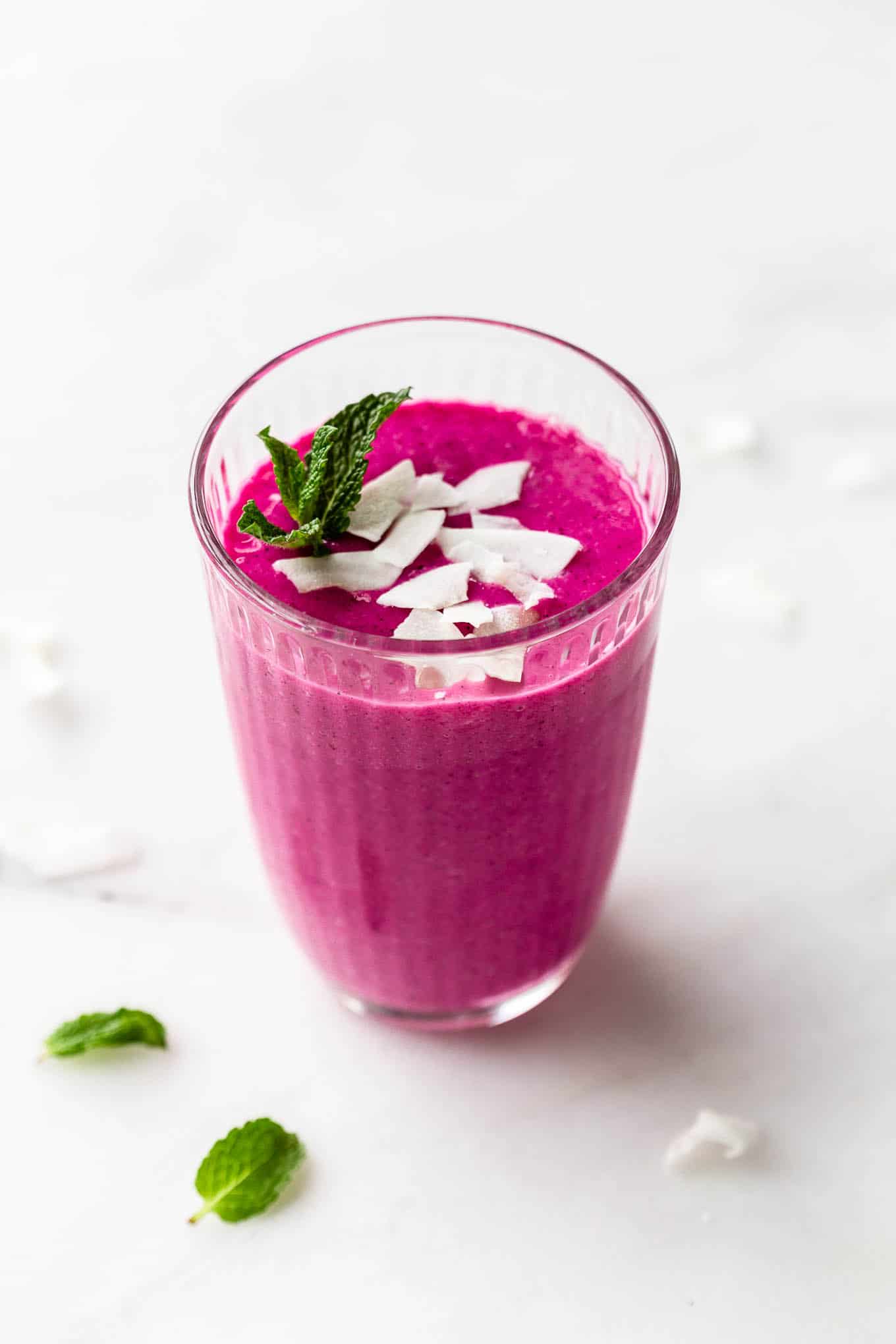 What do you put in a breakfast smoothie?
There's nothing worse than a boring tasteless smoothie to start off your morning. I want my mornings to start with fresh, vibrant flavours, and deliciously refreshing ingredients. What makes a great breakfast smoothie is using a combination of ingredients that will keep you feeling full. Here are the best ingredients to add to your breakfast smoothie.
Fruits: fruits are used as the base of most smoothies and are great to enjoy in the morning. Not only are they packed with vitamins and nutrients, but they are naturally sweet and blend into the perfect texture for a morning smoothie. You can use any kind of fruit in a smoothie.
Vegetables: it's becoming more and more common to add vegetables to a smoothie and with good reason! You can't really taste them in the smoothie and it's a great way to get in a serving of veggies first thing in the morning. Vegetables like spinach, kale and cauliflower work very well in smoothies.
Nut butter: adding a spoon of nut butter like peanut butter or almond butter to a smoothie will give it a delicious creamy taste as well as add some fat to the smoothie which will help keep you full.
Protein powder: if you want a breakfast smoothie that is packed with protein then try adding a scoop of your favourite protein powder. This will give your smoothie an instant protein boost and is especially great to add in after a workout.
Seeds: Think chia seeds, hemp seeds and flax seeds. These will add extra fibre, protein and nutrients to any smoothie.
Superfoods: if you want to get *extra fancy,* you can add some superfood powders to your smoothies like maca powder, spirulina powder or acai berry powder.
Breakfast smoothie tips
Use some frozen fruit. If you have more than one type of fruit in your smoothie, you don't have to use all frozen fruit, but try to use at least one frozen fruit in your smoothie. This will help to thicken your smoothie and give it a creamy texture.
Use good quality ingredients. If you have bland frozen strawberries, your smoothie will taste, well, bland. The fresher and tastier your ingredients the tastier your smoothie will be.
Add liquid to your blender first. Followed by fresh ingredients and then frozen ingredients. This will make it easier for your blender to blend everything together.
Frequently Asked Questions
What are the healthiest ingredients to put in a smoothie?
Honestly, there are so many variations that you can add to your smoothies to make them healthy. I personally love to add a great base which includes fruits or veggies. Adding a handful of spinach or kale is a great way to add more antioxidants to your drink. The important thing is that you're not adding additional sweeteners to your smoothies. The fruit and even your greens will have enough natural sugars for you.
Is having a smoothie for breakfast healthy?
Smoothies can be a great healthy breakfast – it just depends on the ingredients you're using and the portions as well. The recipes below are all healthy and quick and easy to make and have for breakfast daily. Smoothies for breakfast are a great way to get your nutrients in. Adding plant-based proteins can also make a smoothie more filling to start you off on the right foot.
Can I replace milk with water in a smoothie?
Yes of course! Water is a great alternative to milk and helps add that bit of liquid needed to help blend the smoothie. Just know that the more liquid you add, the less creamy or thick your smoothie is. Also note that adding too much water can cause you to lose some of the flavour of the smoothie.
When is the best time to have a smoothie?
Smoothies are great because they can be had multiple times during the day. They make a quick and easy breakfast, they're perfect for before and after a workout, amazing for a lunch on the go and also good for when you need to satisfy your sweet tooth cravings.
Are breakfast smoothies good for weight loss?
Breakfast smoothies can be part of a healthy balanced diet and can be great for weight loss. They are filled with healthy ingredients and are packed with nutrients. They make a great light breakfast.
Breakfast smoothie recipes
Every one of these smoothies has a fruit or vegetable base and additional ingredients to complement the flavours and make each smoothie unique! We've rounded up 23 of our favourite healthy breakfast smoothie recipes, each made with a few simple and healthy ingredients. There's a smoothie for every moodie! (Sorry.)
Whether you're looking for a sweet chocolatey smoothie to satisfy your sweet tooth, or a savoury beet smoothie to help drink your nutrients, take a look through these recipes, and let us know which one you'll try next!
Enjoy!
Why you'll love it: This Chocolate Tahini Date Shake is filled with creamy tahini, dates and cocoa powder for a smoothie that's rich in creamy chocolatey flavour, and high in protein! This smoothie is for you if you're looking for a "dessert for breakfast" tasting smoothie!
Why you'll love it: if you're a fan of banana bread then this smoothie is for you! It's packed with bananas and oats for a filling breakfast smoothie that is thick and creamy.
Why you'll love it: This Coffee Smoothie is perfect for those days when you wake up and want your coffee boost served cold! It's made with plant-based milk to keep it dairy-free and has added chia seeds for some fiber and omega-3s.
Why you'll love it: I mean, just look at that colour! This smoothie is perfect if you're a tropical lover and want to feel like you're on vacation in Bali. It's made with a combination of dragonfruit, mango and coconut for the ultimate tropical experience.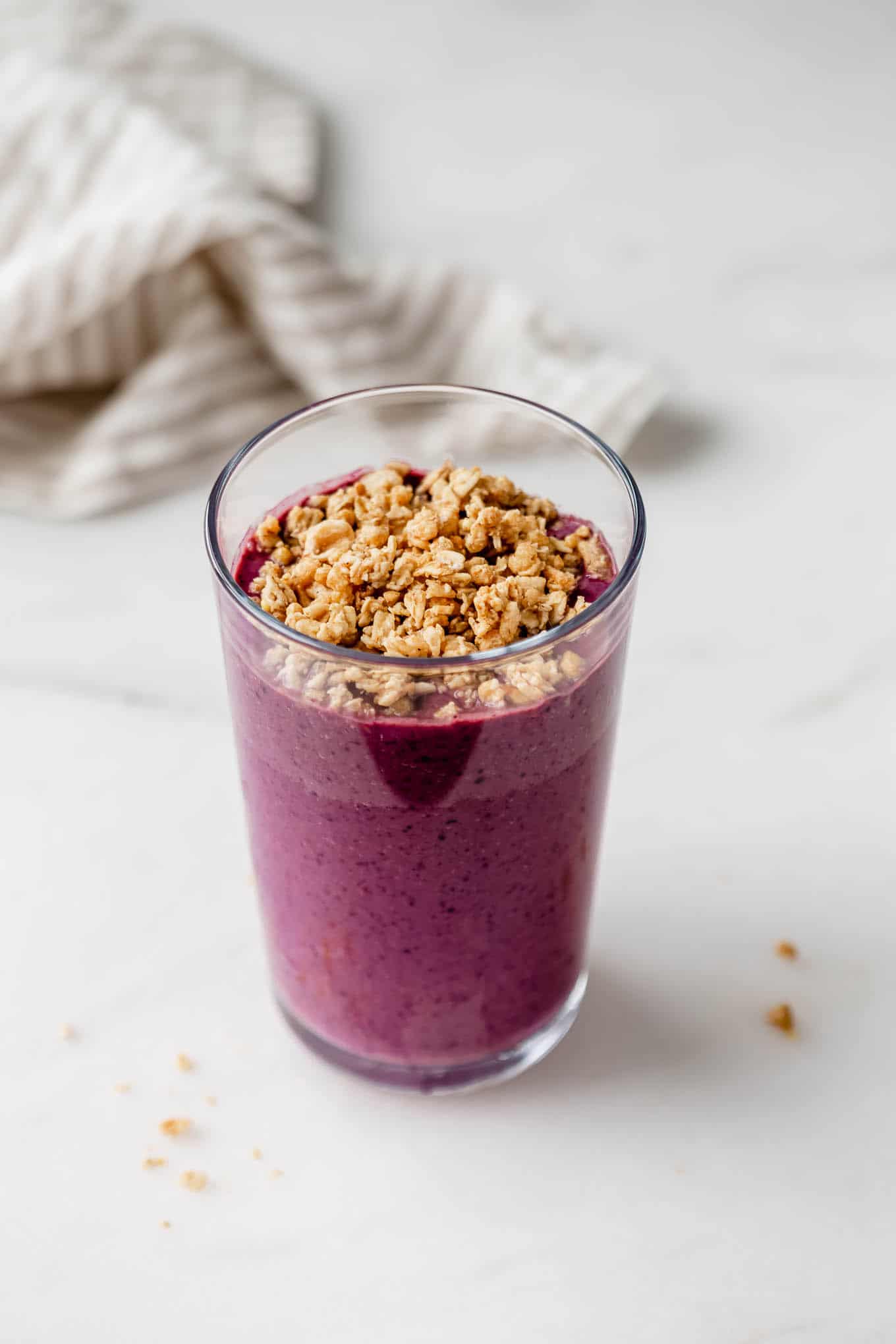 Why you'll love it: When you want an acai bowl but are too lazy to make the actual bowl. This acai smoothie tastes exactly like an acai bowl, in smoothie form. It only takes 5 minutes to make and is delicious topped off with some granola!
Why you'll love it: You're getting not one, not two, but THREE veggie smoothies in this recipe. these breakfast smoothies all have "hidden" veggies in them, so you get a nutritiously dense breakfast with a deliciously satisfying taste! (Don't worry, promise you can't taste the veggies.)
Why you'll love it: Enjoy all the flavours you love in a creamsicle in this Orange Creamsicle Smoothie! If you love to drink orange juice in the morning, then this is the smoothie for you. Made with 5 simple ingredients this smoothie is healthy and packed with 13 grams of protein per serving!
Why you'll love it: This Simple Green Breakfast Smoothie is made with 5 ingredients including a whole serving of greens for a perfect morning detox! The naturally sweet fruit hides the flavours of the greens so you can't taste them. If want to kick off your morning feeling great then go for this smoothie!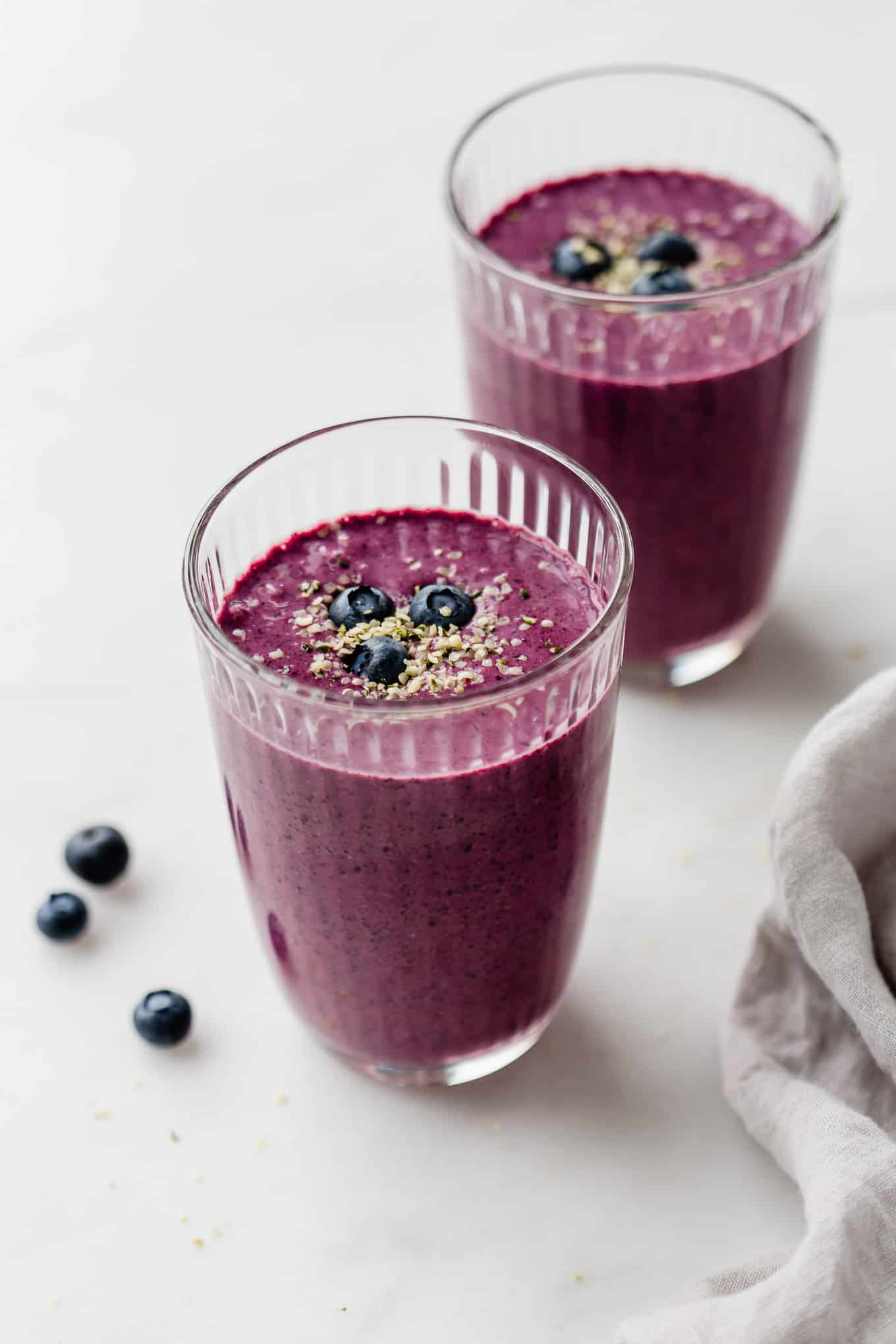 Why you'll love it: curious about adding veggies to your smoothies but don't feel ready to commit to a green smoothie? This smoothie is for you. The blueberries completely cover up the taste, colour and any evidence of greens even being in this smoothie. It can be our little secret 😉
Why you'll love it: It's peanut butter jelly time! This Peanut Butter and Jelly Smoothie has layers of "jelly" and "peanut butter for a delicious and filling breakfast, It really tastes like eating classic peanut butter and jelly sandwich in smoothie form. It's also healthy, vegan and naturally refined-sugar free!
Why you'll love it: The combination of mango and coconut yogurt is like a sweet and tangy tropical dream! This smoothie can be enjoyed for breakfast or even as a healthy dessert.
Why you'll love it: This Strawberry Mango Smoothie recipe is easy to whip up in just 5 minutes and is made with 3 simple ingredients! It's the perfect smoothie to enjoy as a refreshing fruity snack any time of day.
Why you'll love it: For all the chocolate lovers out there, this one's for you. This recipe for Frozen Hot Chocolate is made with healthy ingredients and a boost of protein powder for a filling smoothie. Also, this recipe can be whipped up in just 5 minutes, and each serving has over 12 grams of protein!
Why you'll love it: This Pumpkin Pie Smoothie is THE perfect fall smoothie. It has all the flavours you love in a pumpkin pie, but is much healthier and comes together in just 5 minutes! Enjoy this smoothie for breakfast or a tasty snack.
Why you'll love it: If you've never tried adding avocado to your smoothies before, I highly recommend it! This Blueberry Avocado Smoothie is bursting with blueberry flavour (duh), and even has some "hidden" veggies in it. Now, the avocado is the star ingredient to load this smoothie with healthy fats and omega-3s to keep you feeling full!
Why you'll love it: Love peanut butter? This is your smoothie. It's packed with peanut butter and creamy bananas for a healthy breakfast smoothie that basically tastes like a peanut butter milkshake, but better.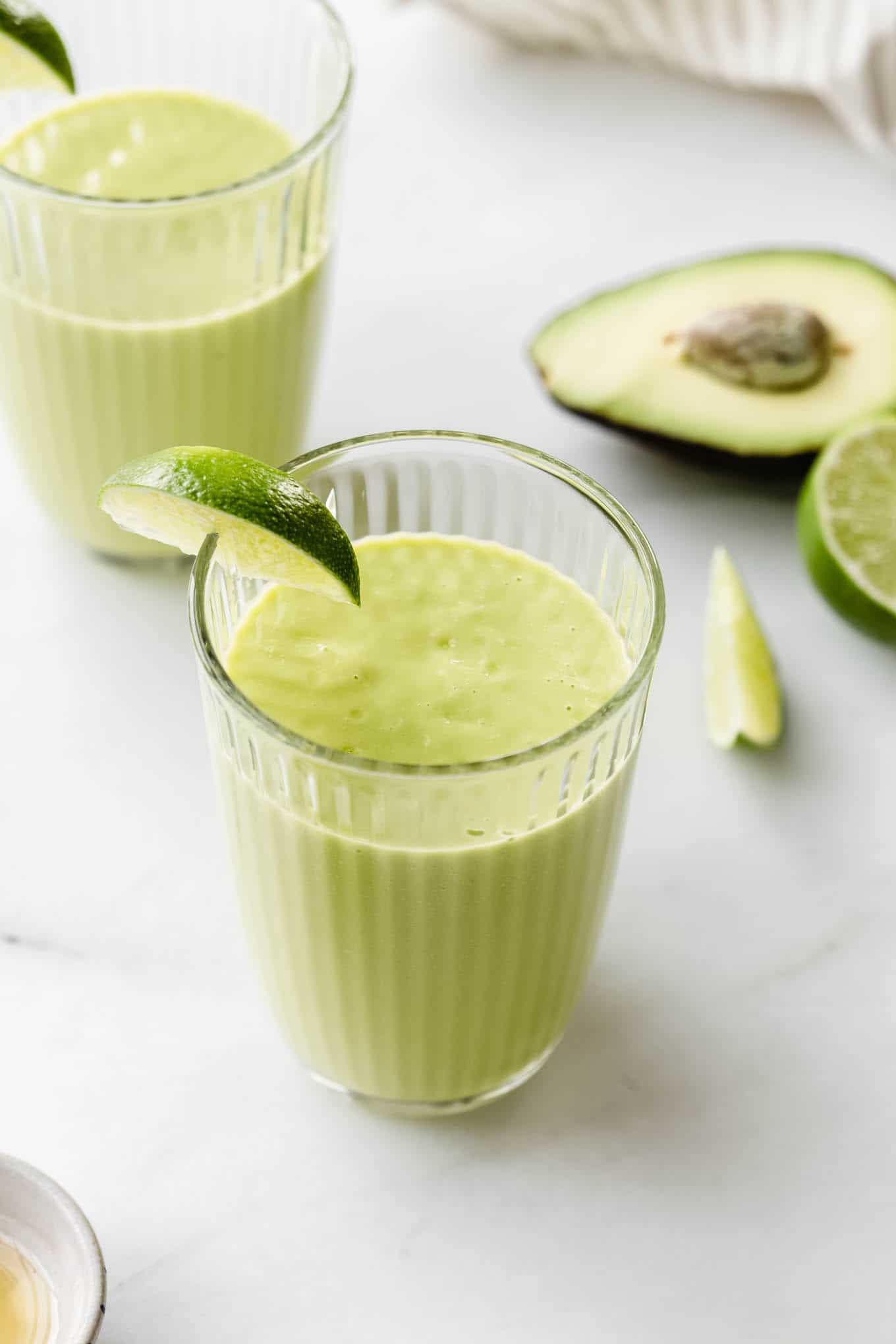 Why you'll love it: Mango + avocado= the ultimate creamy smoothie texture. The avocado in this breakfast smoothie is packed with healthy fats that will keep you full all morning long.
Why you'll love it: This Matcha Green Tea Smoothie recipe has fruit, matcha and hemp seeds for some added protein. Bonus, it's vegan, gluten-free, and filled with a little caffeine to kick your morning off with an energy boost!
Why you'll love it: If you haven't hopped on the chia seed bandwagon, now's your chance! Chia seeds are packed with nutrients and make a great addition to smoothies for an extra boost of protein, fiber and omega-3s. Bonus, they also help thicken smoothies!
Why you'll love it: This Inner Glow Mango Smoothie will have you glowing from the inside out! Make it with mango, pineapple, ginger and superfoods like turmeric and baobab to leave you feeling your best!
Why you'll love it: When you want a mojito in the morning, but it's a *little too early* for happy hour. This Papaya Mojito Smoothie will give you delicious notes of lime and mint and have the benefits of papaya to help with your digestion!
Why you'll love it: This Red Berry Chia Smoothie is made with a blend of fruits like strawberries and raspberries and is packed with fibre and protein!
Why you'll love it: It's a mango smoothie…but in a bowl. So basically it's like eating a big bowl of homemade mango sorbet for breakfast. If you love smoothies but prefer to have a heartier breakfast you can eat with a spoon then you'll love this mango smoothie bowl! Blend it up and add your favourite toppings.
This post contains affiliate links which means I will make a small commission if you purchase through those links. I only recommend products that I know, trust and love!