23 Easy & Healthy Smoothie Recipes
When your smoothie mood strikes, these 23 Easy & Healthy Smoothie Recipes are perfect to satisfy that craving! Made with healthy ingredients like fresh fruits and vegetables, this roundup has anything from a cozy chocolate shake to a refreshing orange creamsicle smoothie!
The key to deliciously healthy smoothie recipes
Maybe it's just me, but there's nothing worse than a boring green smoothie to start off your morning. I want my mornings to start with fresh, vibrant flavours, and deliciously refreshing ingredients.
Before we get to the delicious recipes below, let's cover some common questions about smoothies first!
What are the healthiest things to put in a smoothie?
Honestly, there are so many variations that you can add to you smoothies to make it healthy. I personally love to add a great base which includes fruits or veggies. Adding a handful of spinach or kale is a great way to add more antioxidants to your drink. The important thing is that you're not adding additional sweeteners to your smoothies. The fruit and even your greens will have enough natural sugars for you.
Is having a smoothie for breakfast healthy?
Smoothies can be a great healthy breakfast – it just depends on the ingredients you're using and the portions as well. The recipes below are all healthy and quick and easy to make and have for breakfast daily. Smoothies for breakfast are a great way to get your nutrients in. Adding plant based proteins can also make a smoothie more filling to start you off on the right foot.
Can I replace milk with water in a smoothie?
Yes of course! Water is a great alternative to milk and helps add that bit of liquid needed to help blend the smoothie. Just know that the more liquid you add, the less creamy or thick your smoothie is. Also note that adding too much water can cause you to lose some of the flavour of the smoothie.
When is the best time to have a smoothie?
Smoothies are great because they can be had at multiple times during the day. They make a quick and easy breakfast, they're perfect for before and after a workout, amazing for a lunch on-the-go and also good for when you need to satisfy your sweet tooth cravings.
---
Every one of these smoothies has a fruit or vegetable base, and additional ingredients to compliment the flavours and make each smoothie it's own! We've rounded up 23 of our favourite healthy smoothie recipes, each made with a few simple and healthy ingredients. There's a smoothie for every moodie! (Sorry.)
Whether you're looking for a sweet chocolatey smoothie to satisfy your sweet tooth, or a savoury beet smoothie to help drink your nutrients, take a look through these recipes, and let us know which one you'll try next!
Enjoy!
This Chocolate Tahini Date Shake is filled with creamy tahini, dates and cocoa powder for a quick smoothie that's rich in flavour, and high in protein!
This Banana Bread Smoothie is easy to make, filling for a healthy breakfast and tastes just like a slice of delicious Banana Bread! Enjoy this smoothie packed with bananas, steel-cut oats, and almond milk!
This Coffee Smoothie is perfect for those days where you wake up and want your coffee boost served cold! It's made with plant-based milk to keep it dairy-free, and has added chia seeds for some fiber and omega-3s.
Make this nutrient-loaded Papaya Mojito Smoothie that boasts vitamin C, vitamin A and folate, and fibre! It's naturally vegan and gluten-free, and great for digestion.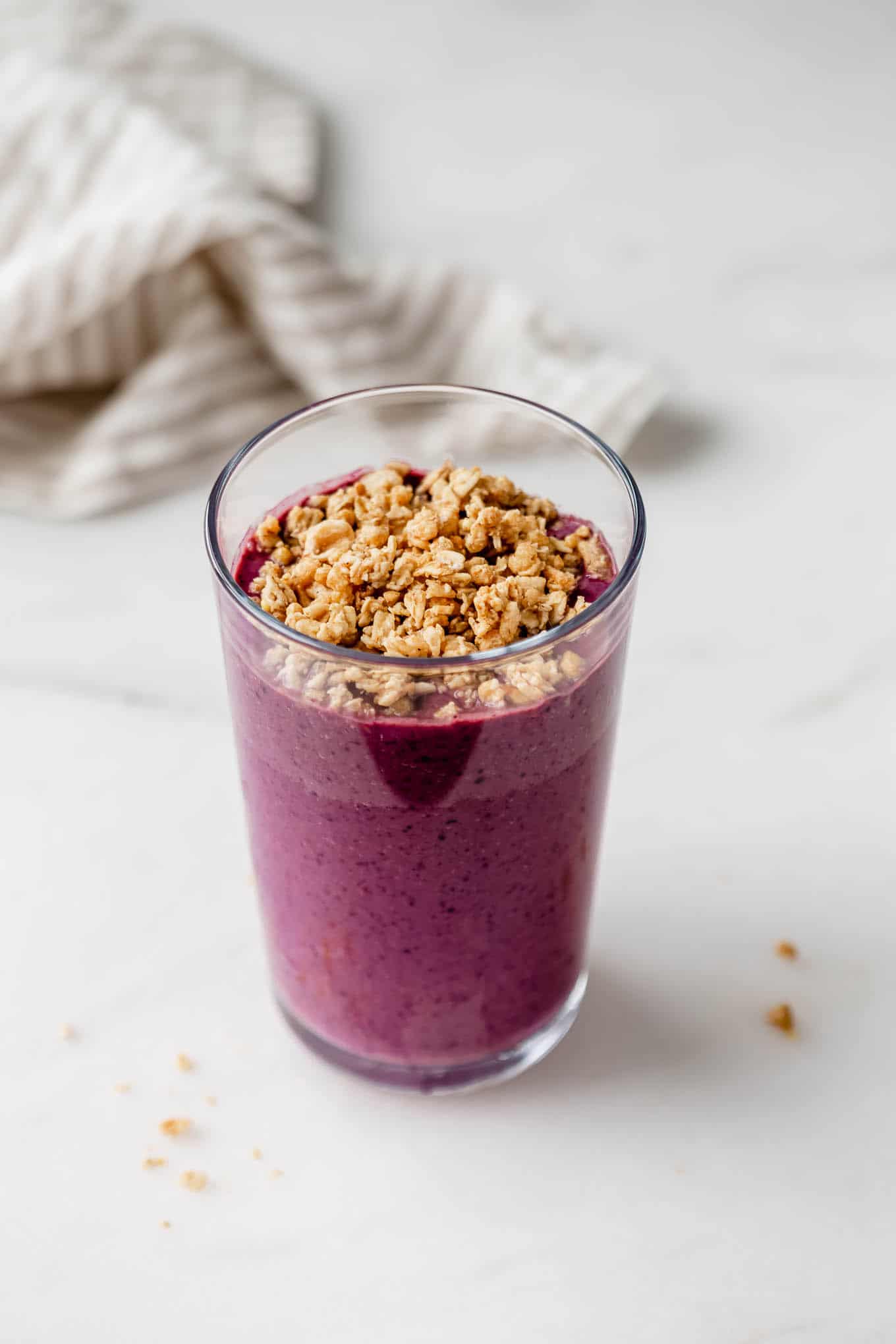 This Acai Smoothie recipe is healthy and packed with nutrients! It comes together in just 5 minutes for a refreshing smoothie that can be enjoyed for breakfast, a snack or even a dessert! Enjoy it on its own or top it off with your favourite granola.
These 3 Veggie-Packed Breakfast Smoothies all have "hidden" veggies in them, so you get a nutritiously dense breakfast with a deliciously satisfying taste!
Enjoy all the flavours you love in a creamsicle in this Orange Creamsicle Smoothie! Made with 5 simple ingredients this smoothie is healthy and packed with 13 grams of protein per serving!
This Simple Green Breakfast Smoothie has healthy fruit, greens and superfoods for a perfect morning detox! The naturally sweet fruit hides the flavours of the greens, and it's incredibly easy to make.
This Beet and Berry Smoothie is made with 5 healthy & vibrant ingredients that will make you glow from the inside out! Added bonus, it's vegan, paleo friendly, and Whole 30 compliant.
This Peanut Butter and Jelly Smoothie has layers of "jelly" and "peanut butter" smoothies for a delicious and filling breakfast (or snack!) Also, it's healthy, vegan and naturally refined-sugar free!
This Vegan Mango Lassi could be a breakfast, snack, or dessert. Also, it's naturally sweetened with ripe mangoes, agave, and coconut yogurt, and tastes like a creamy mango ice cream!
This Strawberry Mango Smoothie recipe is easy to whip up in just 5 minutes and is made with 3 simple ingredients! It's the perfect smoothie to enjoy as a refreshing fruity snack any time of day.
This recipe for Frozen Hot Chocolate is made with healthy ingredients and a boost of protein powder for a filling smoothie. Also, this recipe can be whipped up in just 5 minutes, and each serving has over 12 grams of protein!
This Pumpkin Pie Smoothie has all the flavours you love in a pumpkin pie, but is much healthier and comes together in just 5 minutes! Enjoy this smoothie for breakfast or a tasty snack.
This Blueberry Avocado Smoothie is bursting with blueberry flavour (duh), and even has some "hidden" veggies in it. Now, the avocado is the star ingredient to load this smoothie with healthy fats and omega-3s to keep you feeling full!
This Avocado Almond Butter Smoothie is filled with healthy fats from almond butter, avocado, and fresh dates to nourish your skin! Mainly, it's a sweet smoothie with simple and healthy ingredients to fill you up!
The ultimate in sweet yet healthy smoothie recipes, this Vegan Apple Pie Smoothie! This recipe is plant-based, filled with nutritious superfoods, and tastes like a naturally sweetened apple pie!
This Matcha Green Tea Smoothie recipe has fruit, matcha and hemp seeds for some added protein. Bonus, it's vegan, gluten-free, and filled with a little caffeine to kick your morning off with an energy boost!
This Caramel Maca Banana Smoothie has carbs, protein, and healthy fats for a delicious and all-around nutritious smoothie. Also, the maca powder helps to balance hormones to start your day on an even keel!
This Inner Glow Mango Smoothie will have you glowing from the inside out! Make it with mango, pineapple, ginger and superfoods like turmeric and baobab to leave you feeling your best!
This beautiful Morning Beet Smoothie has vibrant beets, fresh ginger, and banana for a creamy smoothie with bold flavour!
Make this delicious and healthy Carrot Cake Smoothie made with wholesome ingredients like raw carrots, banana, pineapple, creamy coconut milk, greek yogurt, and plenty of cozy spices! Additionally, it's packed with protein for a filling breakfast, snack, or post-workout boost.
This Red Berry Chia Smoothie is made with a blend of fruits like strawberries and raspberries and is packed with fibre and protein!
This post contains affiliate links which means I will make a small commission if you purchase through those links. I only recommend products that I know, trust and love!