30 Vegetarian Recipes to Make this Summer
Whether you're vegetarian, vegan or just trying to eat less meat, there are plenty of ways to still enjoy easy breakfast recipes, summer drinks, pasta recipes, burgers, and more. Here are 30 of our favourite vegetarian summer recipes!
This Coconut Chia Pudding with Mango Puree is a healthy breakfast or dessert that only uses 6 ingredients! This will quickly become your favourite way to eat chia pudding!
If you're looking for a fresh and light chia pudding that is vibrant and creamy then this Lemon Chia Pudding recipe is for you! It's made with layers of lemon chia pudding and topped with lemon cream for a healthy breakfast, snack, or treat.
These Blueberry Overnight Oats make a healthy breakfast packed with whole grains that are a bit lighter and fresher than a bowl of cooked oatmeal. These oats are perfect to enjoy at home in the morning to take on the go in a jar!
Start your morning off right with a cup of banana overnight oats! These overnight breakfast oats are packed with more than 8 grams of fibre and 14 grams of protein per serving for a healthy and nourishing breakfast.
Cool off with a refreshing glass of this cold brew peach iced tea. Learn the 'secret' trick to making homemade iced tea that has a smooth and crisp taste, with no bitterness! 
This watermelon mojito frosé [rosé slushy] is a refreshing summer drink that is perfect to enjoy on a hot sunny day! Fresh watermelon and frozen rosé ice cubes and all blended together with mint and lime. Non-alcoholic version of the recipe is also included!
This spicy grapefruit margarita is fresh, light, and just the right amount of spicy! You'll love this healthy twist on the classic cocktail!
This Strawberry Mango Smoothie recipe is easy to whip up in just 5 minutes and is made with 3 simple ingredients! It's the perfect smoothie to enjoy as a refreshing fruity snack any time of day.
This homemade Strawberry Fruit Leather is made with 3 simple ingredients and is much healthier than any store-bought fruit roll-ups! You can make this recipe directly in your oven or in a dehydrator.
These Healthy Lemon Poppy Seed Muffins are light, fluffy, and bursting with lemon flavour! They're soft and fluffy and perfect for a healthy breakfast, snack, or treat!
If you're looking for a healthy and delicious snack then you need to make a batch of these lemon bliss balls! They're easy to make, grain-free, gluten-free, and bursting with lemon flavour.
Want a healthy snack ready in just 15 minutes? These Key Lime Pie Energy Balls are easy to make, bursting with zesty lime flavour, and perfect for a tasty snack or dessert!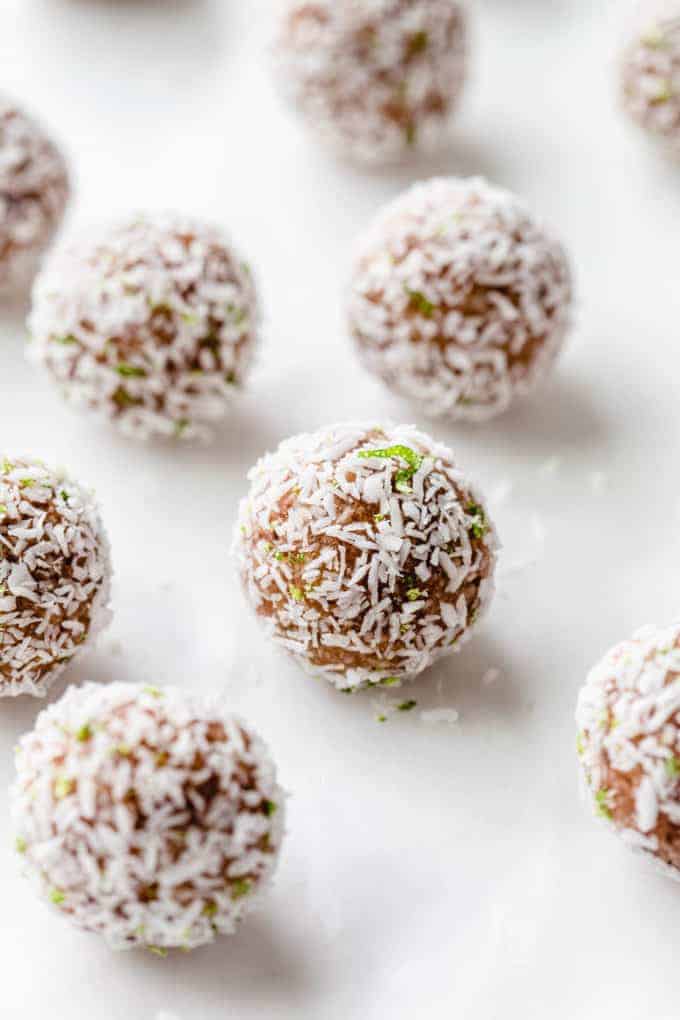 This watermelon pizza is a fun little treat that everyone can enjoy! It's healthy and easy to make!
This recipe for Fresh and Easy Mango Salsa is made with 6 simple ingredients and only takes 15 to make! Enjoy it as a dip, in tacos, or as a dressing for your favourite grilled recipes!
This Summer Corn Salad is made with fresh corn on the cobb, veggies, and feta cheese. It's topped off with a tangy chili lime vinaigrette for a summer salad you won't be able to get enough of! This salad is great to enjoy as a light lunch, a side, or to bring to your next barbeque.
This Watermelon Feta Salad with Mint is made with 5 ingredients and takes only 15 minutes to make! It's a great refreshing and flavourful salad that's perfect for the summertime.
This quinoa tabbouleh salad is made with fresh simple ingredients and comes together in less than 30 minutes for a healthy salad or side dish! It's perfect to enjoy for lunch, as a side, or to bring to a pot-luck!
This Farro Salad with Halloumi and berries is fresh, filling, and loaded with flavour. Enjoy this salad as a side, appetizer, or for a healthy and tasty lunch!
These Lentil burgers are vegan, vegetarian, and gluten-free and are a great way to consume more plant-based protein. Each burger is packed with 10 grams of protein and 8 grams of fibre for a filling and healthy burger!
These Vegan Beet Burgers are the most beautiful pink colour and can be made by baking, pan-frying, or grilling. Each burger is packed with 20 grams of protein and 18 grams of fibre!
These Black Bean Quinoa Burgers are a healthy vegetarian & vegan burger loaded with protein and bold flavour! These burgers are easy to make and can be enjoyed with any of your favourite toppings!
These are the best Chickpea Veggie Burgers! They're loaded with savoury spices, fresh vegetables, and whole grains for a satisfying meal loaded on a fluffy burger bun!
This easy Lemon Garlic Pasta Recipe comes together in just 20 minutes and is made with 7 simple ingredients. It's light, fresh, and creamy without any cream in it.
This Creamy Red Pesto Pasta recipe combines sundried tomatoes with walnuts and basil to create a flavour-packed pesto. This pasta dish can be made with any type of pasta you love and makes an easy weeknight dinner!
This Veggie Pesto Pasta is a healthy and simple way to enjoy pasta that is packed with homemade walnut pesto and roasted zucchini for a serving of vegetables! This recipe can be made with regular pasta, gluten-free pasta, or grain-free pasta!
This Mediterranean Pasta is made with roasted cherry tomatoes, kalamata olives and feta cheese for a healthy tasty pasta that's ready in just 30 minutes!
This Healthy Strawberry Rhubarb Crisp is filled with fresh strawberries and rhubarb and topped off with a gluten-free crisp topping. It's easy to make, the perfect combination of tart and sweet, and even healthy enough to eat for breakfast!
This Gluten-Free Peach Cobbler is easy to make and is healthier than your average peach cobbler. It's made with an almond flour biscuit crust and loaded with fresh juicy peaches! Make the most of fresh produce with this healthy and delicious dessert!
This Healthy Blueberry Crisp is gluten-free and naturally sweetened for a healthier twist on a traditional crisp recipe. This crisp is even healthy enough to enjoy for a delicious breakfast!
These vegan raspberry cheesecake bars will make all your dreams come true! They're creamy, delicious, and loaded with swirls of raspberry goodness!
These Gluten-Free Lemon Bars are made with an almond cookie crust and topped off with an easy-to-make super lemony topping! These bars are perfect for a fresh summer dessert.
This post contains affiliate links which means I will make a small commission if you purchase through those links. I only recommend products that I know, trust and love!